BLOG SPOT
EXPEDITION WRAP UP: It was an epic ending dealing with weather, bags and planes. But hey, its not like we haven't had to do this before. Lukla has always
been an adventure but never this serious with the crash victim statistics. Very sad and had everyone a bit nervous for the remainder of the season. First it was the plane crash caused by fog in Lukla that threw everything off. Then at the end of the climb, Lukla airport was closed again for a couple of days due to fog just when we were schedule to fly out. Let the adventure part three begin! Three members did the Jiri run and managed it in three days while others were jumping helicopter lifts out. A couple of our Sherpas managed to sneak on a military heilcopter in the area. Becky always says, "you can always get out of Kathmandu to the mountains, but you never know how you will get back". Those who have been before will know what she means. Everyone is now safe and sound and home with loved ones looking back on the climb and already making plans for future mountain adventures. Some are coming back to Pumori to have another go at her while others feel they got enough out of the expedition to push on to their ultimate goal of climbing Everest in the next year or two.
We were thwarted from the summit this year due to the instability in the snow pack on the summit ridge. Once the Sherpas reached the summit ridge they encountered waist deep snow that was unconsolidated sugar snow known as facets, impossible to set an axe or anchors. We had to make the hard decision to call off the summit push for everyone's safety but we made the most of the climb while there.
It was an odd season in the Himalayas this year. The Sherpas are the first to be affected by what we call bad omens. Because of their spiritual attachment to the mountains and things they have seen and losses they have had to live with, we are sensitive to their feelings. First the plane crash, then a couple of deaths on Cho Oyu, large scale avalanches on K2, epics on Manaslu and then the breaking off of the of the large chunk of the jewel box (dablam) on Ama Dablam followed by two climbers reported dying possibly from falling off old rope. Messy, and should have been avoided if these reports are true.
Times like these are good reminders to everyone to stay on your toes, take nothing for granted and play smart.
See you on Everest in 2009!
Tim
PHOTO: Tim Rippel- Mount Pumori left. PHOTO GALLERY: Coming soon!
Check out our Kathmandu gear page. While everyone was climbing this autumn I have lurking around Kathmandu checking out the goods to share with you.
Nov. 5, 2008 - Lukla Jam... Foggy again today. Ade and Martin managed to secure a helicopter lift out last minute this late afternoon when the sky opened so they could catch their evening international flight home. Tim explained how that good fortune happened to me via sat-phone, but as normal it was all garbled so I missed it. I did get that he was on the phone with the helicopter company trying to negotiate tomorrow for the remaining team members and another one for their bags that has to go separately. Yesterday they were 14th on the waiting list. Tomorrow there are groups to fill 26 flights, the math isn't looking good. To add to it there is another 50+ passengers heading down from Namche tomorrow. The weather looks good on the forecast for tomorrow but the numbers are too great for passengers in waiting.
It has been a very odd weather season. Autumn is the popular trek season because it is so clear and r.arely are there back logs. Expedition summits are being aborted because of too much snow and still snowing. Lukla has had more than enough fog this autumn. The oceans are warmer this year and brewing up all kinds of trouble in mountain weather.
Desperate plea from Patrick Grillo's wife: "Get ahold of Becky to get ahold of someone to send a car to Bhandar tomorrow at 6:30pm or we will miss the flight".... Patrick, Mango and Yvan opted for the 3 day hike/run from Lukla to Jiri fearing the worst. However the run is taking them longer than they thought.
Like I always say to people. "It is easy to get out of Kathmandu but you never know how you will get back". Fun part is that in this part of the world it always works out. These people are used to working the laws of "everything is possible".
Stay tuned!
Becky
Nov 5, 2008 - Fog in Lukla- Foggy in Lukla from the rain last night. Could burn off but there is now a back-log of flights. Wait and see!
Nov 4, 2008 -NO GO for flights into Lukla today.. Mango, Patrick and Yvan opted to go for the 3 day walk out to Jiri and then take the bus from there to Kathmandu. The rest of the team have their head in their hands at the Sherpa coffee shop watching the rain. This is not the best ending to an expedition. Lukla is not the nicest place to sit out bad weather. By this point everyone really wants to get get home to their loved ones. I am sure they will make the most of it and hopefully tomorrow the clouds will part. The forecast doesn't look that great though. Stay tuned!
November 4, 2008 -Planes overhead in Lukla: 0730 hrs: Tim calls in from Lukla. They are watching clouds in the vacinity right now hoping for an opening so their plane can get in and get them out. It is currently overcast in Kathmandu and the forecast is for rain over the next two days. Fingers and toes are crossed.
Mess found at Pumori BC while we were there this year. It has your name on it so we know who you are and we have pictures too! You may want to consider reimbursing us for our expenses to clean it up, carry it out and disposal fees.
On a lighter note, last night before Tim headed down to the bar to meet up with the boys. Tsedam gave him instructions on the after hours access to the property. Only thing is Tim didn't bother to share this knowledge with the team who came in much later than he did. Tim's evil side surfaces- beware!!! he's bad, he can real bad... He thought that it would probably be a good story for the morning. Apparently they had to scale some rock wall in the vacinity and had some technical difficulties while doing this. It resulted in them have to wake the house up to get them up and over. Oh boy.... Tim and I chuckled about it this morning . We have to make sure we put in the exclusions: RETURN BAR TRIPS
November 1, 2008 - Namche ho- down! and death on Ama Dablam Everyone left in the valley has gathered in Namche Bazaar to celebrate a safe expedition. Tim said the new alternative route on Ama Dablam looks pretty technical from where is was standing yesterday in Pangboche. Today a death has been reported on Ama Dablam. This would be the second incident since the first incident in 2006 involving the deterioration of the Dablam. Tim assessment on the instablity last year.
There is nothing much to say about our team today. They are keeping busy shopping, drinking beer and socializing. Tomorrow (Nov. 3) they will walk down to Lukla then on Nov. 4 fly to Kathmandu. I was talking to Kiran yesterday (our airport/ground handler staff) and he said it has been a very unusual flight schedule this autumn. The mornings are still foggy so they are pushing flights in in the late afternoon and coming in to Kathmandu as late as 4pm. This is very much out of the norm. Usually all fights are finished by noon or just after.
Over and out!
Becky
October 31, 2008- Happy Halloween back home I remember our first halloween in Nepal in 96'. We all got dressed up in whatever we could find and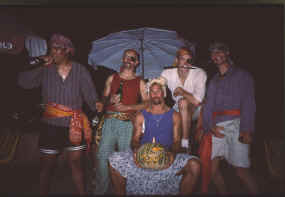 paraded around Thamel with a large crowd of the locals joing us wanting to understand our festival. They had not heard of it before. Anyone that has been to Nepal can appreciate how much they love festivals here. They joined in in our fun, it was a blast!
Tim reports in: "We were up on a bluff climbing yesterday when we heard the ding ding ding of yaks bells. They finally came into view and I started to count them and thought hmmm...that is that exact number we had coming tomorrow. Whoa!!! they were pulling into our camp, they are day early!!! We scrambled down and started a hasty pack of the camp and will be on the trail today. After the yaks are fully loaded Rick, Wake, Martin and myself and the Sherpas will head down to Pangboche and then Namche the next day. Grant was wanting to organize one of my infamous pee pool games so we will look forward to that.
Tim;s pee pool game. The best part is you don't even have to know how to play and it doesn't how many play. Anyone in the bar gets a shot at it. The porters really get a charge out of it, hanging with the team, playing a game and enjoying some party time together. It is a great way to end an expedition. Photo: 96' Ama Dablam team halloween celebration.
The team is still on schedule for an ETA in Kathmandu on November 4th. They are all scattered throughout the Khumbu Valley right now, most likely encroaching on Namche Bazaar in the next couple of days. Once they all reach Kathmandu and for some even in Namche they will access to their own emails to report home. Once everyone is safely back in Kathmandu we will say over and out on this blog.
Becky
October 30, 2008 - Playing the boulder fields: Today Tim, Wake, Rick, Martin are playing in the boulder fields practicing climbing in their plastic boots on rock, placing anchors etc. Yesterday they were up in the vancity of ABC and higher practicing crevasse rescue scenarios. Wissam and Duncan are currently doing the hike between Namche and Lukla. They should be checking in there around 3pm this afternoon Nepal time. Tomorrow they fly to Kathmandu. Apparently there has been a lot of white knuckling reported by passengers taking the flight out since the crash. Rest assured everyone back home. The skies are clear now and the foggy conditions have passed. Autumn is here!
October 29, 2008 - Training days in progress at BC: Team members were up on the route today between BC and ABC practicing mountain skills. Grant and Arkhom have opted for a trek around Gokyo Ri and Wissam and Duncan should be in Namche by now. Other than that all is good with our gang. Tim will be calling in tonight. Last night he tried for three hours to get through. The over-loaded cell phone situation has been difficult to make contact. I expect tonight after the city settles down he will be able to get through again.
Over and out... flowers everywhere... orange marigolds that is..... Happy Newari New Year!!!
Becky
October 26, 2008 - Back at BC- A very tired Tim called in last night from BC. They cleaned off C2, dumped a bunch of gear at Camp 1 and ABC and brought some down. Today Tim and a couple of members are heading up to ABC to intercept loads the Sherpa's are now hauling down from C1 to ABC. Tomorrow it should be completely cleaned off.
Some of the Everest training climbers are going to do some more training taking advantage of the extra time in the area while others are talking about slowly making their way down to Namche. The yaks don't arrive at BC till Oct. 31 so the climbers have a few days to explore around the Everest region. The Khumbu valley is extremely busy this year so they may be wise to stay put. But on the other hand I know they are probably getting pretty tired of their surroundings and being cold so you can't blame them if they want to get lower and warm up.
No one seems to be summiting anything this autumn in the Khumbu. All expeditions in the Annapurnas have been called off, Ama Dablam teams going home with no summits, all for the same reasons. Too much snow up high.
LHOTSE AVALANCHE and THE NEWS!: One news source say they now have details of the avalanche on Lhotse. They added to it saying another source is denying there even was an avalanche. Not sure who they are referring to but I will take a defensive stance anyway. We said we saw a slough on Lhotse but weren't offering any information on incidents. It wasn't our place. Our Liaison Officers came to camp saying they had heard of an injury but all is considered rumour up here till it is proven otherwise in consideration of families back home. We did not comment in that regard and still can't. We weren't there!
This is why; On two occasions Tim was climbing on Mt. Everest in the early 90's when news was reported to me that he was thought to be dead. One time a report circulated around the world of an avalanche on Everest and that a Canadian was involved. Tim was merrily guiding on Everest oblivious to my situation at home. The story grew because Tim had no reason to make contact, or so he thought. It wasn't until one night he was sitting in the tent with a Canadian climbing buddy that he heard of it, five days after the fact. Canadian Andy Evans was asked by his wife on the sat-phone if he had heard about Tim Rippel? he replied what? she passed on the news that he was dead. Andy replied, "what do you mean? he is sitting here next to me" Say no more.... Tim immediately grabbed the phone and called home. That wasn't the end of it, a year later it happened again. A news source got mixed up on the nationality of a team involved in a avalanche that claimed five lives.... Do you think I have gray hair?
As you may interpret from this blog I am a little sensitive about premature releases. I don't believe this fervent news reporter should attack expeditions that choose to play it cool. Quote from the site. We understand someone has reported this accident never happened. Just another case of false information "reported" without checking facts. You've just got to give your head a shake sometimes. We were at a debate once in Banff where Boukerev was on the panel of discussion just after the 96' disaster. In the crowd standing next to us was Kraukauer. The question was put to the panel- Does media belong in the mountains? Boukerev had an interpreter to help defend his situation. The debate got heated when Krackauer started yelling from the audience at Boukerev. They had to adjourn the debate because Krackauer bolted and was about to come over the table at Boukerev. Tim had a few things on his chest to say too and would have had I not tugged on his shirttail. The doors quickly opened, thank goodness it was -20c something outside that evening. Everyone went their separate ways.
Don't get me wrong; we very much like and appreciate the news sites. They do an outstanding job in helping share some of the amazing adventures people are doing on this planet and in space for that matter. They inspire folks to get out of the arm chair and go explore. And yes... we do believe media belongs in the mountains. It is good to have comparisons and for the folks at home, they just can't get enough when missing their loved ones. There are some excellent, diligent, hard working, comprehensive and respectful news resources out there today and we can certainly appreciate the difficult tasks they have at hand in "getting it right" in a hypoxic world such as high altitude mountain climbing.
That's the end of my fish head toss today, by bucket it empty....Becky :)
October 25, 2008 - HUMBUG... I was out this afternoon in Kathmandu par-taking in Newari New Year festivities with some Newari friends when a very sombre Tim calls in from ABC.....
"I have some bad news. Kajee and Dorji Sherpa broke through to the summit ridge this afternoon and encountered waist deep snow and instability in the snow pack. It is obvious that the snow left behind from the monsoon has not had a chance to set-up because of the cold temperatures we have been encountering. We are going to climb to Camp 2 and beyond to the summit ridge to have a look and to get as high as we safely can, but our summit bid is definitely called off. The summit ridge is much to dangerous at this time"
Everyone has worked hard and a grand finale of standing of top would have been awesome, but not mandatory, coming home safely is. I am proud of everyone. They have endured and worked very hard and learned tons. Good job team!
I will be posting expedition antics as reported, stay tuned! - Becky
Steve Farley photos
| | | | | |
| --- | --- | --- | --- | --- |
| | | | | |
| Mango- Master of comic relief | Ivan- waiting for the beer to catch up... | I'm telling you- no beer, no climbing! | Tim coaching Ivan and Patrick out of the tent | Wissam getting a tummy tuck |
| | | | | |
| Rick, Duncan and Alex - tea time. | Charging up! | White Monkey Irvine- | Kate Coffey or Coffee Kate? | Pumori BC |
Small World

Hi this is TA calling in from Namche bazaar. I spent much of yesterday looking back over my left shoulder; stopping to look back at Pumori and silently tracing the route to the summit with my eyes and wondering what the mountain would hold for the rest of my team above camp one. Once we descended the Dugla hill we saw Pumori no more. Today was a day of looking both forward and back On with bla was our constant companion until we finally rounded the corner into Namche. We stopped to glance back at Everest frequently and the entire Khumbu valley we had just come down, and looked forward to places and experiences down valley. It is always a fine balance of finding the present moment between memories of the past and expectations of the future. I suspect tomorrow may be a day of looking ahead.

Once I leave base camp and come to lower environments I can actually perceive how harsh life up there actually was. As temperatures warm up and beds get more comfy, appetite returns and walking is mostly down hill, life and the ability to philosophize becomes much easier. Today I met a Buddhist friend, Stephen, from St. Johnís on the trail above Namche, he is staying in the room next door, small world. I also met Kevin Adams a good friend of Timís who brought his school group to trek to base camp. He brought pictures of their fallen friend to place in his favorite spots in the Khumbu valley, small world. I had a latte and did a little bit of email down in Namche, small world. I got a North Face jacket for Andrew so he could stop wearing his mom Dianneís, small world. So Iím here in Namche, thousands of kilometers from home, feeling great fondness and love for all who bless my life, and for the privilege of walking and climbing in such an amazing place.

Hopefully team one moved to camp one today, and team two to advanced base camp. Whenever people learn that we were climbing Pumori their heads turn almost as much as when they see my multi-tone hair. Two older Sherpa women couldnít contain their laughter when I walked by them today in town, after my shower it was quite quaff and looking quite good. One last day of trekking should deposit Cliff and I in Lukla tomorrow with all body parts cross for our flight to Kathmandu the next day, and communication that wont come via satellites. As Iím sitting here overlooking Namche, there is the most amazing light on the snow covered peaks, that you can see from here and I realize that Iím speaking on the phone and not out of breath for the first time in weeks.

Have a great night, catch you tomorrow.

TA www.taloeffler.com

Click here http://www.facebook.com/l.php?u=http://secure.e2rm.com%2Fregistrant%2Fstartup.aspx%3Feventid%3D21241 to donate online and click http://www.facebook.com/l.php?u=http://www.taloeffler.com here for a downloadable donation form.

October 25, 2008 - GOING UP and WORKING WITH GLITCHES.... Hi everyone, we are on track with a little web detour but managing. Team members are doing great! TA and Cliff left BC yesterday and are on their way to Namche, all is good,. They are loving the richer air and warmer temperatures.
The climbing teams are doing well also. Team #2 is currently making their way between ABC and CAMP 1. The sherpas are moving to C2 and Team #2 has just finished lunch at BC and moving up to ABC.
Becky
Bumped back by one day!- The schedule below is now bumped back by one day for both teams. Tim says, "We are still on schedule because our plan is to leave BC on Oct. 31. The sherpas came down yesterday from Camp 2 freezing cold. One more day for them to get warm and fuel up would be wise. The lake is starting to freeze now so that tells us just how cold it is getting up here." - Tim
I was up all night last night here in Kathmandu trying to rectify a glitch in our web presence. Talk about bad timing. For some strange reason I am being blocked from our server. To get around it I put together another page and am posting it with another service provider. I hope the folks back home can still find us ok. - Any questions, concerns or internet advise, you can still email me at trek@peakfreaks.com , Becky
October 24, 2008 - TEAM #1- - See plan below.

Hugo Searle- Grant Bullington- Duncan Dew - Mark Mangles - Kajee Sherpa - Dorji Sherpa - Paresh Strestha

October 25, 2008 - TEAM #2 -

Tim Rippel - Wake Williams - Wissam Al-Jayyoussi - Ivan Nolet - Patrick Grillio - Martin McHugh - Rick Sladweski - Arkhom Kijuanichpras - Ade Pettitt - Dendi Sherpa - Jangbu Sherpa
A TEARFULL TA CALLS IN: Hi this is TA calling in from advanced base camp on Mount Pumori. I had a pretty good hike up here at first it was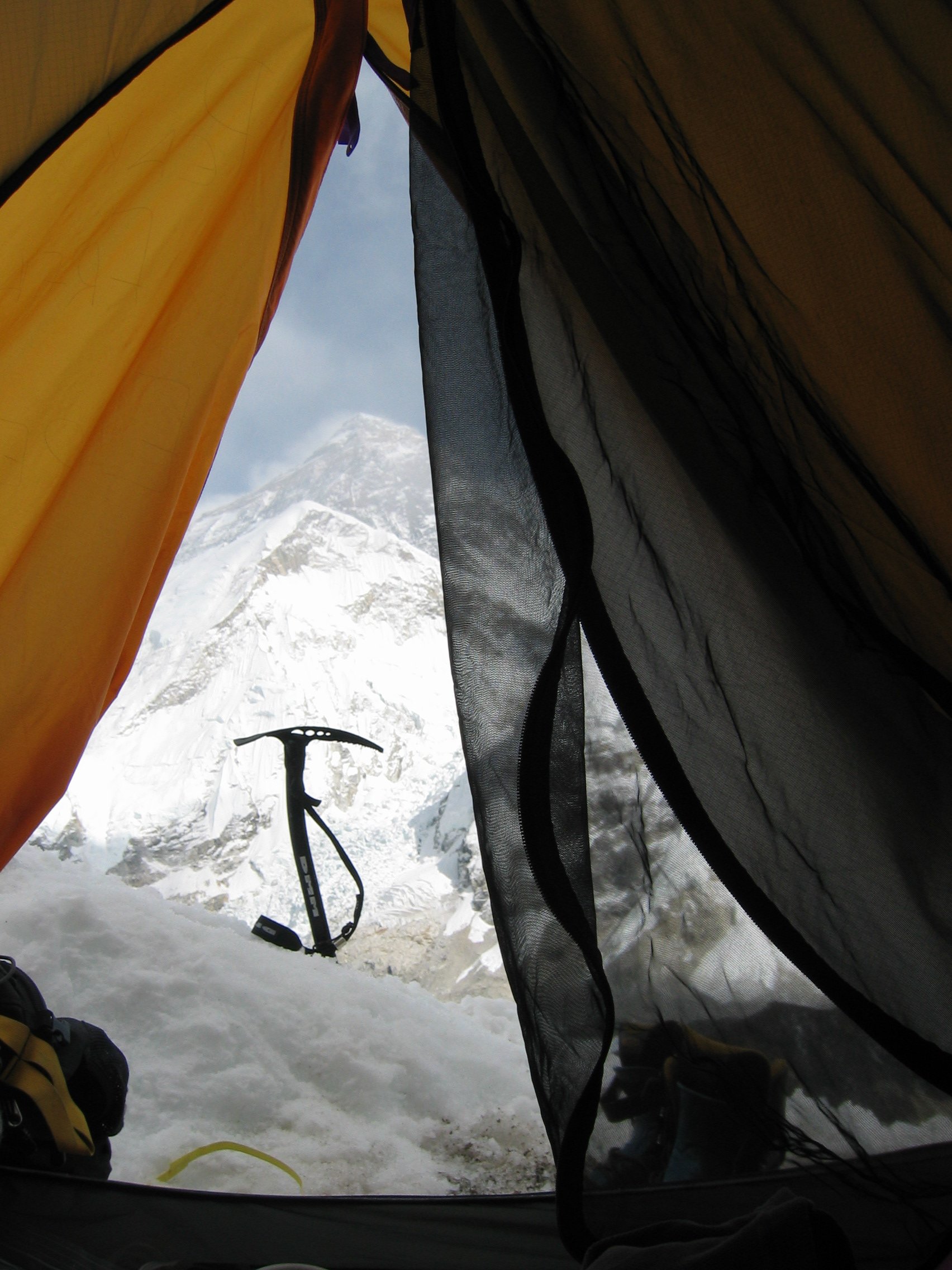 A ROOM WITH A EVEREST VIEW -PFE photo
a bit challenging because it was hard to breathe through all the tears. Sometimes I think the Himalayas just like to make me cry. Iíd actually been doing fine until one of my teammates asked if there was anything they could take to the summit for me. As you can see, it just undid me. Iíve carried up the breast cancer foundation flag up to here and if I go up to camp one tomorrow I will carry it up there. Then I will pass the torch over to my teammates and hopefully they will be able to take it the rest of the way.

Itís 2 oíclock and Iíve already lost the sun so its going to be a chilly night up here. Its kinda like playing house because I can have all the ridges rests all the sun rests that I want because Iím the only one up here. I had a wonderful noodle soup for lunch and will get some kinda meal ready to eat for dinner. See what the morning brings in terms of energy, focus, and desire, either going up or down or both. Iím hanging in there. Iím admiring the view, and let me tell you the view from advanced base camp canít be beat. Looking over at Everest, and Nuptse and the Lhotse and the Lhotse face and the ice fall, itís a real privilege to be up here. I will talk to you tomorrow. TA

MEET IVAN and PATRICK- Frequently being introduced by various teammates as the "avid instructional beer drinking team". May their summit dreams come true and if not, may the beer stock in Namche be large.
Yvan (left) is a married 48 year old father of two grown sons and Patrick (right ) is 45 years old, married and father of a 12 year old son & daughter.

This will be Patrick & Yvan's second adventure together. In 2006 they competed in the Yukon River Quest which is the longest kayak race in the world from Whitehorse to Dawson City, Yukon (750 km). They entered this with no previous kayak experience and managed to successfully complete the gruelling race which is recognized as one of the toughest adventure marathon events in the world. While in the Yukon, they made a side trip to Alaska and it was at that time while enjoying the views of the mountains in the distance that they decided their next adventure would be to climb a mountain even though neither had any previous mountain climbing experience. Fast forward two years and they are ready and excited to tackle Mt. Pumori . Both are up to the challenge and hoping to successfully reach the summit.
MT. PUMORI ROUTE MAP- SOUTH RIDGE prepared by Tim Rippel
October 23, 2008- SUMMIT PUSH TOMORROW!!!- Here is the plan: Team one begins tomorrow morning.
Team #1- Oct. 24 to ABC , Oct. 25 to Camp 1 , Oct. 26 to Camp 2 , Oct. 27 to the summit.

Team #2- Oct. 25 to ABC , Oct. 26 to Camp 1 , Oct. 27 to Camp 2 , Oct.. 28 to the summit.
The teams have been resting and doing some acclimatization hikes. A couple days ago TA went to the other side to have a look at the standard route on Pumori. Yesterday other members went for a climb up Kala Pattar and today they are all resting in preparation for the summit push tomorrow.
TA may not go for the summit. She has to pull out early to be back in Canada to receive a very special award. She knew there was a possibility she may miss the summit push but was hoping for a early summit bid. Unfortunately due to the plane crash and backlog of gear we were set back in time rather than ahead which was what she was hoping for. She is the second Canadian woman to have made an attempt, and if successful would have been the first to summit. The first to attempt was Bonnie Hooge from Prince George B.C. with Peak Freaks back in 1998.
EXTREME HIGH WINDS- for five days now over Everest. Tim says "the jet-stream has definetly moved in now and they are feeling it".
AMA DABLAM: The DABLAM BROKE AGAIN !!! As predicted by Tim last year, half of the dablam has fallen off. It started on Oct. 20, 2008 and there have been at least three avalanches since taking all the snow off the route with it. The route is blue ice now above Camp 3 and it is not known yet but probably likely, that Camp 3 has been wiped out again. No one was there and some teams are calling it quits. See Tim's educated assessment on the situation last year and why we moved over to Pumori. Tim is a professional member of the CAC- Canadian Avalanche Center actively working as a avalanche technican/forecaster for the past 20 years. Also I would like to add that Hugo and Grant were on Ama Dablam last year with us when debris came off the dablam. Hugo was sleeping right near it. A hair raising night for him, we immediately called off the climb. The summit should never be worth risking lives. Summit Climb reported that they are calling off their climb and that half of the dablam is now missing.
Weather: There hasn't been any new snow since the team has been on Pumori.- awesome! But it has been cold. Base Camp has been around -10c to -15c at night and dropping.
Avalanche Seminar: Has been completed by all members. All participants of the climb were run through the program and were provided a manual an Avaluator card and a completion certificate.
Guy Leveille: Memorial service is Oct. 24 in Winnipeg. Guy was climbing on Cho Oyu with an Australian outfitter. Took a fall and died from his injuries. His body was left there. Words and photos from Cho Oyu have been posted by his climbing partner Guy Higgot on the page we have made in memory of Guy Leveille.
During his memorial service on Oct. 24th - Tim Rippel will burning juniper at Pumori base camp and casting prayer flags to the wind to send some of Guy's energy home to Canada. Cho Oyu is right next to Pumori. Other friends of Guy L. are either going the service in Winnpeg or doing something special in their own way. One to mention is Kevin Adams from the UK who was a member of our Ama Dablam 2006 expedition where he and Guy Leveille first met. Kevin is taking a photo of Guy and words to him and placing it in a special place in the Khumbu. A place where they all sat together and dreamed of big mountains. Kevin will leave in a few days from the UK to do this.
The Higgots, performed a ceremony for him at the Boudanath Stupa in Kathmandu before coming home. You can see the beautiful photos that Guy and Vanessa Higgot took and the words that Guy H. said for him during his Sherpa style send off on Cho Oyu on that page as well.
October 22, 2008- Part Two: Winds over Everest and Lhotse avalanche view: Tim calls in: He confirms the two teams on Everest is a French/Italian team who have quit due to high winds over Everest. The other team is Korean who were going to make a summit bid on Oct. 19th but he hasn't heard or seen anything since. I asked him about the Lhose avalanche rumour. He said all that he could see is a small slough on the Lhotse face with his binoculars and that there was no word of anyone being involved.
Our Pumori team is still working it bit by bit. Ropes and camps are in at Camp 1 and Camp 2. I will be talking to Tim again tonight to ask what the game plan is from here on out. We were cut off before we had completed our conversation. Our team is now two members smaller. Tim Irvine from Australia is to arrive in Kathmandu today due to a chest infection that he can't seem to get under control. This has forced him to call off his climb. Carl Lindstrom from the USA who has also called off his climb will join him. Carl explained to Tim that he had a wonderful time, loves Peak Freaks and quite simply just had enough of his cold and needed to go low and get well. The days are getting colder as time goes by. The Himalayan region is now entering into winter, which means it is only going to get colder.
For me I spent the day catching up with friends, many namaste dee dee's (sister in Nepalese) and hand shaking in the streets of Thamel with
local merchants, rickshaw drivers and more- the fun stuff. The big talk among folks working in the mountaineering and trekking industry right now is the crash at Lukla airport. I am told this is the second time for the German company to lose their clients in a plane crash in the Himalayas. For years pilots have turned back due to poor visuals on this landing strip irking many passengers in the past thinking it was clear enough for them as passengers to see. On this day there was a line-up of flights all tucked one in behind the other. That was how good the flight dispatch was that morning. Apparently last minute a band of fog crossed over the entrance of the strip just moments before the pilot was gearing to put it down. Because of the uphill rather than flat landing strip, the twin otters have to line up in perfect position, usually slightly below the strip, with a careful calculation with the entrance of the strip and the uphill ascent, no room for error, say no more...The wheels caught the wire fence that keep the animals off the runway, the plane started to skid sideways and then burst into flames. No one made it out alive except for the pilot.
People have been asking us if this is common? Answer to that is "no", there was only ever one crash previoualy at Lukla since the airstrip was built by Hillary back in the 60's. Sadly it involved his first wife Louise and daughter Belinda who where killed on that plane back in 1975.
October 22, 2008 IN KATHMANDU!- Namaste..... Ok, I am here but I am waiting for a call from Tim. He forewarned me that the lines may be jammed for cell phone communication at peak periods which is likely this morning here in Kathmandu. Just a soon as he makes contact I will be reporting. Becky
October 20, 2008 Hello everyone! I am in the sky for the next 23 hours making my way to Kathmandu. My next blog will probably be October 22 . I will get back to you just as soon as I make contact with the team again. - Becky
October 19,2008 - TIM CHECKS IN FROM ABC- Nestled in his tent next to Wake Williams. Today the training team went to Camp 1 and then retreated to sleep at ABC. Tomorrow they will head down to BC while Tim will be moving up to do some work on the route and then join them back at BC. Hugo's team took the day off.
I would like to introduce Wake Williams. He is from our neighbour here in the Kootenay's He is quite comfortable in the Himalayan environment with snow and small quaters. The only thing that is missing is his beautiful dog. Enjoy Wake's introduction.,
Hello all,
I live in the town of Trail in the same area in the province of British Columbia as Tim and Becky Rippel- about 45 miles away. I celebrated by 59th birthday on the same day, Oct 8 as our puja ceremony in Pangboche. I retired about 5 years ago from a human resources mgt. career and now work very part time as an excecutive/leadership coach and organizational development consultant.
I am a novice climber, have taken a mountaineering course in the Canadian Rocky mountains and have trekked twice:2001 to Gokyo Ri and 2005 (during a road trip in Tibet) from Rongbuk Monastery through Everest North Face base camp up to advanced base cmp at around 21,500 feet. I live four days a week in a 65 year old log cabin at 6000 feet in the ski area mountains near Rossland B.C. and depending on the season, hike, ski and snowshoe in the surrounding mountains all year around. The remainder of each week I am the primary live-in caregiver for my mother who is 93. I was married, am long divorced and have no further aspirations in that regard. Photos of Wake, his home and his best friend.
Wake
October 18, 2008 - TIM CHECKS IN Today Hugo and group went up to Camp 2 and returned to BC. Team #2 took it easy today. They are feeling a bit tired
from yesterday so decided to chill'ax today. Tim Irvine is having trouble with a chest infection so he has retreated to Namche. Hopefully the ritcher air will help him snap out of it. Words from Tim Irvine to follow shortly.
Fabrizio arrived today and joined us for dinner. His team will arrive in a couple days.
HAPPY BIRTHDAY ERIC - from uncle Grant.
Photo: View from Camp 2 Pumori of Everest/Lhotse/Nuptse and the Khumbu Glacier/Everest Base Camp
HEADS UP!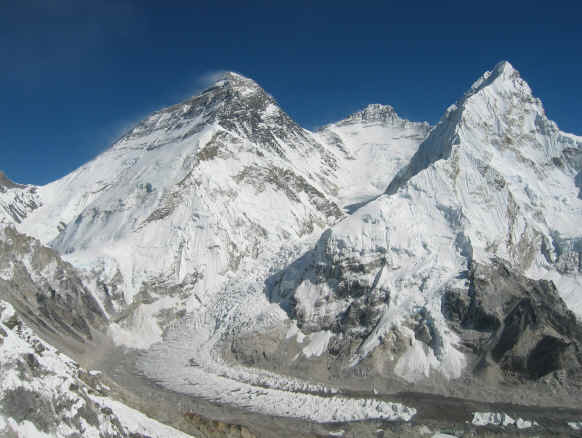 October 17, 2008 - Our good friend Guy Leveille Memorial information is now posted. Guy died in a climbing accident on Cho Oyu. He had signed up with an Australian outfitter, they were climbing without oxygen. He had turned around due to fatique. He took a fall and died from his injuries. Follow the link for more information including photos and comments from his Freaky Friends that he became close to since our Peak Freak Ama Dablam climb in 2006.
Tim checks in: The route to Camp 1 is fixed and everything is moving forward as planned.
Hi this is TA checking in from advanced base camp on Mount Pumori at 5700 metres. Iím happily ensconced in my sleeping bag with everybody elseís gear, it seems like there could be a disadvantage in choosing the palatial palace. Advanced base camp is a repository for everyoneís sleeping gear and climbing gear so that we donít have to carry it back and forth between base camp.

Yesterday and today were night and day, I had a fantastic climb up today, had energy, and fortunately we were able to climb at our own pace so I left camp first and was able to take little micro rests. I actually got up here in about the same amount of time carrying a 40 pound load as I did the other day when we were without a load, so I as pretty darn pleased with that.

The view of Everest across the way is amazing. A little leticular cloud over the summit, some high cirrus clouds so who knows with a change in the weather we may get more blue skies. Been melting snow for some drinking water and had some soup for dinner around 1 and will start to melt some more snow to make dinner round 2 and a hot water bottle to take to bed. Tomorrow we will venture higher on the mountain. The Sherpaís put in the fixed lines and the route into camp one today.

I will talk to you tomorrow

TA

October 16, 2008- TRAINING DAY - all is a go! Everyone worked hard today and had a lot of fun. It felt good to finally get the gear on and start going through the motions of climbing this mountain. ABC is completed and Camp 1 is just short a few meters of rope to finish it off. Tomorrow Kajee, Jangbu and Dorje Sherpa will be fiinishing the route and start to dig out Camp 1 tent sites. That's all for today from me. Tashi Delek - Tim
Team #1- The lead climbing team will be pushing up to ABC to spend the night tomorrow night.
Hugo Searle- Leading - USA

TA Loeffler - Canada

Rick Grillio - Canada

Grant Bullington - Canada

Mark (Mango) Mangles - Australia

Cliff Powys - UK

Carl Lindstrom - USA

Duncan Dew - Australia
Team #2- Will be in the field undergoing further Avalanche and Mountain Skills Training with Tim and other instructors, and/or taking it easy nursing coughs or a bit of both..
Tim Rippel- Leading - Canada

Rick Sladewski - USA

Wissam Al-Jayyoussi - Jordon

Ade Pettit - UK

Tim Irvine - Australia

Ivan Nolet- Canada

Arkhom Kijuanichpras - Thailand

Martin McHugh- UK

Wake Williams
TA CHECKS IN:
Hi this is TA calling in from Pumori base camp, under sunny blue skies, we are about to lose that sun and then the temperature will plummet. Today was perhaps one of the toughest days yet for me as well as one of the funest, such is the paradox of high altitude mountaineering. Starting out the hike to our rock face for our practice session, I felt as though someone had stolen one of my lungs, I was instantly panting and struggling to find a rhythm, for going up hill and each step brought a bunch of coughs. A few others that shared the day too had the same struggle. I persevered and we arrived at the precipice that would be our training ground for the day. At points where I almost coughed to the point of vomiting I looked over to Everest, and had a large sense of dťjŗ view and wondered if I would ever unlock the secret of staying healthy in the Himalayas.

I did my best to stay present in today and just focus on this climb and not wonder Ďifí. We practiced jumaring or rope ascension, passing anchors and repelling, before enjoying a warm spell for lunch. After lunch I felt as if all my energy had been stolen from my body and I took a long time getting my harness back on. I did one ascension and repel then rested as my turn for the double jumar ascension drill. I thought I would do the shorter of the two but was then called over to do the longer stepper one. Something deeper within me took over and I powered up the line with good technique stopping only to pant veraciously at the effort. I past the crux and felt great to be standing at the top all be it severely out of breath. I continue to treat my cough with warm humid air and I hope it decides to leave soon. In the mean time Iím doing my best to stay positive, despite the sore throat, hoarseness, and fatigue it seems to be causing.

I heard from Paula today that the fundraising part of the climb is going well and nearing $4900. I hope it can keep pace with me as I give this climb my all and venture to sleep at advanced base camp tomorrow at 5700 metres. Our wonderful Sherpaís have fixed the lines almost to camp one, they are within 150 metres so rapid progress, health allowing should be made over the next week. I would appreciate your thoughts and or prayers for the healing of this cough, and please send infusions of energy my way. Thanks for your support, special hellos today to Takunda and Zander.

Thanks for following along and I will catch you all tomorrow.

TA

TA is attempting to raise one dollar per metre of Pumori ($7161) during her climb. TA is climbing Pumori in honour of her mother Denise, a breast cancer survivor and 100% of the money raised goes to the Canadian Breast Cancer Foundation. www.taloeffler.com
October 15, 2008 - OUR BAGS ARRIVED- ya!... Tim checks in: Just like Christmas up here today. Everyone is happy to finally receive
their precious cargo. Now the team can get on with (A) the climb and (B) the instructional sessions. Tonight the climbers were all handed their AST1 manuals for the Avalanche Skills Training seminar and did some classroom work. Tomorrow they will get out to analyse the snow pack. The next day Hugo will take the lead climbing group up to ABC while the Everest Training group will begin their mountain skills training sessions. All is back on track and in perfect time.
Fortunate for us we keep our gear stores up in the Khumbu so we were able to accommodate everyone comfortably while waiting for their personal gear.
Let the climb begin!
OTHER NEWS- From Trekker Kate Coffey- Bowan Island, B.C. Canada.
- Kate loved the boulder park and could not get enough of it, and her 1st camping experience at Mt Pumori was a treat - yeah right?!
- Steve and Alex's highlight was climbing the ridge from Pumori base camp to overlook EBC -magic!
- Ken's highlight was taking part in the puja ceremony at base camp. It represented the culmination of multi-months dream.
At Pumori base camp, evenings were spent passing around the oxygen saturation meter where everyone tried to beat Alex's numbers - Go Trekkers Go!!
On the morning of Mon Oct 15, we left base camp at a temp of -10degrees and made our way down the Khumbu Valley slowly but surely to Periche via Memorial Hill. Periche and surroundings reminded Kate of Connemara in the west of Ireland and the creek running through the valley caught Steve's photographic eye. We were very happy to make our way to Namche this morning in anticipation of hot showers!! And perhaps a visit to the bakery - yum!
We are thinking of our friends the climbers and hope they are doing well, and will watch their summit progress via the blog - we are rooting for you all!! - Signed Steve, Alex, Ken and Kate
Becky - 2 photos attached, one of Pumori base camp. And the other one of Wissam insisting on standing on a pile of yak dung as he claimed it was the only place to get a signal for his sat phone ..... despite everyone else getting a signal just outside of the yak dung - crazy guy!
Becky - Ang Nima also says hello and hopes to see you in the Kumbu soon. And he says welcome. And smiled broadly - he has such a lovely smile.
Becky - I am looking forward to meeting you in person in Kathmandu, I think we arrive there on Oct 18 and Tim said you arrive on Oct 19 so hopefully we can connect before we fly out on Oct 21.
Until then! - Kate
PS This has been the BEST experience ever, Tim is just fabulous. I challenged myself to the nth degree but it was all worth it. Thanks to Peak Freaks for helping me realise my dream.

October 14, 2008 - ABC ACCOMPLISHED and OH WHAT A VIEW!: TA checks in from Pumori base camp. We are just down from our first big
climb up to advanced base camp, our Australian team members would say were Ďbloody knackeredí. About a 4 and Ĺ or 5 hour experience, we got to meat the rock gully that we will get to climb each time that we go up. Some pretty louse stuff, which is actually probably the most dangerous part of our climb getting up to advanced base camp. Those of us with colds, and coughs, and runny noses struggled a bit to make our way up to our new elevation height for this trip of about 5700 metres for advanced base camp. The views over to Everest and Lhotse were positively amazing. We strained our eyes trying to find any evidence about what the two Everest teams that are climbing this fall are doing. Trying to see if they had tents on the South Col, because we could see the summit pyramid, much of the Lhotse face, the Geneva Spur and the yellow band, so it was a pretty amazing view.

There is four tents at ABC, we replaced one of them today to be able to send a smaller tent up to camp one as our belongings arrive. Weíve had a Yak watch much of the day, the Yaks are akin to Santa Claus for us at the moment but unfortunately no sightings yet of Santa Claus or the Yaks or our belongings. We are a little bit stymied because that has all of our climbing gear. Our Sherpaís are all set to go and set up camp one as soon as their climbing gear arrives on those very same Yaks. A couple of them went down valley today to see if they could find out where they might be. So tomorrows plan depends a little bit on weather or not the Yaks roll in, maybe a rest day, maybe a training day, maybe some of both. We are resting now after our big day, we will have a little dinner in a little bit, rehydrating, and trying to breathe death to give our poor bodies which are existing on less then half as much oxygen as sea level, a little bit of support.

I want to say hello to the WOKies today, as I was hiking was walking up to almost the height of Kilimanjaro, 185 metres short, I was thinking of us and what an amazing trip we had in Africa, and what a big push that was. So hello to all of you, hope you are doing well. Thanks to all who are following along, thanks for all the good wishes, you are helping us all get up this very big and very steep mountain, and we are all thanking you for that. So keep us in mind as we go higher and higher or as we rest tomorrow.

Thanks

TA- www.taloeffler.ca Pumori Awareness Climb for Breast Cancer- please donate.

October 13, 2008- HAPPY CANADIAN THANKSGIVING- to everyone at home. Today Grant and Hugo arrived and are happy to be re-united with the team. The team took it easy today while Kajee, Dorje, Jangbu and Lkakpa Sherpa stocked ABC with all our tents. We said our good bye's to the trekkers who are now sleeping in Pheriche. The valley is incredibly busy right now. Teahouses are full to maximum capacity and the trail is a big line-up. This the effects of the backlog from the crash at Lukla airport and the persitant fog that had been backing up flights. Everything is going smooth now but the result is an overcrowded Khumbu Valley- Over and out.... Tim.
TA checks in: Hi this is TA calling in from Pumori base camp. Happy Canadian thanksgiving to all: Iím thankful for all my friends and family who support me so well in both life and adventure. Iím thankful for a good nights sleep last night that made everything seem much brighter today. Iím thankful for a hard working Sherpa staff who have placed tents at advanced base camp, and who provide us with the most delicious meals here at base camp. Iím thankful for a new tent platform that doesnít have the entire Himalayan range poking up through it. Iím thankful for a hot shower, rest this morning and an inspiring solo hike this afternoon, that revealed both the Khumbu Ice Fall and some inner strength and resolve. Iím thankful for the wonderful trekkers who have joined us for the first part of this adventure and who are now trekking back to Kathmandu. Iím thankful for the arrival of our last two teammates Hugo and Grant with the climbing permits. Iím thankful for my tea!
mmates
and hope that we continue to build a strong team that will see us to the safely to the summit and return. Finally, Iím thankful in advance for the arrival of our gear duffels, whenever in the next while they do arrive so that it can quickly go from Thanksgiving to Christmas.

Everything is going well here at base camp. The Sherpaís actually put the tents at advanced base camp today so we will complete our carry from yesterday tomorrow morning and get all of that up into advanced base camp. Soon after our gear arrives we will be able to do some of our rock training, and snow training and that will enable us to start spending some nights at advanced base camp and start the placement of camp one and eventually camp two. Colds are still going around, working hard on mine to try to get rid of it, lots of humidity treatments and took my walk very very gently today so hopefully get rid of it on the sooner side, so we can stay healthy and keep moving up the mountain.

Thatís about it for this Thanksgiving Monday from Pumori base came, weíll talk to you tomorrow, thanks.

TA
-
October 12, 2008- WIND STORM & PUJA: TIM CHECKS IN: We had a rude awakening this morning. A fierce wind ripped through base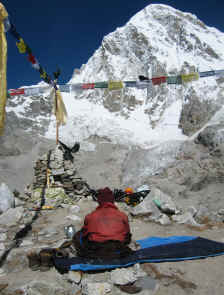 camp uplifting our toilet and storage tent. All is good now. Everything has been reassembled and secured. Today was our Puja and we did a carry of rope up to ABC to get out and help with acclimatization. Everyone is now tucked into their tents for the night. Over and out- Tim.
Hi this is TA calling in from North 27 degrees, 59 minutes, 40 seconds ; East 86 degrees, 50 minutes, 15 seconds, our second day at base camp here on Peak Freaks Mount Pumori expedition.

Today we had our Puja ceremony, the Lama came up from Pangboche to bless the mountain and our equipment and us as climbers. I found it a very emotional ceremony as it was the same Lama that had come to do our Puja at Everest. Itís a serious kind of affair, and really brings home what we are about to do. With burning Juniper and chanting, the prayer flags looked absolutely beautiful against the mass of Pumori when the pole was raised and the prayer flags began to flutter in the wind.

After lunch we did a carry half way to our advanced base camp and marked the route with cairns to make it easier to find our way in the dark. Tomorrow I guess we are going to try to do a carry all the way to ABC. The good news is that our gear is on its way up. It landed in Lukla yesterday so hopefully on Tuesday we will have warmer things since it has been unseasonably cold up here, its pretty chilly, Iím tucked into my sleeping bag again as I make this call.

I want to say a big hello to Patrickís daughter Hunter and my niece Rayne, because I know they are both following along. Iím hoping that my acclimatization catches up, Iíve been dealing with a little bit of a headache and I seem to have caught the team cold that we have been passing around. We are all hoping that we pass it around early and get it done with so that it doesnít interfere later in the climb.

Thatís all the news for today, take good care and we will take to you tomorrow

TA

October 11, 2008 - THE BAGS HAVE LANDED and THE TEAM IS AT BASE CAMP.... "A BIG SHOUT OUT "to our partner in Kathmandu
, Sonam from Senge who levitated the teams bags to Lukla with the help of a twin otter that is. Sonam formally owned and operated well known Great Escapes Trekking. We have been working with Sonam for 18 years now. Senge is Tibetan for "male lion". The Dali Lama's terrier dog is named Senge. ( A little Tibetan trivia for you). Kiran our ground person also of 18 years and Dendi Sherpa our climbing sardar have been at the airport since Oct. 4. The first flight was turned back due to the crash at Lukla and it all went sideways since then. The climbers should have their bags in the their possession in about 3 days. Hugo and Grant should be pulling in just before the bags arrive. Sounds like they will need their meds.
Hugo checks in from Dingboche: We both have colds, Grant is first in Namche and has since given it to me, because he insists on not covering his face when he sneezes. I call him Typhoid Grant. Other than that we're fine and acclimating great.
Lori checks in from Namche. Her and Joanne had a big day yesterday. They made it in to Namche at dusk after a full 8 hours on the trail. They can relax now and put their feet up.
Tim reports from BC. A very strong Mark Zisbser on the trekker team, sprinted from Lobuche to Everest Base Camp and showed up at Pumori BC just in time to chill'ax with the team and enjoy a nice tasty meal. Tim says everyone is thrilled with the quality of comforts we provide and the great food. A nice break for the teahouses that were starting to get very crowded and the food (as always) is not as good as our base camp food.
TA also check in from BC with a description of Pumori Base Camp. Not many folks get here to see how sweet it is.
Hi this is TA calling in from Mount Pumori base camp 5284 metres. Iím sitting here in my tent, in my ultimate layer otherwise known as my sleeping bag because the sun has gone behind the clouds and when that happens the temperature drops. Outside my vestibule I see a wonderful glacial lake thatís part of our water supply as well as the most commanding view of Mount Pumori. If I look out the back of my tent I see Everestís summit pyramid in all of its glory. Itís the most amount of the summit pyramid that Iíve ever seen from any of the places that Iíve been privileged to see it.

It was about a 3 and Ĺ to 4 hour trip in here to our base camp. Itís pretty exciting to be here, to see all the hard work the Sherpaís have been doing to get our base camp set up. We had our wonderful first meal in our mess tent. Weíve begun to see how much rock dancing we are going to need to do over the glacial moraines. To move some of our supplies over to our advanced base camp will mean learning to flow and balance over those rocks over the next few days. We hear the Lama is coming in tonight for a Puja ceremony tomorrow.

At the moment I have an Irish flag as well as a Cork flag flying from my tent in honor of Kate my tent mate. She did a great job of getting in here today with us as did all the other trekkers. Hope everyone out there is having a great day thanks so much for your support. I want to say thanks to Earl my communications king, also to Marian whoís helping out with communications, to Deb and Will for helping out with the website, to Paula for being my Breast Cancer Foundation liaison. A BIG welcome home to my mom and dad who are arriving back home from their big trip in China. And Hi to Leo and Takunda as well. So everyone is doing well we are all excited and thrilled to be here at base camp. Let the climbing begin

Talk to you tomorrow.

TA - www.taloeffler.com

October 10, 2008 - From TA- A late submission. My fault... I am busy packing and getting ready to head out Nepal to meet up with the team. I will be blogging from our Himalayan post beginning Oct. 21.
Hi this is TA calling in from Lobuche 4930 metres above sea level. We all had a great walk up here today; it took us about 4 hours and 30 minutes. We arrived and promptly all devoured lunch, so appetites are good all round, just a few little headaches. It is sobering as always to go through the climberís memorial park on the top of the hill. We got our first glimpse of Pumori today and more then a few expletives were said. So we are all doing pretty well, looking forward to getting into base camp tomorrow. We hope that our gear actually got out of Kathmandu today. Iím running low on batteries so Iíll sign off for now but talk to you again soon.

Thanks
TA
October 10, 2008- BAGS- FOG- AND ALTITUDE -Some trekkers have hit the wall. Lobuche is a turning point for some. The thin air starts to take its toll. Joanne started to get the sniffles and a sinus headache so she has opted to turn back in the morning and wait in Namche with Lori who also turned back. Namche is a nice comfortable place to hang out waiting for the return of the others. Good coffee, bakery, shopping and nice accommodation.
We have a situation in Kathmandu. The holiday season "Dashain" which is treated much like our Christmas season where government offices close. Only thing is they close for two weeks, but they don't, but maybe today they will...well maybe ok ,for 1 hour, or so, or maybe they will have just one person work instead of the normal 15. That should do it! .Hugo and Grant spent 6 hours waiting at the Ministry office to receive our permit. They were the first issued that day and reported there were 20 teams in line behind them. This year seems odd. We have never had to wait so long to get processed.
Our other hurdle right now is the fog laying over Lukla airstrip. There has been a lot of moisture this monsoon and the cold air is moving in later than normal and holding at the elevation of the airport causing flight cancellation day after day. Whenever there is small window they blast in with passengers only, no cargo. They don't make as much revenue on cargo so everyone can go, but no cargo. This is hurting the teahouses right now. They haven't been getting supplies, food etc. for the lodges to feed all the trekkers and climbers they are sending up. We are ok, our team arrives at BC tomorrow and we have all our food supplies because we buy local and store our equipment up the Khumbu Valley. Our climb won't be interupted other than the climbers "seriously" will need their climbing gear.
Fortunately Tim has a good training program lined up for everyone that will fill in the time till their gear arrives. He is going to run everyone through the Canadian Avalanche AST1 program. This is a very intense avalanche skills training seminar, worlds best that Tim teaches here in Canada to outdoor professionals and backcountry skiers around the world. Avalanches kill more climbers in the mountains than any other accident. Valuable knowledge for anyone playing outside a controlled mountain environment.
Another thing they are going to do is have every one climb Kala Pattar to gain more altitude and start carrying loads up to ABC. They can do this with hiking boots as their climbing boots are still in Kathmandu.
Word from Kathmandu is that they are going to try and get one of the grounded Royal Nepal planes operational to start ferrying loads of cargo up and also looking into getting a helicopter sent over from Tibet to help out. Wait and see!
MEMBER STATUS;
Hugo and Grant in Dingboche Oct. 10

Lori turned back yesterday to Namche

Joanne turning back tomorrow to Namche

Everyone else is doing fantastic and so will Lori and Joanne when they check in to the comforts of the lodge in Namche.
October 9, 2008 - NOTHING FALLING TODAY- This week has been plagued with tragedy in the Himalayas. First, a skydiver dropping out of the sky breaking her leg. Plane crash at Lukla airport killing 18 people. Two climbers take a fall on Cho Oyu resulting in death. First death reported was our good friend Guy Leveille- Canadian who joined with an Australian outfitter. Yesterday it was confirmed that Miha Valic -Slovenian from a separate incident involving another team died on his descent on Cho Oyu from a fall.
Our team is happily and slowly making their way to Pumori base camp. They are now sleeping in Dingboche. This is their second night here for acclimatization purposes. They will be moving up to Lobuche tomorrow for two nights. They should be at base camp in time to celebrate a Canadian Thanksgiving. Bring on the roasted chicken!
Tim reported this morning that two planes did land in Lukla yesterday contrary to what they were previously told. There is a run on helicopters or should I say helicopter. He said there is only one available at this time for shuttle purposes so they are in queue.
Thankfully the only thing falling today is the Canadian dollar and hopefully the bags will follow suit in the next couple of days.
October 8, 2008- PLANE CRASHES AT LUKLA- Today in Lukla a 19 seater Yeti Airlines DeHavilland DHC-6 Twin Otter, the ones we use all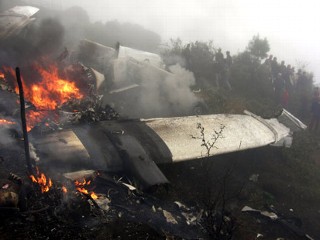 the time to access the Everest region crashed yesterday killing 18 people- two Nepalese nationals and 16 tourists. The only survivor was the pilot. Due to fog the aircraft had dropped too low and snagged its wheels on the security fence at the entrance of the airstrip.
NO PEAK FREAK PARTICIPANTS WERE ON THE PLANE. Hugo and Grant are in Namche and the other members are now in Dingboche. We are affected though. Unfortunately due to the busier than normal season and intermitent fog issues our climbers bags were to be trailing behind them with a couple of our sherpas. This finally happened after waiting in KTM for five days. The gear was on the plane following the crashed plane. They are now informed that the airstrip will be closed for at least 5 days because of the crash and when it does open only passengers will be allowed to clear the back log of trekkers in Kathmandu and no cargo. If they waited it has been calculate about 10 days time before they get their gear. To get around this Tim is now organizing a helicopter to cargo our members gear bags up to them. What a week, everything seems to be falling out of the sky.
October 7, 2008- LAMA GESHI- PUJA TIME..... Tomorrow morning is our teams private blessing with Lama Geshi. Tim visited Lama Geshi today to ask for our special blessing for good friend Guy Leveille who just recently perhished on Cho Oyu. Emails are pouring in from climbers who have climbed with Guy. You can read them here. + phots. Information on Puja's with Lama Geshi.
TA- checks in:
Hi this is TA calling in from Pangboche at 3985 metres. We are in the land of yaks, our guest house is surrounded by oodles of yak pens, and we experienced our first yak jam today, at one of the suspension bridges. We have passed into the part of the terrain where they start using yak patties, they gather up the yak poop and pat them into patties and place them on the stone walls so they can dry. Then they pour kerosene over them and burn them in the stove, which we are appreciating tonight because its pretty chilly.

We started with a warm spell today, clear skies, folks actually caught a glimpse of Everest before it clouded over by getting up early. By about midday we started to lose the heat and it started to chill up so we are all dressed really warmly tonight. Had a wonderful time passing through the rhododendron forest, some deciduous forest with autumn colored leaves and that wonderful smell of autumn.

We are all happy to be here in Pangboche, we are separated from our trekkers for the night they are in Deboche. We are here early so that we can go to our blessing tomorrow with Lama Geshe. At the moment, folks are enjoying the sounds of Bob Marley in the dinning room. Weíve all rehydrated with some warm tea, were going to have some pizza, and momoís, and finger chips for our dinner, to replenish our energy supplies. Tomorrow we will head on up to Dingboche.

I realized the other day that I didnít tell you the story of meeting up with the climbing Sherpa from my 2007 expedition, hes guiding some trekkers and we figured out that we knew each other. At the time we where doing our knots, I was showing someone a triple bowline and heíd never seen that, so here I was teaching a four time Everest Summiter a new climbing knots he didnít know. It was a wonderful little connection with him and had me feeling a little bit confident that evening. Just thought I would share that story. Things are going well, people are feeling good, and we will continue upward tomorrow.

Thanks for following along and we will talk to you from Dingboche.

TA - www.taloeffler.com
October 6, 2008 - EVEREST SKYDIVER CRASHES- Click on photos to enlarge (from Tim Rippel).
TIM CHECKS IN: The news of Guy Leveille's death on Cho Oyu has reached him from Kathmandu. He is still in a state of disbelief and has no words at the moment other than he will miss him dearly and is desperate for information of the events that unfolded. They were close friends.
Other news from him was the Skydiver drama today. Tim hears a wap-wap-wap above him; it is the skydivers coming in. He ran the edge of Syangboche airstrip to film them dropping off over the edge when one of our trekkers came running to him yelling "Tim, Tim, one of them crashed". He was first on the scene to stabilize the female skydiver until their medical team arrived. She had apparently dropped in through the fog and became disoriented. When she went to correct her shute, she picked up too much speed and smashed into the ground. She is bruised and broke her leg.
From TA

We had a fine day trekking up to Khunde and Kumjung today. We sauntered uphill at a lovely pace and stopped to watch the Everest
Skydivers take off from the Sangboche airstrip. Some of our group even helped with the rescue of one of the parachutists when they crashed when they landed short of the field. They jumped from 29,500 feet (higher than Everest) and awe was ever present in the crowd.

We had a yummy lunch of dal bhat at Ang Nima's place. After the meal, his wife offered chang all round (homemade rice wine) and I thought, "When in Sherpa land, do as the Sherpa," and downed two cups. Only Tim had more I think. They presented us with katas (ceremonial scarves) and sent us on our tipsy way towards Khumjung and the Everest Bakery (formerly the worldís highest bakery). Those that had saved room enjoyed a treat and we hiked back via the Everest View hotel. There was no view since some think clouds had descended so we will hopefully catch our first glimpse of Everest tomorrow.

Please forgive the typos. Internet costs 15 cents a minute and I am trying to type fast.

Altitude continues to be a good teacher on the subject of impermanence-most of the group is doing just fine with it just far-a few minor headaches
that's all. I'm feeling well and strong thus far and pretty excited about
that.

Tomorrow we head for Pangboche and will participate in our puja soon. I look forward to meeting Lama Geshe and hope I can get a nugget for my Budhhist practice from him.

We've been passing a group of trekkers trekking with young children. It's so exciting to watch the kids exploring this mountainous world and Nepali culture. When the kids get tired (aged 3-9), they ride in specially adapted porter baskets. Starting the next generation of adventurers young.

Thanks for all of your support. Call you from Pangboche.

TA

NEWS FLASH!!!
We just received information that good friend Guy Leveille has passed away on Mt. Cho Oyu in Tibet. He was climbing with an Australian outfitter- Field Touring Alpine- FTA... more here
October 5, 2008- TEAM IN NAMCHE BAZAAR: Tim Rippel calls to say everyone is feeling great, no headaches and having too much fun.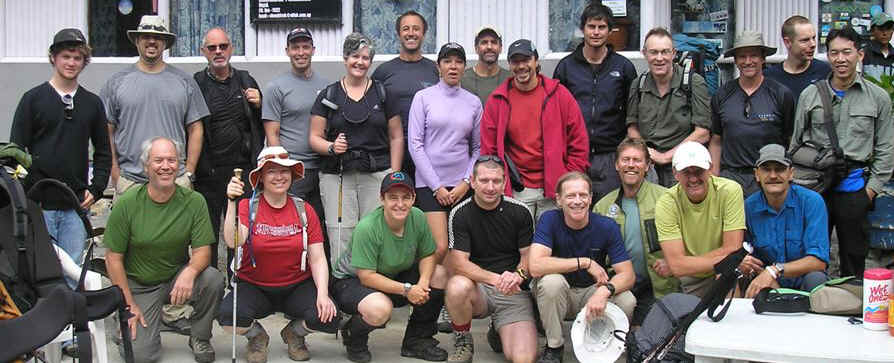 Team heading out this morning from Monjo. Everyone except for Grant and Hugo. They have the precious document in hand and are flying to Lukla tomorrow.
TIM IRVINE REPORT from Namche.
"Namaste" from a cold, overcast Namche Bazaar. Two days in, we are going well. I have proudly taken the honour of being the first member of either team to experience gastro. However, life at high altitude was never meant to be easy. We cannot control what happens to us up here, but we can control how we respond.
A few of the team have been keeping everyone updated with blogs. So rather than articulating what has happened since my previous blog, I felt it necessary to provide a brief insight into each of the team members. Obviously nobody on the team is perfect. Over the coming weeks, we will agitate each other more and more. However, here's a look at how I view each of the team:
Climbing Team:
* Rick: Extremely articulate and a humble person. He is easy to converse with.
* Adrian: The quote of the expedition so far came from him. He described the torturous hill climb into Namche as "cheeky." This was exclaimed while others in the group were giving less complimentary vernacular of the hill climb.
* Tim Rippel (Leader): He will be a friend for life to me and many others.
* Arkhom: He has no body fat, so he gets up hills quite comfortably. I enjoyed racing him into the village of Monjo yesterday.
* Martin: Is built like a climber and will thrive on Pumori.
* Patrick: Mango's description of Patrick (below on this blog page) is apt. No matter what happens on Pumori, he will be leading our expedition celebrations. Every expedition team needs a guy like Patrick.
* Ivan: He is Patrick's partner-in-crime and a great bloke. He also knows a fine photograph opportunity when he sees it.
* Cliff: Has grand mountaineering plans for the future and will succeed. He is also genuinely caring.
* Wake: An intriguing bloke who appreciates the finer things in life.
* Carl: One of the most genuine blokes you could meet and is always willing to share a laugh.
* Wissam: Our technology guru. Importantly, he doesn't take himself too seriously.
* Mango: A lot of people on this team have a great attitude, but his is the best. He is someone I will continue enjoying trekking/climbing with.
* TA: A very popular member of the team! She's great value.
* Duncan: My roommate. He has a quick wit. If any practical jokes occur on this expedition, we will blame Duncan.
As for Grant & Hugo, we look forward to catching up with then later in the week.
Trekking Team:
* Ken: A guy I built an instant rapport with. He is a humble, easy-going man who is so appreciative of the scenery. A fellow salesman, he and I get along well.
* Joanne: Her wonderful personality permeates to everyone on the team.
* Kate: One of the lovliest people you could meet!
* Steve: Another keen photographer who I spent some time trekking with this morning. He is wisely pacing himself to Pumori Base Camp. After a shower today, I heard Steve humorously bellow from the next room, "That was the best shower I have ever had!"
* Alex: A quality young man who I'm looking forward to getting to know more over the coming days.
* Lori: Two words best describe her: "Warm heart!" In addition, I think she is the only person who smiled as we all trudged up the massive hill into Namche today.
* Mark: Adds a balanced dimension to this team. There is nothing fancy about him. He simply excels!
On a personal note, happy birthday to Thomas and Jack, two of my six awesome nephews.
Regards,
Tim Irvine (White Monkey)
October 4, 2008- PUMORI: KEEPING HER DRESS CLEAN.... We announced last during our Ama Dablam climb that we were going back to Pumori this autumn. You can read about our reasons which are environmental ones, in this blog. http://www.peakfreaks.com/amadablam2007news.htm
I just came across some online comments that suggest operators who were denied access to Tibet (which was not us by the way) are taking climbers to alternatives that might not be safe. We have been offering climbs on Mt.Pumori whenever possible, this is our fourth expedition since 1998, some with success and all without incident. Information on the route we climb "south ridge" and not the exposed and avalanche prone "standard route" has not been provided previously by us because we had hoped to hold off the crowds and pollution that now darken the once pristine Ama Dablam. But with the age of the Internet and blogs, we know it will be just a matter of time before our secret gets out and the teams will follow in hordes. Already this year Fabrizio Zangrilli is expected to show up with a team and follow our lead later this month. He checked with us our green policy which was very much appreciated. We have bio bags in hand ready to hand out. We are coming out of the closet this year about our preferred route but at the same time want to come out and initiate new standards on the daughter mountain in an attempt to keep Pumori's dress lofty and white. After all, she is the unmarried daughter of Everest :)
Becky
October 4, 2008- GRANT BULLINGTON from Vancouver, Canada checks in: Grant was on our Ama Dablam expedition last year and is back for more..... Tim reported that there is a busier than normal climbing season this year which coincides with the Dashian festival. Unfortunately this has caused a back log at the permit office. Tim and team are now sleeping in Monjo at Chombi's house situated along side the Dudh Koshi river leaving behind Hugo Searle and Grant Bullington in Kathmandu to intercept the document on his behalf and then catch up on the trail in a couple days. Here is Grant's report while waiting in Kathmandu:
Photo:
Grant (first left), Hugo (second left)- sitting around the stove at our Ama Dablam base camp last year telling tall tales.
GRANT: Thanks to the Nepalese brand of bureaucratic efficiency, Hugo and I get a couple of extra days in KTM while we wait to meet with permit office and fly out (fingers crossed) the next day. It's all good as I am out of Tiger Balm... need another Ghorka knife etc (read TA's entry if this didn't make sense). We got up to see the group off this am and were excited to hear planes taking off while Hugo and I had breakfast on the upper deck of Helena's rooftop cafe. Combination of naps, writing postcards and doing some rather hard sudoku's I'm ready for lunch.
We're going to the permit circus tomorrow am and should be done before Dashai ends... and weather permitting fly out Monday AM. Until then I'll avoid buying more gear (so far I'm up 2 down jackets and a pair of technical ice tools).
The walk in will be interesting with it being just Hugo and I. I've instructed him to go and learn some new material for the walk. We'll miss watching the other climbers/trekkers' group dynamics take shape in the first week. Then again we'll get dropped into the mix cold and see what all has developed on the walk in. They're a fantastic group and hope to cross paths in Namche before catching up at BC.
I'm going to be missing a few things while I'm hear and want to give some shout-outs - to my brother Keith' on his birthday, my nephew Eric on his and congrats to the turkey I won't be eating because I'll miss (Canadian) thanksgiving.
Wish us luck at the permit office!
Grant

October 4, 2008- HI THIS IS TA CALLING FROM MONJO we completed our first day of trekking. Almost didnít get to trek today at all because the Lukla airport was shut down for a small period of time, so we had all our fingers and toes crossed as we sat on the runway.
Got to do the exciting flight through the clouds, they actually looked alot like castles to me today. It was amazing as the pilots wound their way down through the opening in the cloud cover to find the runway at Lukla airport. It is always an exciting landing at the short take off and landing strip, which is about as long as an aircraft carrier and cantered upwards to slow planes down because they are landing in such a short distance.

Itís wonderful to be back on the trail. Iím so excited to be walking away from all the horns and hooting of Kathmandu, everyone is pleasantly tired tonight. I spent some of the day today with a bit of an altitude headache which I could breathe away. So Iím glad that it passed and tomorrow we face the big Namche hill.

Thanks for tuning in as we start our trek towards Everest and of course Pumori and all the villages up towards them.

Thanks and have a great day

TA

Just a reminder on this the eve of the ďRun for a CureĒ, TAís climb of Pumori is also a fund raiser for the Canadian Breast Cancer Foundation. TA is attempting to raise one dollar per metre of Pumori ($7161) during her climb. TA is climbing Pumori in honour of her mother Denise, a breast cancer survivor and 100% of the money raised goes to the Canadian Breast Cancer Foundation.

So please take a minute and donate. You can find inforamtion on how to donate at www.taloeffler.com

Thanks for the support - TA

October 3, 2008- MANGO from Australia check in.
Well it has been a great couple of preparation days in Kathmandu. The team is starting work as a cohesive unit and while the first couple of days started with some heavy "training" sessions these have now tapered into lighter ones in prepartion for the trek in. (I suppose I shouldn't mention that a training session in Kathmandu consists of drinking Everest beer in large bottles until the hotel runs out.) Patrick and Ivan are the "training" leaders and like all good leaders, lead by example.
Shopping fills in the time between "training" and and it is sometimes a competition to see who can buy the most gear and still get it in their bag and pack and keep it in the weight limit.
One member of the trekking team (who will remain nameless...Joanne) has taught us all the joys of germaphobia and how not to get sick from anything. I think she recommends bathing in soap-free hand wash 5 times a day. She has also taught us how to open toilet doors with our feet, flush with our knees and switch lights and close doors with our elbows.
Tim (our fearless leader) continually comes up with unusual names for items (it must be a Canadian thing). When he ask the Aussies what they call a hat, we relied "a hat" and then he asked what do we call a warm hat and of course we replied "a warm hat". Apparently Canadians have different words for these 2 items.
Tomorrow we fly to Lukla, and I will try to add more on each of our adventures and fellow adventurers as we go.
Remember: Adventure before Dementia
Mango
October 3, 2008 - MEET TIM IRVINE- from Australia- AKA- "White Monkey" oh boy, I am going to here about this one. Tim, an accomplished pianist was asked -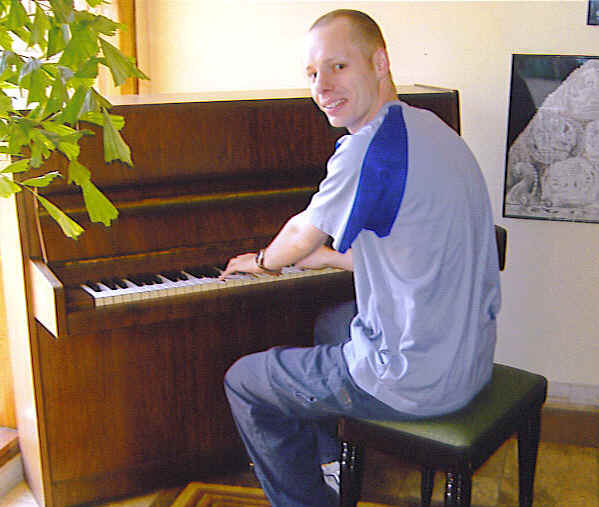 Tim playing piano at the Shangri La Kathmandu
*Why do you want to climb Mt. Pumori? Answer: "I'm going on this expedition for the thrill of the challenge and in the hope that it may lead to greater mountaineering conquests in the future. Hopefully I'll be able to learn some things off Tim Rippel, Hugo, and everybody else in the team."
Following is a blog we received from the White Monkey before he turned in for the night in Kathmandu.
Greetings from Kathmandu, Nepal. After months of preparation, it is exciting to finally be in Nepal. This wild capital city, Kathmandu, has 1 million inhabitants who have the greatest backyard on Earth Ė the mighty Himalayas.
Kathmandu is a city like no other, a maze of congested dusty streets lined with sub-standard homes and businesses which rise up to 5-storeys high, many with partially completed roofs. Nepal is one of the poorest nations in the world. The initial culture shock hits hard every time!
Yesterday, as the sun set following an extremely humid 30 degree Celsius (86 degree Fahrenheit) day, the whole team met up for the first time, the remainder of us arriving yesterday afternoon. There we were, sitting in a circle in the pleasant courtyard of the Nirvana Garden Hotel, fifteen climbers and seven trekkers hanging off every word that our experienced leaders, Tim Rippel and Hugo Searle, were giving us. Tim Rippel is well known in this country and for good reason. He is a professional and we are in safe hands.
So why are we doing this Pumori expedition? Some are here to do a training climb for a Mt Everest attempt in the future, some are here to conquer a peak higher than 7000 metres, some are here to conquer Mt Pumori in the hope of summiting other enormous Himalayan mountains in the future, and TA is here to raise money for the Canadian Breast Cancer Foundation.
Immediately upon meeting TA, I saw a depth in this woman. Having been personally touched by breast cancer in her family, she continues to be an advocate for this horrible disease. It gives the rest of us extra motivation to make this expedition a success. Her bright pink hair is a common reminder of the cause.
Regardless of our individual goal, we are here as a team and there will be countless stories and laughs shared over the coming weeks. Many of us will be pushing ourselves to the absolute limit, physically. So we will need each other's constant encouraging words.
This morning, most of us ventured off on a fascinating hour day tour of two of the main attractions in Kathmandu - the Monkey Temple in the hills overlooking the city, and the popular Durbar Square. However, it was travelling through the city which arguably provided the most excitement - both on foot and in the tourist bus - as we dodged pedestrians, pollution-belching two-wheeled and four-wheeled vehicles and stray cattle & dogs.
Kathmandu delights the senses. Colour abounds in every direction, the aroma of spicy food pierces the nostrils, the taste of dust rising from the sub-standard roads is somewhat unpleasant but cultural nonetheless, traffic mayhem is on show for all to see and hear, and the tourist area is lined with hundreds of bizarre souvenirs and gifts to touch and purchase.
Needless to say, once in the majestic Himalayan mountains, the senses are thrilled even more Ė the awesome sight all day every day of the highest and most brilliant peaks on Earth, the taste and scent of sweet Sherpa tea and fresh omelettes in the morning, the exhilaration as you take your first steps of the expedition, and what would have to be the most wonderful sound ever created: the ringing of bells hanging around the necks of yaks carrying goods, as their masters herd them along the trail from village to village. I have already purchased some yak bells as gifts for friends from a now wealthy shop owner in Thamel.
This afternoon we had free time to send emails, explore more of Kathmandu, drink beer before it is discouraged to do so at high altitude, catch up with Sherpas from previous Himalayan expeditions, or sleep off jet lag. After arriving yesterday, Carl & Rick are still on North America time; Duncan & I are still on Australian time.
So the scene is set. Our 30 kg (66 lbs) of gear is packed and we are ready to go. Tomorrow morning (Saturday) we will rise early to catch a spectacular 45-minute flight (some might call it a frightening flight) to the picturesque Himalayan hillside village of Lukla. From there, we will follow our Sherpas and either end up in Phakding or Monjo. On Sunday or Monday we will have our first glimpse of Mt Everest (on this trek) as we head to the large and vibrant village metropolis of Namche Bazaar. There, we will enjoy 2 nights of acclimatisation.
We expect to have our first sighting of Pumori early on Thursday 8th or Friday 9th en route to Tugla after an initial steep hill climb behind the village of Dingboche. Personally, this area is one my favourites in the Himalayas. Yak herding fields line the ridge and the valley stretches far and wide leading your eyes to some of the most impressive mountains in all of the Himalaya - Ama Dablam, Pumori, Taweche, and Cholatse.
There is a big adventure awaiting us and we cannot wait to get started!
One of us will write again soon - if not in Namche, then not long afterwards. From all of us on the team, thank you for your support.
Regards,
Tim Irvine
October 2, 2008- MEET TA LOEFFLER I would like to take the opportunity to introduce team member TA Loeffler from Newfoundland, Canada. TA is climbing for Breast Cancer Awareness and will be hearing a lot from here throughout the climb. If successful she will be the FIRST Canadian woman to climb Mt. Pumori. TA, the only woman on the team has quickly been voted the teams "favorite personality", that didn't take long, I knew it would happen. Here is an introduction from TA followed by her first blog from the Nirvana Hotel in Kathmandu- enjoy!
Pumori: Climb For Awareness
TA's

Pink Outside the Box

look
My name is TA Loeffler.
I am a professor of outdoor recreation at Memorial University in St. Johns, Newfoundland.
After summitting Denali in 2005, I set a goal of climbing the seven summits, the highest peaks on each of the seven continents.
Throughout this journey, I've aimed to inspire others to have big dreams by sharing my adventures online and by dedicating my efforts to causes near to my heart.
Every October since my mom, Denise, was diagnosed with breast cancer, I have run the Race for the Cure in her honour.
I vividly remember the first time I wrote her name on my race bib.
I was just learning to run and I wasn't sure I could do the entire five kilometers.
During the race, there were times I could hardly breathe as I was overcome with so much emotion.
After the race, I sent that race bib off to my mom with a note expressing my love and hopes for her recovery.
As each year has passed since then, I feel both sadness and anger as the list of names I added to my race bib grew.
It seems as though every month I hear of a friend or family member that is affected by breast cancer.
I'm going to miss this years race.
Instead of running shoes and T-shirt, I will be donning climbing boots and soft-shell jacket.
Instead of writing my moms name on my race bib, I will write it on my ice ax.
Instead of running 5 km with thousands of others close to home, I will be an expedition climbing Pumori with Peak Freaks.
Pumori, a 7161-metre peak that sits across the valley from Mount Everest, is translated as Everests daughter.
I am dedicating this climb to my mother, a breast cancer survivor, and to all who have also had to make the mountainous journey through breast cancerPumori, a 7161-metre peak that sits across the valley from Mount Everest, is translated as Everests daughter.
I am dedicating this climb to my mother, a breast cancer survivor, and to all who have also had to make the mountainous journey through breast cancer
.
By honouring those who've faced breast cancer, I hope to heighten awareness of breast cancer prevention, screening, and early detection as well as raise funds for the Canadian Breast Cancer Foundation.

I have set a fundraising goal of one dollar per metre of the peak.
One hundred percent of the money raised through the climb will go directly to the foundation (i.e. none of it will go towards the costs of the climb).
By climbing Everests daughter, I hope to contribute to a future for all children that is free from the suffering caused by breast cancer.With each step in training and each step up the mountain, I will keep both the mountain and the larger cause for which I am climbing in mind.
I will remember my mothers strength and courage in facing her treatment and draw upon that during the inevitable moments of doubt and discouragement as I attempt to become the first Canadian woman to summit Pumori.
There are two ways to contribute to Pumori: Climb for Awareness.
You can donate online by clicking here or you can click here to download a form that can be submitted via mail.
Thank you in advance for your support of both my climb and the Canadian Breast Cancer Foundation.
Please visit my website:
www.taloeffler.com
for more information.
Greetings from the Nirvana Garden,- October 2, 2008 Nepal Time

Iím sitting in the shade being quite delighted at the magic of wireless. A gentle breeze carries the caw of nearby crows, the toots of horns, and the crinkle of bike bells to my ear. The garden is adorned with flowers that are a good match for my hair and my teammates have taken to calling me, ďPink.Ē Unfortunately, it seems I wonít be pink for long as the areas of my hair that have been exposed to sun are already turning an interesting shade of yellowy orange. Once we hit the high UV of altitude, who knows what will become of my hair color? I may come home a bleach blonde!

The streets of Thamel are their usual chaotic selves. Over the warp of broken pavement, passes a weft woven from pedestrians, rickshaws, motor bikes, cars, vegetable vendors, and the occasional beggar looking for small change. It is a delicate balance of yield and go that brings me safely to my destination and I must tune into the variety of honks and toots that indicate whether I should avoid something bearing down from the left or right.

I can tell things are a bit better in Nepal these days as the street vendors are a little less aggressive in their sales of Tiger Balm, Buddha statues, treks, and weed. Itís funnyĖI get offered much more weed now that my hair is pink. As someone who has trouble saying ďnoĒ sometimes, Thamel provides great practice as Iím say it several times per block. As usual, Iíve been eating myself around the world visiting old haunts serving Japanese, Middle Eastern, Thai, and Indian foodĖall at fantastic prices-my lunch was $2.00.

Most of the team has arrived and is making the transition to this time zone. Iíve slept through both nights with the help of melatonin and seem to be getting hungry at the appropriate intervals/times. Already there is a friendly camaraderie and plans for reunions on various continents. Everyone seems a bit nervous about their gear (me included) and are looking forward to out expedition briefing this evening where we can get all of our questions answered.

Weíve been treated to two very sunny dry days, a gift, considering the week before we arrived was subject to daily thunderstorms. Hopefully the weather will hold and allow us to fly to Lukla on the morning of Oct. 4th and begin trekking. My body is antsy. The past several days have yielded no exercise so lots of energy has built up in anticipation of release.

Iím headed with Raj to my favourite prayer flag shop this afternoon and will do my best to be disciplined and only buy a few strings. Thanks for all of your well wishes. I carry them close to my heart.

Take care,

TA

goat slaughter
September 30, 2008- Dashian Festival. Everyone is now on there way to Kathmandu. There will be much going on when they arrive. The Deshian festival will be in full swing. It takes place late September and early October, the Nepalese people indulge in the biggest festival of the year, Dashain. Dashain is the longest and the most auspicious festival in the Nepalese annual calendar, celebrated by Nepalese of all caste and creed throughout the country. The fifteen days of celebration occurs during the bright lunar fortnight ending on the day of the full moon. Thorough out the kingdom of Nepal the goddess Durga in all her manifestations are worshiped with innumerable pujas, abundant offerings and thousands of animal sacrifices for the ritual holy bathing, thus drenching the goddess for days in blood.
The eighth day is called the 'Maha Asthami'. The fervour of worship and sacrifice to Durga and Kali increases. On this day many orthodox Hindus will be fasting. Sacrifices are held in almost every house through out the day. The night of the eighth day is called 'Kal Ratri', the dark night. Hundreds of goats, sheep and buffaloes are sacrificed at the mother goddess temples. In the darkness of the night Durga temples, army barracks, and old palaces all over Nepal hold sacrifices for the mother goddess. The sacrifice continues till dawn. The old palace in Basantapur Hanuman Dhoka, is active throughout the night with worships in almost every courtyard. While the puja is being carried out great feasts are held in the homes of common people where large amount of meat are consumed while our Buddhist friends pray for the animals.
September 29, 2008 - LET THE EXPEDITION BEGIN! Today's flights to Kathmandu are full with climbers and trekkers embarking on the capital city of Kathmandu over the next few days. Record numbers are expected this year which is very good for Nepal. Flights and hotels are all showing full to capacity.
The weather in the mountains has not been that favorable for climbers who came for earlier climbs. The monsoon is still hammering the mountaintops with wind and snow and inter-nepal flights have encountered occassional delays. We bumped back our expedition a bit this year and have been watching the developing pattern of a later monsoon each year. To compensate we have been moving our expedition start dates back a few days each year. In light of this years activity we will once again be bumping it back even more. Next autumns climb will now commence Oct. 4. Like Tim and I always say " nothing in mountaineering is absolute" you must be able to adapt.
Everyone should be Kathmandu come Oct. 2.. Stay tuned! Becky
PEAK FREAKS CLIMBING TEAM ROSTERS
Guides: Tim Rippel- Canada and Hugo Searle -USA
CLIMBING Team #1

Wake Williams- Canada

Ivan Nolet- Canada

Patrick Grillo - Canada

Mark Mangles - Australia

Arkhom Kijuanichpras - Thailand

Carl Lindstrom - USA

TA Loeffler - Canada

CLIMBING Team #2

Amelia Powys- Australia

Grant Bullington- Canada

Duncan Dew - Australia

Rick Sladewski - USA

Wissam Al-Jayyoussi - Jordon

Ade Pettit - UK

Martin McHugh - UK

Tim Irvine - Australia

SUPPORT TREK ROSTER

Ken MacKenzie

Joanne MacKenzie

Lori Kidman

Mark Zirbser

Steve Farley

Alex Farley

Kate Coffey

Sherpa Team

Dendi Sherpa- Sardar

Lhakpa Sherpa

Jangbu Sherpa

Kajee Sherpa

Ang Nima Sherpa

Desh Kumar Sherpa

Ang Karsung Sherpa

Lhakpa Gelgan Sherpa

Paresh Srestha

Dorje Sherpa
TA Loeffler "PINK OUTSIDE THE BOX'- Climb for Breast Cancer Awareness. TA, if successful will also be the first Canadian fwoman to summit Mt. Pumori. Much more to come about TA and her Pumori Awareness quest. Check out her website- TA LOEFFLER
AVALANCHE SKILLS TRAINING: Our Everest Training "boot camp" this year will include the AST Level 1 certification program to participating members. The CAA (Canadian Avalanche Association) is recognized internationally and is the highest standards for avalanche forecasting and safety skills in the world. Avalanches take more lives in mountaineering than anything else and we take this knowledge and awareness seriously. All participants will be ran through a rigorous training and classroom sessions throughout the climb. Instruction by Tim Rippel, professional member of the association for over 18 years.
more to come.......