PRIVATE HELI SKIING NELSON B.C.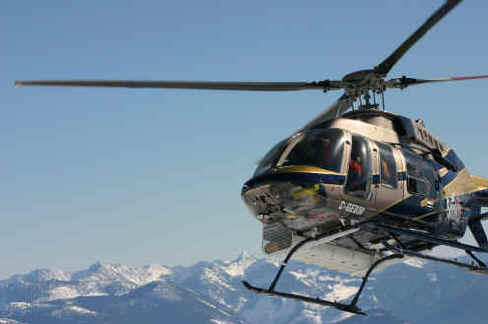 [Heli Ski rates] [Cat Ski Rates] [Whitewater Chalet rental] [Fast Facts]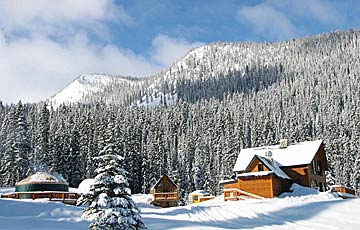 [Hire a Backcountry Ski Guide]
Nestled in the heart of the Selkirk Mountains in Nelson BC Canada Peak Freak Expeditions offers over 80,000 acres of deep powder heli skiing terrain in a private helicopter with a group of friends or join in with an existing group. We guarantee you will ski everyday by offering snowcat-skiing as a backup when the helicopter can't fly due to bad weather. Stay in our cozy alpine lodge and experience spectacular views of the Valhallas, gourmet food, our hot tub, and massage. In combination with the heli skiing we offer cat skiing and ski packages with local ski resorts, Red Mountain or Whitewater, providing you with ski and snowboarding options for all ages and abilities. Whether you choose to stay at the lodge or at the Whitewater Chalet, we are sure you will have the ski vacation of a lifetime.
Combine a Heli ski or Cat ski program with our. The best of both world's, a couple days of chair lift access powder to get your ski legs going prior to a helicopter or cat lift programs.
---

Join A.C.M.G Ski Guide Tim Rippel in adventure one step beyond your expectations . Owner operator of Peak Freak Expeditions and your lead guide.
Tim is a seasoned High Altitude Mountain Guide and Instructor, International Expedition Operator, and Extreme Skier . During the winter months Tim stays in tune with the mountains lead Heli Ski Guiding from his home in beautiful British Columbia, Canada. Tim is the owner of Peak Freak Expeditions operating in the Himalayas for the past 16 years. He has been heli ski guiding for 15 years and is certified by the Association of Canadian Mountain Guides as a Ski Guide and is a professional member of the Canadian Avalanche Association, Mountain Safety and Risk Management Professional and a certified Outdoor Leadership Instructor.
Tim's bio includes the first ski ascent on the North Side of Mt. Everest from atop the North Col at 7000m. The ascent was filmed by Pat Morrow on the Canadian 1991 "Climb for Hope Mt. Everest Expedition". Other extreme ascents include skiing Mt. Robson the highest mountain in the B.C. Rockies.
Whether it be climbing the highest mountain in the world, riding across Tibet by bike or skiing the steep and deep terrain of the Kootenays, Tim is on top of it.
Join in the fun this winter! Space is very limited as we are small but elite. Don't hesitate! CHECK AVAILABILITY NOW
DAY HELI SKIING
Not normally offered but try your luck getting on a cancellation.
Your trip includes:

Ground transport to and from Nelson, B.C. to stagin area- 0700 start.
Six heli runs
12,500- 15,000 vertical feet
All personal safety gear
professional guide
gourmet lunch and snacks
Fat ski rentals available for $25CAD per day.

HELI SKIING & BOARDING PACKAGES

Stay high in the mountains in the majestic Snowwater Lodge

2 DAY PACKAGE
3 DAY PACKAGE
4 DAY PACKAGE
7 DAY PACKAGE
Your trip includes:

SNOWCAT BACK UP
Accommodation in our beautiful mountain timber frame lodge.
Six heli runs/day
12,500- 15,000 vertical feet
3 gourmet meals a day
Professional guide
All personal safety gear
Fat ski rentals and poles available for $25/day

ELITE UNLIMITED VERTICAL HELI PACKAGE

Stay high in the mountains at Snowwater Lodge and ski to your heart's content!

Full lodge program
Includes unlimited heli, all meals, accommodation, safety equipment and professional guides

KOOTENAY SAMPLER
Try both helicopter and snowcat skiing and riding in one package!
6 Day ( 3 days heli)
5 Day (2 days heli)
C
Your trip includes:

Six or more descents per day
gourmet meals and snacks
accommodation
all personal safety gear
2 guides per cat
retnal fat poweder skis and poles available
ground transportation to and from Nelson staging area
PRE AND POST HELI SKI ACCOMMODATION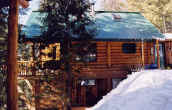 Luxury log chalet situated on Whitewater Ski area road. Built, owned and operated by your lead guide Tim and his wife Becky Rippel, both owners of Peak Freak Expeditions. The Chalet is just 10 minutes to the Whitewater chairlift, 10 minutes to Nelson, Nordic trails adjacent with night skiing. Chalet rental: $350CAD per night based on minimum of 2 nights, or $2000CA per week. Maximum occupancy is 8, hot tub, optional shuttle service available for Whitewater Ski Area, Red Mountain and Helicopter skiing.
Ideal combination with any heli ski program. Combine heli ski days with lift access skiing and some night skiing at the Nordic ski trails adjacent to the chalet. Everything is at your front door!
Whitewater Chalet Rental Nelson, B.C. Check Availability Calendar
Established in 1995, Snowwater Heli-Skiing specializes in heli and snow cat skiing in the Selkirk Mountains of British Columbia, one of the most spectacular mountain ranges in Canada with 80,000 acres of pristine Kootenay wilderness in the southern interior of British Columbia Canada. Snowwater's timber frame lodge is located near the city of Nelson BC and the Red Mountain Resorts Ski Area. NEW... in 2006 is the construction of new private accommodation adjacent to the lodge offering seclusion and incredible views of the amazing Valhalla mountain range.
You will find a variety of terrain of untracked wilderness skiing that provides something for everyone, from gentle runs to steep and exhilarating alpine bowls. Lead guide Tim Rippel, is certified by the Association of Canadian Mountain Guides and other accrediting bodies, bringing the operations clientele the highest level of professional expertise available.
Snowwater is unique in the fact that Snowwater offers its Weather Guarantee that includes Snow Cat Skiing if the helicopter can not fly that day. Snowwater guarantees that you ski every day of your holiday. Also unique in that our intentions are to stay small allowing us the opportunity to offer Private Lodging and Skiing with only a group as small as 8.
FAST FACTS
Season Dates
December 15 to April 15.
Location
Selkirk Mountain of British Columbia Canada
Ski Terrain
No more than three groups skiing over 80,000 acres
Avalanche Dog
Certified CARTA avalanche dog
Access
Located in the Kootenays of British Columbia, famous for the world's finest powder and best tree skiing. Our terrain and lodge is a three hour drive north of Spokane, WA and seven hour drive from Vancouver B.C. or Calgary A.B. and 3 hours from Kelowna.

The nearest airport is 30km away in Castlegar B.C. , which is serviced by the major Canadian and BC airlines. A six minute helicopter ride will land you on your doorstep.