PHOTO: Summit of Mount Everest 2008' - ©Dominque Gilbert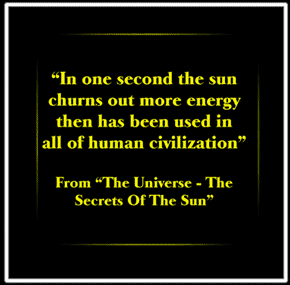 THE HEAT IS ON!
GREEN THEME- PEAK FREAKS leading the way for cleaner climbing practices in the Himalayas; initiated last year on Everest, carried over to Pumori. We are the "first" and still "only" ones to use bio bags for human waste, solar only, buy local, eat organic and asking "can we do more ?"
May 19, 2009 - Team Peak Freaks celebrates 14 safe successful summits!
Daniel Keren: Everest 09- 5th Israeli to summit Everest:
Dear Tim and Becky,
I wanted to thank you for the great experience on Everest. I think that each one of you, working individually as well as together working as a team, made the event a very successful one. The accurate weather forecast combined with Tim's knowledge and experience led to some very good critical decisions. Other than that the well written daily blog rightfully attracted enormous amount of interest whilst Tim's guidance on the mountain led us safely to the summit and back.
I hope you enjoy the summer and the quality time you have together before Pumori. Thank you for everything!!!
Daniel and Shiri (Everest and Island Peak summiteers).
***This was very complimentary coming from such a world class athlete as Daniel. Check out is incredible bio: Daniel Keren
Patrick Bernier: Everest 2009 Expedition climber
Becky, Tim and you did a great job with everything. You have a nice set-up and good Sherpa staff. Tim is the best expedition leader I have seen. And I have had a tried a few over there. This gentleman is fair with everyone in the team, if I return to Everest, it's for sure going to be with Peak Freaks!- Thanks again! "Team Rebel" Patrick and Karine
FROSTBITE- You don't want to do this!
Photos: Sultan Alismaili's fingers- Everest 2008'. This is what can happen if cold digits are not addressed at the onset. Last year Tim spent 36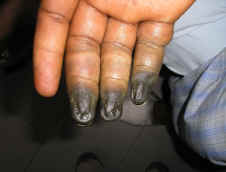 hours in the death zone, most of this time without oxygen, performing a rope rescue of Sultan and rescuing another climber from another team who was left alone. Today Sultan reports in on the condition of his fingers. He now knows he was "one lucky guy" with a whole new appreciation for life.
"I have recovered completely but I lost the tips of three fingers only. Thank god for that after all what I have gone through. :) am living my life normally happier than ever ;)

Am glad to see the success of this years expedition and send my hot regards to Tim the man who saved my life. Wish you are doing all well my good friends and always keep good faith."

Sincerely,
Sultan (first Everest climber from Oman)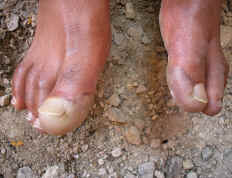 "EVEREST UNDERDOGS" - movie trailer of our 2008' Expedition: SUCCESS, FIRSTS and RESCUE. Coming soon!
Camera and Production: Tim Rippel and Scott Mortensen & team
May 24:Team in Namche Bazaar: The flights made it out of Lukla today after two days of cancellations due weather. Good news for Patrick Bernier, he made it out to Kathmandu this morning. Tim and the others are now in Namche Bazaar enjoying a steak dinner with wine and a round of pool down at the Namche bar. Tomorrow they are going to head down to Lukla in hope to get out a day early if the skies remain open. It is full on monsoon in Asia now and all the 300+ climbers want to do now is go home.
"Huge congratulations to the team! We are climbing our Everest! Just 5 weeks to go and we have raised enough money to build the foundations and walls for the early childhood centre....need another $3000 US and we will have the roof and running costs! The staff start training on Monday. We are delighted that some supporters have found us through Peak Freaks . Just a bit more money and we will be there!"
Love Durga and Fionna
Fionna Heiton
First Steps Himalaya
Giving children a childhood
May 21: Base Camp BASH!.. Beers, cheers and chocolate cake!.. It was late getting this dispatch from base camp because the boys were having a pretty good party. Surprise to me, but Daniel is the 5th Israeli to summit Mount Everest and we don't know for sure, but Gerardo thinks he might be the 4th Mexican- anyone know if that is right? Tim said he will confirm with Liz when they rendezvous in Kathmandu.
They are going to check out of their spot on the glacier on May 24 and trek to Pangboche, May 25 to Namche where Tsedam Sherpa is organizing another party for all of them at the Zamling Lodge, then off to Lukla on the 26th, so Liz you will see him on the 27th :)
Here are our Sherpa summit names. Remember these guys are all multiple Everest summiteers and are happy to learn that they will all have work with us again next spring as our Everest 2010 expedition is just about full.
SUPER SHERPA SUMMIT LIST
Laka Nuru Sherpa/Pemba Chiri Shepa/Ang Phintso Sherpa/Palden Namgel Sherpa/Ang Pemba Sherpa/Mingmar Sherpa/Ang Namgel Sherpa/Jangbu Sherpa/Lhakpa Bhote Sherpa/Dendi Sherpa
May 20: TEAM ALL AT CAMP 2: Insane crowds!!!.. is the word of the day. Tim said there were no less than 150 climbers on the route going up so it was really slow coming down, people were switching over trying to get around each other. They are so glad they made the call to be in the front push. He said it is going to be really crazy up there for the next wave.
We have the icefall tomorrow, a day or two at base camp to rest and get organized then it's a wrap. Do check back though! The adventure is never over till you are on the plane out of Kathmandu. This country has a way of throwing all sorts of obstacles at you.
The POOP SCOOP on EVEREST- Tim did some creative filming while up there. He captured the mess we have been talking about with regards to human waste. Forget the oxygen bottles, you don't see those anymore, they are worth money, and this year- general garbage was too!- the other isn't.
I was happy to read a blog post from another expedition yesterday that asked their operator to get some bio bags to use. This is a good start. We have been waiting for 2 expeditions now for someone to follow our lead with this issue that seriously needs addressed. You can't have 500 climbers up there and everyone turning a blind eye to the situation. It is not right, this is the head waters to life of the valleys below. Everest is not remote, the waters from here do not flow straight to the ocean.
MAY 19: SUCCESSFUL SUMMIT REPORT... 14 TOTAL: All four clients that made the final push were all successful. Gerardo Lopez (Mexico), Todd Lavigne (Canada), Daniel Keren (Israel), Jan Pflugradt (Germany) and 10 Sherpas names TBA stood on top of the world around 0900hrs Nepal time.
No frost-bite, healthy and very tired. Jan just pulled into the South Col, at the time of Tim's call just now 08:00hrs (Pacific). He was the last to check in at the col because he got in behind a rescue that was underway of a client of a well known commercial operator who apparently didn't have Sherpa support up there.
Our team is laying low in C4 rather than going to C3. Hydrating and resting and will get out and down at first light.
To catch you up, Tim remained at the South Col throughout the final summit push. He stayed there to have them in close proximity should he be needed and to receive them with boiled water and prepared food on their way down. This decision was made after about 1 hour into the climb his toes started to go numb in one foot. He clicked on his trusty electric foot warmers he has been wearing since 1994' to discover they weren't working. Not a good thing. Ok, practice what you preach and deal with it now!!! He retreated to C4, brought them back to life and made the decision he would be more useful to his team now from this position. We had 10 Super Sherpas with 4 clients, so this was all good.
I had all kinds of entertainment prepared for everyone to enjoy throughout the climb but due to the the unfortunate glitch with our server the past 26 hours- "the entire course of the summit bid"- it wasn't possible. Oh well, there's always next season.
The climb is still not over, there is still mountain ahead of them. The climb is not completely successful till everyone is safe at base camp and there is still the dreaded icefall to cross one more time. They will likely go as far as Camp 2 tomorrow and then base camp depending how they feel. Stay tuned!
The second wave is now assembling at the South Col.
MAY 18: Good time to change some circuits- Sorry everyone! Our web service company decided a long weekend was a good time to mess up some online companies. It appears they have had some difficulties. As soon as this message gets out "successfully" I will add more. PEAK FREAKS IS CLIMBING TO THE SUMMIT... and looking for a new web server!!!
May 17: Good Morning World from 26,000ft-7900m Camp4/South Col...06:15hrs (Nepal Time) 19:00hrs (Pacific Time) How is it that Tim thrives in extreme environments? He is so much at home up there at 26,000ft. He was his cheery old self joking with Daniel in their tent, laughing it up while boiling water and talking to me. He said he had already been out and it is beautiful, light winds and they plan on going for a walk-about after they eat something.
They endured one wicked night in extreme winds and they are thankful they hunkered down instead of going for the summit as frost-bite is not an option. They had to dig themselves out this morning, the tents were pretty much snowed in from drifts. Tim said Daniel woke up asking him if they were dead or alive.
Patrick talked to his wife Karine and informed her that sadly his climb is over. He is a strong climber and this was his second crack at Everest. He is going to drop down to Camp 2 and wait there for the others when they come down. You just never know what will turn a climber around.
The team (Tim, Daniel, Jan, Todd & Gerardo + 11 or 12 Sherpas) are looking good for an excellent summit push now. They are feeling terrific having had the entire night to rest and again all day today. They are stoked. Some of the Sherpas went up to pull rope yesterday and said the route is in fantastic shape. I warned Tim that the big wave of 60+ climbers should be pulling in sometime this afternoon. He is not concerned, he said "bring it on" there's lots of room for a good party.
MOUNTAIN CONDITIONS: The weather is showing high winds today but backing off this evening and climbable winds through the morning so they are going for it tonight at about 21:00hrs Nepal Time our morning tomorrow.
Check back soon, Becky
NEWS BREAK! SUPER HIGH BUGS!!! I was doing some looking around at other team reports and have learned that there are several climbers, even the Sherpas, coming down with this vomiting and runs thing starting as high as Camp 2 and above. I wonder what's up with that? They eat and drink separately, totally different teams. So I wonder, is it a flu? Talk about bad timing.
May 17: CAMP 4- 7900m-26,000 ft.- and holding. 0:615hrs (Pacific Time), 19:00pm (Nepal Time) Tim checks in, Gerardo, Daniel, Todd and Jan who is just arriving moments ago at Camp 4, the South Col. Tim said that Dendi Sherpa just radioed up to him to report that Patrick Bernier who has been solid as a rock all along, has been vomiting and has the runs. Tim instructed him to retreat with Patrick to Camp 3 and rest there in hope he will get over it. I sure hope so. I wonder if he just started taking Diamox? Question for Tim when he calls back. My fingers are crossed he can recover and that he will have enough strength to carry-on.
Tim sounded his energetic bubbly self and said everyone else is doing good but it's pretty windy. The weather reports had previously indicated it is to back off tonight (now) but then the reports started to shift showing the wind lingering a bit longer and now looking better for the night of the 18th. They have decided to hold tight. They are comfortable there and have plenty of oxygen. They realized they were on the edge of the winds but wanted to try knowing they had a backup plan. The goal was to stay out of the large wave of climbers that are now coming in their direction tomorrow, putting them in the number with possibly up to 60 more climbers, possibly making it the largest same day summit push in history. PLEASE PATRICK.... get better!!!
NEWS BREAK!
Meet Jan Pflugradt, age 43, from Germany. "I am living an active life and do all sorts of sports. I like skiing,
sailing, climbing, hiking, paragliding, diving, piloting little airplanes, and everything else that can get you exhausted. And I actively practise Karate since 25 years, where I hold a 3rd Dan black belt of the Japan Karate Association.
Doing so many things I might be a Jack-on-all-trades and master-of-nothing. But I enjoy it. My climbing experience I mainly gained in the European Alps which were only about one hour away by car when I lived in Munich. The highest altitude I reached was 7600 metres during a 2002 Everest expedition. We got stuck in bad weather in the 7000 metres camp for one week and a final attempt as abandoned after 600 more metres when we realised that our high camp had been blown away. So this time I try to do better.
There were just two instances that briefly discontinued my rushing from one challenge to the next. First, when I crashed 20 metres to the ground when my paraglider collapsed and I broke my back and a few ribs; and second when I almost died from Trichines that I got in Kathmandu on the way back from the Everest expedition. So I try to be more careful now, although I think that I have still have a few cat-lives left.
When I don't travel around, I earn money for all these adventures. I work as an IT Architect and Strategist for an international bank. Luckily, even in the current economic conditions, my work seems to save more money for the company than they need to pay me. "

This year's team seems to have a few fighters onboard. Jan was down with a sprained foot and then a chest infection and is back on the crampon's and climbing strong. May your summit dreams finally come true!
May 16: CAMP 3- 7300m- 24,000ft: Looking good!.. 20:15hrs (Nepal Time) 07:30hrs (Pacific Time) "We are all here, Todd pulled
through and is with us here at Camp 3. We endured the high winds we were expecting today and it is currently calm. Ang Karsung said it is snowing again in base camp.
I just spent a couple hours boiling water and preparing food for everyone so we are in good shape.
We are sending some of our Sherpas up tomorrow to start pulling rope above the South Col. The First Ascents team is also sending some so we should have it opened up to the summit for our push, which is still on schedule for the night of the 17th.
Tomorrow we will head up sometime in the morning to Camp 4. We will hang out there for the day and try to sleep, hydrate and eat preparing ourselves for the night push to the summit. If the winds check out, we will leave sometime after 21:00hrs (Nepal Time) and summit the morning of the 18th. This is all pending the speed of the winds. If they are too extreme, we have given ourselves options by supplying enough provisions and oxygen to hold up there till they die down.
Our summit bid should take about 12 hours.
The team has asked me to send lots of love home and to let everyone know we are doing "awesome", Over and out, Tim "
EVEREST WEATHER FACTS
The climate of Mount Everest is naturally extreme. In January, the coldest month, the summit temperature averages -36° C (-33° F) and can drop as low as -60° C (-76° F). In July, the warmest month, the average summit temperature is -19° C (-2° F). At no time of the year does the temperature on the summit rise above freezing. In winter and spring the prevailing westerly wind blows against the peak and around the summit. Moisture-laden air rises from the south slopes of the Himalayas and condenses into a white, pennant-shaped cloud pointing east; this "flag cloud" sometimes enables climbers to predict storms. When the wind reaches 80 km/h (50 mph), the flag cloud is at a right angle to the peak. When the wind is weaker, the cloud tilts up; when it is stronger, the flag tilts down.
From June through September the mountain is in the grip of the Indian monsoon, during which wind and precipitation blow in from the Indian Ocean. Masses of clouds and violent snowstorms are common during this time. From November to February, in the dead of winter, the global southwest-flowing jet stream moves in from the north, beating the summit with winds of hurricane force that may reach more than 285 km/h (177 mph). Even during the pre-and post-monsoon climbing seasons, strong winds may arise suddenly. When such storms develop, sand and stones are carried aloft, as well as beating snow and ice, post problems for climbers.
Tim once witnessed a large cornice rocket off near the summit of Everest on the North side and completely disintegrate before his eyes, gone! Enough warning for him and his client to lock down and get the heck out of there.
Precipitation falls mostly during the monsoon season yet unexpected storms can drop up to 3m (10 ft) of snow on unsuspecting climbers.
Base camp at 5400m (17,600 ft); receives an average of 450 mm (18 in) of precipitation a year.
Many thanks to Encarta for helping explain this.
NEWS BREAK!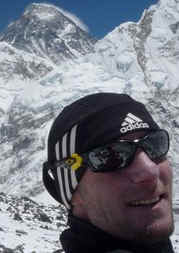 DANIEL KEREN, age 48, from Israel- Please allow me the long overdue introduction of some of the other climbers. Getting information on this humble lot was like pulling teeth. I have to sneak around behind their backs and eventually get their family and friends to spill the beans.
Daniel Keren is an ex-banker, and is now running a successful venture capital. He is an acclaimed marathon runner, the founder of the fast-growing Tel-Aviv's Running Club, and one of the leading extreme sportsmen in Israel. Among his long list of completed extreme sport challenges world-wide are the Marathon des Sables - the 250 km long marathon in the Sahara Desert, climbing the world's toughest peaks, (Denali, Elbrus, Cho Oyu, Matterhorn, Mt. Blanc, Kilimanjaro and Aconcagua and many rock and ice routes), crossing Greenland's ice sheet, and an expedition to the North Pole. He is re- married to Shiri and a father to Ish-Shalom age 18 and Meshi age 15.
Daniel has been very strong throughout the expedition, mentally prepared and should do well come summit time. A cheer of good luck goes out to Daniel from all the people back home who are following him.
Photo: Daniel on top of Kala Pattar a few weeks ago with new wife Shiri who is also an accomplished climber. Everest in the background.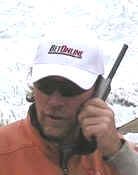 May 15: Camp 2- Day 2... 07:30hrs (Pacific Time) 20:15 (Nepal Time) "Our plan is to stay here 2-nights at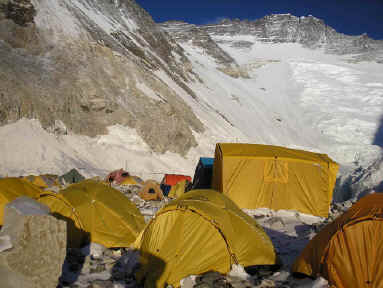 Camp 2, tomorrow (May 17) to Camp 3, next day (May 17) to the South Col and leave 21:00hrs (Nepal Time) for the summit, arriving sometime in the morning of the 18th. Strong wind is expected in the afternoon of May 16 and possibly the 17th. I think we can weather it okay and be in position for the 18th. We have ample oxygen and provisions at the South Col to hold up and sip oxygen for another night if need be."
"We may have to do some rope pulling to the summit as no one has been up here since May 6. There appears to be some climbers up here that are just now getting into their Camp 3 acclimatization routine. I am not sure how many will be going for the summit push with us, maybe 30 or so? We are half of that including our Sherpas by the looks of it. I can confirm that Phil Crampton's team and Peter Whittaker team and Ed Viesturs are all in the same groove as us. Hopefully it will be a good stomp to the top.... There was a lot of movement to the South Col with Sherpas carrying oxygen up to today for other teams. We completed all carries early May so are ready to have at her and avoid the crowds."
MOUNTAIN CONDITIONS: It is currently calm at Camp 2 and was calm all day. There is only about 3 inches of snow on the Lhotse face. The temperatures today were about 28c when the sun was out and it has dropped to about -10c now that the sun has gone down.
One more down. Craig has made the decision to call it a climb. He has been suffering the past week from loss of appetite and indigestion. Craig was on the thin side when he arrived. After the body fat is consumed, your body starts to eat muscle. The stomach problems are usually a sign this is going on, a chemical upset and the result being zero strength. Tim has seen this before and experienced himself in 1994 on Everest North when he was with a team of Canadians that were hoping to summit with out oxygen. Their thought was that if they spent 3 months at altitude, before a summit push, they would become "Sherpa" and their haemoglobin would change making an oxygen-less attempt possible. Not the case, they were too weak, their bodies were consuming muscle and they all looked like stick men when they came home. Number one word of advise Tim gives climbers when
training for a climb "GAIN WEIGHT" the last month instead of intense training. Back right off and eat donuts.
Possibly another one down. Todd was in rough shape today. He took a winger off one of the ladders in the icefall yesterday and pulled a groin muscle. Jan watched the fall and said he was completely upside-down suspended over the mouth of crevasse. He had a good look from an angle you just don't want to see. He managed to sort himself out and climbed back up onto the ladder. He has been trying to work it out today but was experiencing a great deal of pain. Come morning we will have a better idea on his status. He has been a real fighter and has demonstrated a great deal of determination to get the job done. I wish him a miraculous recovery come tomorrow morning.
PHOTOS: Peak Freaks Camp 2 - Crossing a ladder on the icefall.
SIDE TRIP!!!!.... ACONCAGUA: We just put on a second Aconcagua Expedition departure due to popular demand. Jan. 31 is full, now booking second one for Jan. 3.
May 14: CAMP 2- 6500m 21,300ft 07:30hrs- (Pacific Time) 20:15hrs- (Nepal Time): Everyone is now snuggled in their sleeping bags and Tim reports that everyone is getting excited that the push is on. Craig turned back half-way, he is suffering from cement feet. Some days a climber wakes up and finds his energy has been completely zapped. It can be due to lack of sleep pre-summit push or other factors. He retreated to EBC for a rest and will try again tomorrow.
Tim says "There are just a few of us here who made the move up to C2 today and a ton!!!!! of Sherpas. I even saw some climbers going from Camp 3 to the South Col which means they are positioning themselves for a possible summit bid tonight."
"Our plan is still the same that we set about a week and a half ago. We bumped it back by one day to go for the 18th summit window. There are high winds expected on the afternoon of the 16th so we didn't want to be on the South Col then, instead we have positioned ourselves to hunker down at Camp 3 during that time and move the next day. We are still pretty much on track as we said 16th or 17th, it will be the night of the 17th and hopefully on top the morning of the 18th. It will be a colder ascent than last year at this time and more wind but we are up for it. Over and out!" Tim
May 13: SUMMIT PUSH DAY 1 of 4 19:53hrs (Pacific Time) May 14: 08:35hrs (Nepal Time) Tim checks in.. "I'm through the icefall, the weather is beautiful, the others are about half an hour behind me and doing good. I'll call you tonight, it's cold so I am going to get moving. Over and out"
Here is our stacked summit team roster (2) Western Guides (5) Participants (12) Sherpa guides
Tim Rippel (Canada) Expedition leader/Guide

Craig Evanoff (Canada) Assistant Guide -Laka Nuru Sherpa / Pemba Chiri Sherpa

Todd Lavigne (Canada) - Ang Phintso Sherpa / Palden Namgel Sherpa

Daniel Keren (Israel) - Ang Pemba Sherpa / Nima Sherpa

Jan Pflugradt (Germany)- Mingmar Sherpa / Ang Namgel Sherpa

Gerardo Lopez (Mexico) - Jangbu Sherpa / Palden Namgel

Patrick Bernier (Canada) - Lhakpa Bhote / Dendi Sherpa
Photo 1: Ang Karsung cooking up breakfast, summit style.... The past few days since everyone returned back to base camp we have been loading up with protein heavy meals getting ready for the summit push. Momos with yak meat, roasted chicken and last night we enjoyed sizzling buffalo steak burgers. Bellies are happy!
Photo 2: ... catching the jet-stream to the summit!
May 13: Someone is poisoning the Sherpa's A young Sherpa was heli evacuated today. Yesterday a Sherpa from another team nearly lost his life from Methanol poisoning consumed while drinking Everest Whiskey. Word has it that 11 lives were lost in Namche Bazaar and area this year due to someone tampering with the bottles, diluting them with Methanol. The amazing docs here at base camp saved this young man's life. Tim was blown away and so I am on how they did it. They gave him alcohol- interesting! They fed him vodka by intravenous as an antidote. He is in good care now at the Kathmandu hospital and there are some people determined to get to the bottom of this and find the culprit responsible for lives that have been lost.
SUMMIT PUSH IS ON!!!... In 7-hours from now, first light (currently 22:30hrs Nepal Time) The team will be on their way for their summit push. Tim says, "We are looking at leaving the South Col the night of the 17th and hopefully topping out sometime the morning of the 18th. All batteries and climbers are charged and ready to go for it." Stay tuned!
PHOTO: Scruffy climber faces compliments of trekker Cynthia Elliot from California. Ang Nima and his sherpa trek crew and couple of the trekkers. Everyone is happy, healthy and ready to go!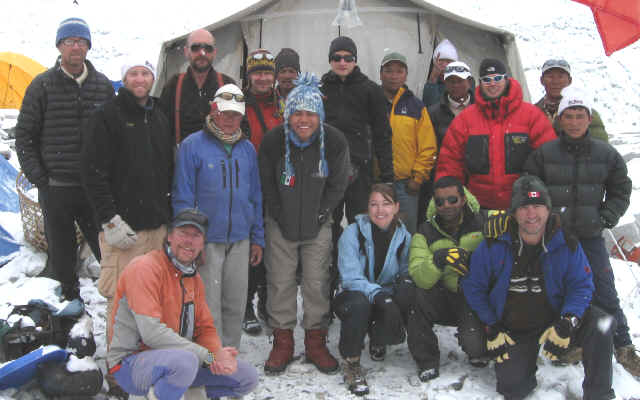 May 12: Holding in Base Camp 20:30hrs (Nepal Time) We have decided to back off here a bit as high winds continue up above
above Camp 2. It did snow again today but that is not as much of a concern as high winds are. Right now everyone is checking around to see who is doing what and who knows what. This is the scenario I spoke of earlier unfolding. When the weather is good, teams arm wrestle over fixing so they can be in the lead. If it snows heavily, teams will wait for other teams to do the trail breaking. However with the current wind there may not be too much snow to burn through, but rather slab formations that will have to be carefully analyzed. We do see a plan in our weather reports that looks pretty good, and we have a strong team prepared to break trail, but the mountain will call the shots. In the meantime we will leave you with this- "You will know-when we go" Stay tuned!
PHOTO: Solar equipment charging. As the leader in "Green Climbing" we value the sun. When it snows we still seem to get enough solar rays. If it does trickle down, that is ok too, it is worth the quiet. We just adjust usage as needed. Sat-phones, recharging radios, and cameras have priority. They were watching a DVD tonight so they must be running on full capacity throughout the snow storm.
Last year we were approached by two film producers that wanted to join our Everest climb. One said they needed generators to run all their equipment. The other said they could do it without. We took the second one.
Speaking of charging and priorities. We are getting asked by individuals, schools, and media outlets from around the world, if they can call base camp and talk to the climbers at this time. Last week we would have said sure! but now everything will need to be charged to full capacity prior the their 4-day summit climb. We are now in pre-summit conservation mode and phone calls are limited to immediate family members. Sorry! If things change and they are at EBC for longer than intended then check back with us and we will see what we can do.
May 11: SNOWING ...The trekkers left today and it snowed most the day. It is still snowing lightly at the time of our conversation 21:00hrs Nepal Time. Tim said the Sherpas are starting to think the monsoon has arrived. Possible, but typically the precipitation lies mainly down lower in the valley. Tim says, "to have some snow now is a good thing. This will allow boot steps to be put in up the Lhotse face making it safer for travel and not so icy." Snow is not a concern currently for our team. Of course it will depend in how much more we get and how it is bonding. The snow today appears to be bonding from the warmth it got when the sun did pop out briefly. Tim said, "it is hot, hot, hot today when the sun broke through for a bit."
Peak Freaks has two snow pro's onboard this year. Both Tim Rippel and Craig Evanoff have extensive training and experience in avalanche forecasting. They are both Avalanche technicians certified by the Canadian Avalanche Association, the leading authorities in the world, both actively working as professional members. They are comfortable with the current conditions. We are still on track for our summit push: May 12 to C2 and upwards from there. There is no longer a need to stay at C1, it is used for the initial altitude training phase. Now they are acclimatized enough that they will push past it to C2. Summit window is still set for May 16 or 17. The only thing that will effect their plan is unforeseen high winds on the summit at this time. Weather reports are being carefully scrutinized.
Tim also said there were about 20 or so climbers who followed the first waves lead, setting themselves up for a summit push on the 12th that didn't happen. This is tricky as a Western climber can usually only handle one summit push. They are normally too fragile to give it a second go. Unfortunate, but there will less on the route, sorry guys! Tim also assured me he is not too worried about the crowds. Thankfully, because of the double ropes up and down and the three on the Hillary Step. There should be room for everyone.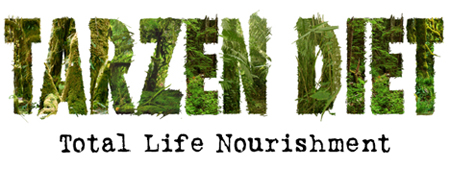 Ok, side trip!........ The full moon is now waning so it's a good time to nudge everyone that was thinking about our "Once in a Blue Moon" Kilimanjaro New Years Documentary Climb." This climb is going to be filmed and produced in documentary format by Scott Mortensen and his Tarzen Diet team. Many of you who were following our Everest blog last year will remember Everest summiteer and Adventure Filmmaker - Scott Mortensen as the one who kept us entertained with his wonder words fed to the daily blog when we weren't suppose to:) He is also well known for his efforts in standing tall on the summit for Tibet and Human Rights. Check out the Tarzen Diet site to learn more about the documentary and their mission statement.
The urgency now, is for interested members to get their air seats organized. This trip takes place during peak Christmas air travel time in and out of Europe, the gateway to Tanzania. If you were pondering joining this trip, this week is the week to get it locked in or you won't get on. Sorry, but it is Once in a Blue Moon that the Full Moon happens on New Years Eve.
Photo: Tim checking out the big meltdown on Kilimanjaro glacier last January.
Trip details: Climb and Wildlife Safari- December 27, 2009 to Jan. 11, 2010- Machame Route.
May 10: THE TREKKERS ARRIVED .. Tim was tickled with the arrival of the trekkers. I am sure this is the best part of an expedition for him. He gets so excited for their success and their excitement is refreshing for the climbers. This is always a good time for them to arrive. Just when the climbers are starting to feel a little weary. A boost for them. They delivered letters from home and Tim got his gummy bears and clean socks. Everyone has made it except for Melissa, Heather and Helen who are just down the trail at Loboche. The altitude was wearing on them so they have decided to do the right thing and hold tight where they are. He was most impressed with Fiona Turpie from Ontario, she is a doctor and is an insulin dependant diabetic. She sprained her foot getting off the plane when she arrived in Kathmandu but nothing was going to stop this gal. Darcey, Helen's husband is a Paramedic, kept her foot wrapped up and supported properly the whole way. She apparently demonstrated incredible tenacity, and hobbled into base camp today. Tim ran to greet her and held her arm for the last few steps to base camp, she cried all the way! .... He was impressed with her determination, wow.... so I am.
Other members, Damir and Irina Prelovec, who are Canadian's originally from Croatia, dropped off their donation of dental supplies to the Namche clinic which were very much appreciated. They also made a visit to the all woman's Croatian Mount Everest team at base camp to cheer them on. Everyone else is doing great. Member Tobias Ruffer from Germany is off to climb Island Peak and the rest of the team will start heading down tomorrow. Some will do Kala Pattar and then catch up in Namche with the rest. Good times are reported by all.
MOUNTAIN CONDITIONS: It is currently snowing at base camp. This creates a very pretty experience and photo ops for the trekkers. Tomorrow Tim is going to walk them up to the icefall. Sometimes if there is a ladder around he will rope them up and get them on it or a photo. Great fun!...
SUMMIT WINDOWS: Hmmm, ho hum... We had calculated carefully with our weather resources, and discussions with other teams, and selected our optimal summit window with all our facts to be May 16 or 17. Now the other teams who apparently did the same are being chased off the mountain by winds that they have decided they don't want to climb in. Tim is a bit concerned now that a replay of last year of "way too many" climbers all going at the same time. There really is no way around this unless permits are limited and this isn't going to happen. One mountain, one goal and many climbers. We will make the best of it. Again, number one question we get asked: What does it take to climb Everest? Answer: Patience.
The climbers and trekkers want to pass on to all the mom's at home a big -"HAPPY MOTHERS DAY- I LOVE - DON'T WORRY!"
Sabastian and Elias- we love you and miss you!

Shiri, I will call you tomorrow, I love you!

Gina, I got your letter. I love and miss you and the girls. I will be home soon!

Bonnie, I miss you more than Abby and I am eating everything except the green stuff.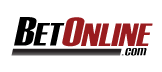 CHARITY PROJECT: Tim manage to get another wager call out with BETONLINE.COM. He is placing wagers from the highest place on earth. The company BETONLINE is donating $20,000US to one of two charities that you get to choose. It's a fun site to view, so give it a shot! BETONLINE.COM/EVEREST Reuters has just picked up the project story so there is a lot of action right now.

May 9: I ran away from home!... No blog until later tonight. I am enjoying a little getaway from the phone and regular blog duties because I know what's coming. I will be on 24/7 from May 12 till everyone is confirmed safely back down at EBC. So a little rest is now needed. Been there done that, live and learn. Here's a TIDBIT for you to fill the void.

Cell phone service coming to Mount Everest
Nepal Telecom is planning to start offering cell phone service on Mount Everest by June. They'll connect a base station via satellite, and will handle up to 3,000 calls at a time.

Question: Do you think 3,000 will be enough? Right now you can use a cell phone, line of sight to the tower installed in Namche Bazaar. Last autumn during our Everest Training Climb on Mt. Pumori, I was using a cell phone in Kathmandu and Tim was updating me there from via his sat-phone. We couldn't talk during the day because the lines were overloaded. They apparently have sold more phone's than their capacity can handle and the lines were constantly jammed until late at night.

Back to the garden :) Becky

May 8: Everyone is looking up! Today the icefall let off a big internal bang that chased Tim out of the tent to have a look. It was so explosive he thought a propane tank had exploded at Camp 2. Dendi Sherpa confirmed it was just the glacier. As Tim was talking to me from his tent tonight, he described the nightly massage he gets from the glacier. It is constantly moving, cracking and gurgling underneath him.

Patrick and Gerardo are now back at EBC and Sylvia just departed to today. She should fly to Kathmandu on the 11th. Craig, Daniel and Todd will be back in a day or two.

Other news is that Walter and Bernice, the two involved in the avalanche, were taken out of base camp today by helicopter. He was not in as good of shape as he thought he would be. The two of them have been under close observation by the EverestER doc. Walter started to experience some chest pains so it was determined it was time to call it quits and go for some tests. Tension on Everest since the death of Lhakpa Sherpa is evident. A team of Sherpas went up to the area the slide hit in the icefall to look for Lhakpa but came back with nothing. No more clues. Here is some information on what climbers might be experiencing at this time. ANXIETY AND STRESS REACTIONS IN THE MOUNTAINS

This is probably a good time to sit back and enjoy the calming effects of the full moon that will be shinning down on the climbers tomorrow night. I will be posting information on a full moon event this weekend to share. Different time, different place, same moon!

Have a great weekend!
Photo: Moon shinning over Everest lighting up Peak Freaks Everest Base Camp 08. Taken by Peak Freak Everest Summiteer- Dominque Gilbert from Quebec.
May 7: 10:00hrs (PDT) Canada: More details confirmed: As Tim had said to me last night, but I waited for confirmation from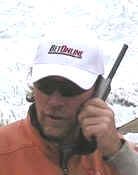 climbers that were present and families were notified that they are safe, before I posted names. There were three involved in the crevasse burial. Walter Lasserer and Bernice Notenboom, both from Austria on the Asian Trekking team and are both fine. Their Sherpa, Lhakpa is confirmed missing. There are two Lhakpa Sherpa's on this team so I don't know which one, but his family has been informed. So sad, so so sad.. I will light a tea candle for him now. My heart aches....Word has it that some expeditions are pulling the pin, no doubt freaked out. We are locked and loaded with all sights on the summit now. As explained below, Tim feels much lighter about the safety up there with the concerning chunk now gone from the West Shoulder.
07:00hrs (PDT) Canada: Sad but also a sigh of relief!... Very sad...Missing is a Sherpa climber who has not been accounted for. Only his backpack and boot was visible after the avalanche came off the West Shoulder crashing down in the icefall on the route creating a huge cloud of ice crystals, and an incredible wind blast.
There where about 22 climbers passing through at the time. One climber, Walter Lasserer from Austria, who was blown into a crevasse, he was visible and was rope rescued out of it while preparations for an evacuation were underway. Peak Freaks sent two of our strong Sherpa climbers up to the scene of the incident and sent two of our Sherpas over to the helicopter landing pad to be on hand there. As it turned out Walter was able to walk down off the mountain in the end, heli rescue operation was called off. He is staying on to finish his climb. Talk about courage! The missing Sherpa's name is not known yet till someone reports him missing. We will let everyone know just as soon we do.
The relief part is because now that big chunk we have watching has fallen off- GONE!!!!.... Tim is very happy about this. In this YouTube video "AVALANCHE" click on this link you can see the large chunk lingering above where the avalanche came down. Tim said he had been listening to it early in the morning cracking a letting off skiff's of debris and thought it would be anytime now that that thing might come down.
Tim had his camera rolling for the biggest blast this year. He captured it coming at him until he was being showered by ice crystals intensely and harsh, that he took shelter in the dinning tent, but managed to get the camera back outside to continue filming the blast.
Now they can freely finish the climb without this literally hanging over their heads. He said there is one more piece up there but it is far enough to the left, when it goes it will land far away from the route. Phew..... now we have that behind us.
Ok, now back to "Slippery Slopes" and global warming.... is this enough proof? Do you think?
Summit Plan: In a perfect world with perfect weather, this our plan:
May 11: Our team of support trekkers arrive to boost the team to the top.

May 12: Camp 2

May 13: Camp 2

May 14: Camp 3

May 15: South Col

May 16 or 17: Pending weather - SUMMIT!
News Break!... Fatal Incident on Everest!.... May 6: Tim reports in: 22:54 Nelson, B.C. Canada (PDT) - I used to wait to report things like this till names are released, but I have learned that it is very painful for family and friends who hear the news that trickles in and fear sets in. There are so many avenues of news sources today that word starts getting out almost instantaneously, so to help alleviate anxiety I want to confirm that "no Peak Freak members were involved". All our members were either down the valley or at base camp.
The West shoulder that has been calving on the icefall consistently this spring, released another big one this morning, Nepal time. Except this time it took out two climbers who were on the route. One member was sent into a crevasse and one member survived. Here is the link to the Youtube video that captured the slide that happened a few days ago. It was the same location, the ice above breaking off and coming down.
This morning when I talked to Tim I could hear two avalanches coming off of Mount Pumori over the satellite phone. Pumori in the spring always offers the Everest climbers good entertainment. But the one this morning had an unusual sound of rock in it. Nasty.... I haven't talked to him yet to see if there are any visible changes from where he can see. We know there is a team up there on the standard route because one of the poop boys working with the S.P.C.C (Sagamartha Park Conservation Centre), went there to do a collection a couple days ago. He complained to Tim that he had to climb way up on the route to do the collection, this is how we learned someone was up there.
Something like this happening now when everyone is getting set-up for their summit push puts a very negative light on everything. The Sherpa's for one take death caused by the mountain herself as an omen, "you are not welcome this time around." This is a reality check for everyone. Heads up up there....Stay tuned.. more in the morning.
This might be a good time to refer readers to the article Tim wrote recently called "Slippery Slopes" Climbing Everest is Getting Harder. Featured in the In-Flight magazine in Hemisphere, United Airlines.
Becky
May 6: Risk Management, Mountain Safety and Summits! Six Sherpas summited Everest yesterday after fixing the route to the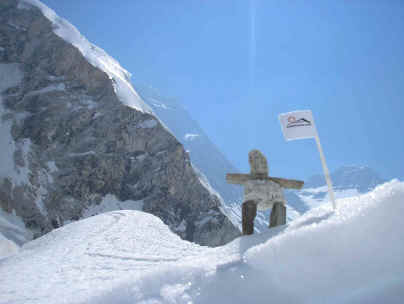 summit. Sliding in behind them was one Western climber David Tait. Congratulations!
Tim made his rounds yesterday talking to Eric Simonson and Damien Benegas to name a few to open conversations about summit waves and spacing. Everyone seemed happy with Tim's efforts. However last year we thought we had communicated spacing too when 77 people showed up on the same day for the summit.
Eric agreed that an up and down rope sign is a good idea. Most of the commercial outfitters communicate but we have to remember there are private teams there that tend to stay to themselves, and have language barriers because of the International attraction to Everest. Eric agreed it is the 'white rope up' and the 'red rope down' as Tim pointed out to the guide who was not sure. The event provided for a good run through for risk management and a sign will now be fixed.
FIXED ROPES: This year Everest will have 2 ropes up and down on the Lhotse face, 2 ropes up and down to the South Col and 3 ropes on the Hillary Step. This is fantastic news! The Yellow Band has also been bolted and about 10 or so old ropes have been cut and removed from the route.
Tim is not only is taking rocks to build an Inukshuk on the summit, but he is also taking rope. For the readers back home you might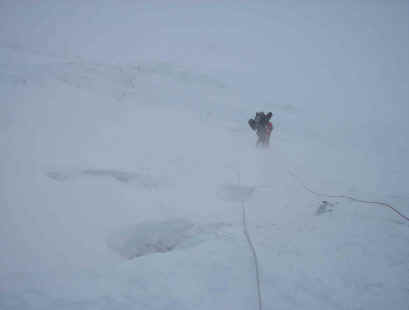 think this is standard piece of equipment in every climbers pack. That's not the case on Everest. There are ropes, but the climbers don't actually carry them after the route is fixed. The ropes are pooled by 'most' participating expeditions and given to the lead Sherpa team to go ahead and fix the safety ropes for all the expeditions to follow. The lead team this year was determined by a little tug a war. Last year we were in the lead without a tug a war. Each year is presented differently depending on the politics and mountain conditions. Too much snow, no one wants to lead risking burning out their Sherpa's boot kicking to the summit for other teams to follow their lead, and sometimes giving up their own personal summit success to do so.
Tim has calculated a risk factor with all the old rope being cut and removed from the route. Last year he was able to save a life because of old rope and one life needed saved because of old rope. When one our clients collapsed at the South Summit, Tim rigged a rescue system using old rope to pendulum him down and to secure him to the mountain. During the rescue mission Tim and his mates came upon another climber from another team who was tangled in old rope, out of oxygen and out of everything else too. All of this happened while in the death zone. Tim had to untangle this lone climber and send him down the mountain on his butt. In any case Tim has decided he will be well equipped with a 10 meter section of rope as a backup for rescue should he be faced with a similar situation this year.
Bon Voyage to Sylvia: Not up- but sadly down. Sylvia woke this morning with difficulties breathing again, she got checked out by EverestER doctor and she seems to be struggling with this. This won't work for her higher up. Tim had a good heart to heart with her and she has decided to call it a climb. Sylvia, a single mom with three kids at home waiting for her and who were happy to receive her call letting them know she will be home for Mothers Day. I feel bad for her knowing this would have been her 7th summit. I also know she will probably be back, if she can. :)
Photo: Inukshuk at Camp 1, Todd heading up the Lhotse face in the storm with Tim and Jan.
May 5: ROPE DISCUSSION: Tim is pleased with the one up and one down lines that have been fixed this year to handle the traffic, but!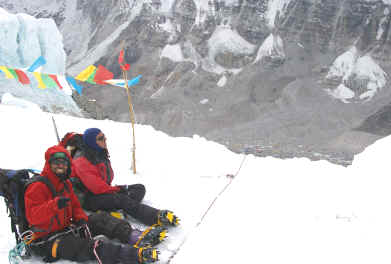 He was climbing up the other day when a guide from another team was coming down on the same rope. This isn't good!! The guide informed Tim he was on the wrong rope. Tim expressed to the guide that he didn't agree but moved over anyway, but not before explaining to the guide that it was obvious that the rope that he had been asked to move off of, was the "up rope". It was tight and had boot steps created by the Sherpa's going up. The other rope is slack, which is what you want for rappelling, and no boot steps, and with drops in appropriate locations which would indicate it is being used as the down rope. Tim moved over and gave it a try. He said he had to do handovers in various locations on this rope which could be dangerous for up climbing on. The other rope he thought was too tight for rappelling effectively. The last thing you want up here come summit time is people unclipping to switch over on a line, especially since the Sherpa's have gone through all this work to fix two lines for crowd control.
Tomorrow Tim is going to try and track down other guides to see if they can have a discussion on the tight and slack factor. He wants to see if any other guides feel the same way about the ropes as he does. Either way- a highway has been created, so now we need some traffic rules and regulations. Maybe some road signs?
SYLVIA is back and ready to climb! She had a change of heart and is ready to get back on that horse and go for it. She will head out tomorrow for her acclimatization routine. The walkabout served her well. Right on Sylvia!!!
Craig headed out today for a break, Jan, Daniel and Todd will head out tomorrow. Gerardo is coming back tomorrow and I think Patrick too, not sure. Tim has instructed them all to be back by May 9. You know what that means...... :) woo who...!
May 4: Global Warming is kicking us up here!... We are all down safely at base camp. More ice today fell off the West shoulder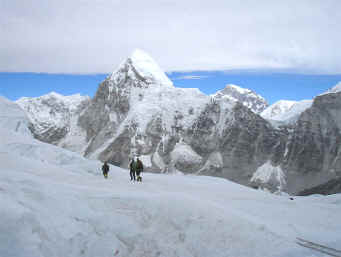 and dusted Jan and Nima Sherpa when passing through the icefall. Tim said he heard it let go and thought- oh boy! what's this going to do? He went back to check on Jan and Nima and found them laughing and dusting themselves off. Later when they were at base camp another big one let go, this time off Nuptse, the other side of the icefall. Tim said "it is just a matter of time we will be looking up at rock on both sides of the glacier instead of snow and ice."
"It is really warm at base camp, we all enjoyed hot solar showers, a shave and food unique to Peak Freaks, our infamous Sushi with BC Wild Salmon. The main course was a scrumptious chicken dinner. "
"Gerardo and Patrick are down at Dingboche, Craig and Daniel are heading down to Pangboche. Myself, I am quite comfortable here in my home away from home for the past 18 years. Plus I will be meeting with the other expedition leaders to start discussing summit push waves. A couple of Sherpas are going to go up and do some house cleaning and tweaking at Camp 2 to make sure everything is absolutely perfect for our summit push. Over and out" - Tim
Sushi notes: Several years ago I taught Tim how to make sushi and asked him to show Ang Karsung (our cook) how to do it. We brought Nori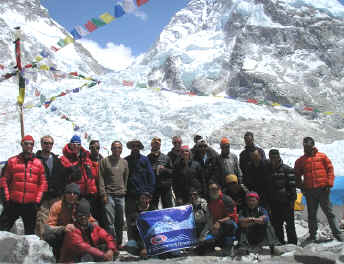 sheets, a bamboo roller, and the condiments. Ang Karsung watched and nodded, went into the kitchen the next day he came out with this!!!... By the way, Tim's looked nothing like this. :)
NEWS BREAK! Update May 3, 2009 @ 19:50hrs - Nelson, B.C, Canada (PDT)
YIKES! "AVALANCHE" YouTube video- click on this link
There are no reported incidents involved in this avalanche. All our members were either above it or below it.
Kathmandu protests in the streets: Our trekkers got of Dodge just in time avoiding political meltdown in Kathmandu. Our Nepalese friends in the capital city are emailing us saying they don't know what's going on. There are protests in the street. The Maoist Premier sacked the Army Chief. This move was not supported by the other ruling members so tension is building. To settle things down the Maoist Premier asked the Army Chief to stay put. We will be watching closely. None of this should effect tourism as hasn't in the past.
May 3: Mission accomplished! "We have all completed our Camp 3 acclimatization. Jan, Todd and myself hunkered down and climbed to Camp 3 in the storm cell that we have been watching today. We encountered howling winds and were for the most part blinded by swirling snow. Todd commented, "arrrr!..this is real mountaineering" it was obvious he was enjoying every moment. When we were approaching Camp 2, the storm quit, the sun broke out and man was it hot. We felt blessed. Had the sun been out when we were climbing the heat could have been unbearable. The three of us are here in Camp 2, tomorrow we will retreat to EBC to join the others, take a rest, then we are ready to go."
TIDBIT: Folks back home are taken back when we speak of the sweltering heat when climbing big mountains. It can go from the high +30's to minus -30's in seconds once the sun goes down on a glacier. Most climbers prefer cold over heat. In the cold climbers have clothing to add heat and can climb harder if they are cold. Heat is another story, you can't dress down too much for fear of sunburn and exposure causing dehydration and it's painful to move fast.
What's next?
"All our oxygen is now in place at the South Col. We intend to approach the summit with the same strategy as we did last season. Superb acclimatization was attained by spending two nights at Camp 3 on our summit push. Most teams will only spend one night here before moving up to the South Col - and then on to the summit. This is our added safety element. Should something go wrong we aren't as dependant on oxygen supplements.
The route to the summit will be completed any day now. We are all taking days off including the Sherpa's. I will be discussing summit bid waves with other teams to get an understanding of how we will fit into the BIG picture in the next week. Stay tuned! " - Timalaya
QUESTIONS TO THE TEAM from the Grade 4's and 5's at the St. Angela School in Saskatoon.
1. How many people have died trying to climb Mt. Everest? "Total number of deaths on Everest are now in the neighbourhood of 200+ and over 3000 successful summits on Everest. It is hard to get an exact number on both of these stats because of the poor record keeping in this part of the world combined with the fact that many of the Sherpas have the same name which complicates the process. Many get missed or added multiple times."
2. Have there been any avalanches this year that necessitated a rescue? "No, there have been a few icefall collapses and the West shoulder of Everest has been causing us some concern. Large ice chunks have been breaking off and crashing down near the route. We are working around it as best we can. It is warming quite rapidly right now so we have to be on our toes and move swiftly while climbing under that section for fear of more coming down." Peak Freak Mt. Everest Team 2009'
May 2: Jan is climbing!.. Yeah! That was good news. He is going to go for it. Tomorrow Tim, Todd and Jan will go up to Camp 3, hang out and then retreat to Camp 2 or EBC depending how everyone is doing. Craig and Daniel had a nice easy day to Camp 3 and back. They said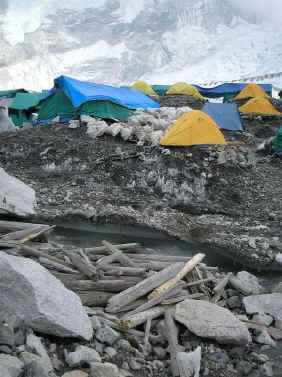 there were both feeling strong. Tomorrow they will retreat to EBC. Patrick and Gerardo are now both in EBC.
Tim said, "The snow looks like it will be just the typical low valley monsoon snow storm. It is snowing down the valley, up here at Camp 2 we are getting just skiff. This is all good."
PHOTO: Logging on Everest!!!! read about it below!!!
What's next?
"May 3 or 4, all members will be back at EBC. Once the route is finished to the summit, which is just about any day now, the Sherpas will all retreat to EBC. We will all take a rest, including the Sherpas. A good four days for everyone is what we would like to see, maybe more. Some of the climbers may opt to retreat down the valley to refresh their oxygen saturation levels. We need to try and figure out who is going when so we aren't in the middle of the masses all going at the same time. This is the tricky part because there are so many people up here and so many TV cameras with filming agendas. All climbers seem to climb with a video camera these days so there will be a lot of footage come out of Everest this year. Let's pray for no drama. If the weather holds it should work out just fine spreading everyone out. If the window gets squeezed because of weather, then we have a problem, otherwise I am sure we can all work together moving climbers up and down safely." Over and out- Timalaya
Support Trek group: They have all arrived in Kathmandu and are ready to fly to Lukla tomorrow. Helen and team are anxious to get out of the sweltering heat and into the cooler mountain air. Support Team Roster
Tibet- Our trek group is now in Lhasa and should arrive at Everest Base Camp in Tibet on May 7. They are well on their way with no problems.
Luxury Trekkers- Our small team left for Lukla today. These treks are for those who want to see Everest while living in the lap of luxury. Without sleeping bags, private bathrooms, and with or without going to altitude extremes. We offer 4 to 8 day treks and also offer a first class trek all the way to Everest Base Camp. Everest View or Everest Base Camp Luxury Treks.
PHOTO: Check the timber out!.... The Koreans are hauling this wood off the mountain. I wonder why and what they intend to do with it? One of our old timer Sherpa's told us that this wood was thought to have been hauled up Everest and used in place of ladders during the what seems now like- the prehistoric climbing era.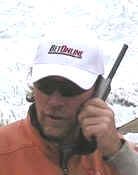 May 1: Camp 3 and climber status: Jan is now at Camp 2 but didn't arrive in very good shape. He pulled a calf muscle on the first section in the icefall but continued and is now resting at Camp 2. Gerardo and Patrick went up to Camp 3, Patrick returned to Camp 2 to sleep. Gerardo opted to stay up there and sleep.
Tomorrows plan is for Gerardo to retreat to Camp 2 where he and Patrick will join and go all the way down to EBC. Then they will take a few days off to go down the valley to refresh their oxygen saturation levels. Craig and Daniel will go to Camp 3 to sleep then retreat possibly to EBC the next day.
Tim and Todd will hold back with Jan tomorrow at Camp 2 allowing him the opportunity to recover. They will do a day trip on the Lhotse face together to see if Jan's leg is going to work for him and then the next day go for a Camp 3 overnight.
RECAP
Climber current location:
Camp 3- Gerardo currently sleeping

Camp 2- Patrick, Tim, Todd, Daniel, Craig and Jan

Other- Sylvia on her walk-about
Acclimatized:
Camp 3- Gerardo

Camp 2- Patrick had been to Camp 3 but he may or may not still need to sleep there. I didn't get a clear understanding on his plan, as in whether or not he decides to wait for his Camp 3 sleep on his summit push, which is possible. Our team did it that way last year and it worked well for them. Everyone else is acclimatized to-date at Camp 2 except for Tim. I think he must be perma-acclimatized to 8000m+ :)
Photo: Tim Rippel making the highest wager in the world by land.
Very cool interactive website you must check out!!! Have fun!
CHARITY PROJECT with PEAK FREAKS and BETONLINE.COM
April 27, 2009, PANAMA CITY, PANAMA- BetOnline.com one of the web's most popular online betting destinations, today announced that the company is embarking on an expedition to the summit of Mount Everest. The Peak Freak team led by Tim Rippel will attempt to create a new world record- the highest altitude wager ever placed from land. 'We intend to prove that our slogan: BetOnline...From Anywhere!' is more than just a slogan. With BetOnline.com, "you really can bet from anywhere, " said Eddie Robbins III, the company's CEO.
The company will donate $20,000 upon successfully summiting the world's highest mountain to the charity which received the most votes from Facebook and Twitter users and is on the right side of the record-breaking bet.
Please come inside our Peak Freak tent and climb with us.
Bring the kids, they will love the adventure!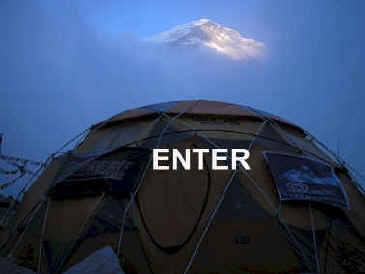 April 30: Tim reporting from Camp 2- "Daniel, Gerardo, Craig, Todd, Patrick and myself are all here. It was a good climb and we are all nestled in our tents zzzzzz.... is coming from various direction around me right now. Tomorrow we are going to hang here for a rest day. The next day everyone except Gerardo is going to go up to Camp 3 and return to Camp 2 to sleep. Gerardo's plan is to go up to Camp 3 the next day, sleep there, and then retreat all the way to BC.
Everyone's Sherpas have pooled together and are now fixing above the south col. Looking good!
Over and out, Tim"
April 29: OLD GROWTH LOGGING ON EVEREST- This tidbit Just came in from Tim. He was out and about today around the glacier and came across the Koreans packing very old trees off Everest. Logging on Everest??? say what?..... apparently they were used on Everest before the day of ladders to cross the crevasses. Photos to follow shortly. Just an example of more goodies to surface due global warming.
DOING WHAT WE CAN
Recently I was asked for an interview with Everest News blogger, Alan Arnette. Question asked: Peak Freaks is ahead of so many other companies in 'green climbing". What caused you and Tim to adopt this philosophy? One of the things I pointed out in the interview was how we make it priority to buy local in giving back to our aging climbing Sherpa businesses. This allows them to continue to care for their families after their Everest slogging days are over.
If you have been on our gear discussion page, you will see we have been pushing the Everest Hardwear down clothing in Nepal for sometime. Ang Sonam Sherpa from the Solo Khumbu and his wife Norky started making these suits about five years ago from their small Kathmandu factory. Norky borrowed Tim's summit suit for a couple days to cut a template, it's been all uphill "in a new direction" ever since. The suits are tried tested and true. The all Nepalese Women's Everest expedition wore them, The Nepal Lions Club Everest expedition in 2007 wore them, including creator Ang Sonam who summited for the first time in his new line (see photo).
The best suit test was when our client Sultan Al Ismaili, the first climber from Oman to attempt Everest, spent the night high on Everest last season and with added ventilation that was created in the butt area. This was caused by Tim dragging him down the mountain by his boots when Sultan gave up and wanted die. A little leakage was created sending feathers over the Kangshung face, luckily both Sultan and the suit survived the epic night in the death zone.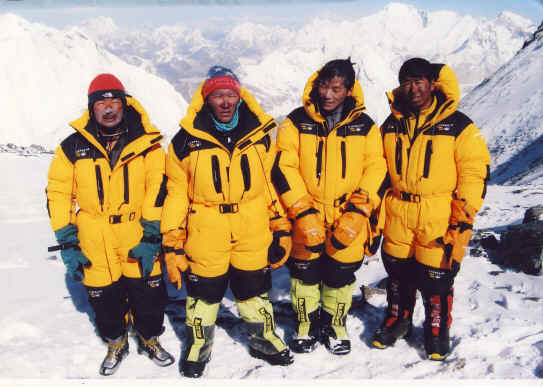 Photo: Nepal Lions Club Everest 2007' Da Jemba Sherpa, Lhakpa Gelgan Sherpa, Kami Sherpa, Ang Sonam Sherpa (Owner)
| | |
| --- | --- |
| | |
| Ang Sonam and his son Dawa | Everest Hardwear Staff |
CLIMBERS: Syliva left today for her walk-about and will be back in about three days. Jan is laying low with the sniffles. Tommorrow Tim, Patrick, Craig, Gerardo, Todd and Daniel are heading up to C2 and hope to tag C3 and return to C2 before the snow comes, which looks like possibly May 3.
Bernd checked in after kicking back enjoying a yak steak and glass of red wine at Tsedams house in Namche. He will make his way towards Lukla tomorrow and will arrive just in time to meet up with our trek group in Kathmandu before they start their journey up the Khumbu.
April 28: Support trek team now making their way to Nepal. Helen Lutz, our support trek leader and team Dietitian and husband Darcey, have arrived in Kathmandu and send us their comments: "Hi everyone, I wanted to send you a quick note to let you know that we have arrived in Kathmandu. There were no plane delays enroute and after the 17 hour flight from LA to Bangkok we were ready for anything. Or so we thought....Kathmandu is absolutely overwhelming in every way. Smells, sounds, traffic, street kids begging, people trying to coerce you into their shops,...Darcey put it sort of like "it feels like we have been dropped into boiling oil". We have just finished dinner and plan to head to bed pretty quick. We are bumping into walls."
The rest of the trek team will be arriving in the next couple of days. On May 3 they fly to Lukla and should arrive at base camp on May 11. In a perfect world this would be the day before the team heads out for their summit push. We planned it that way to give them all a boost to the top.
CLIMBERS: Bernd said his good-byes and should be in Lukla in about 3 days. Sylvia is heading out tomorrow to hike around Gokyo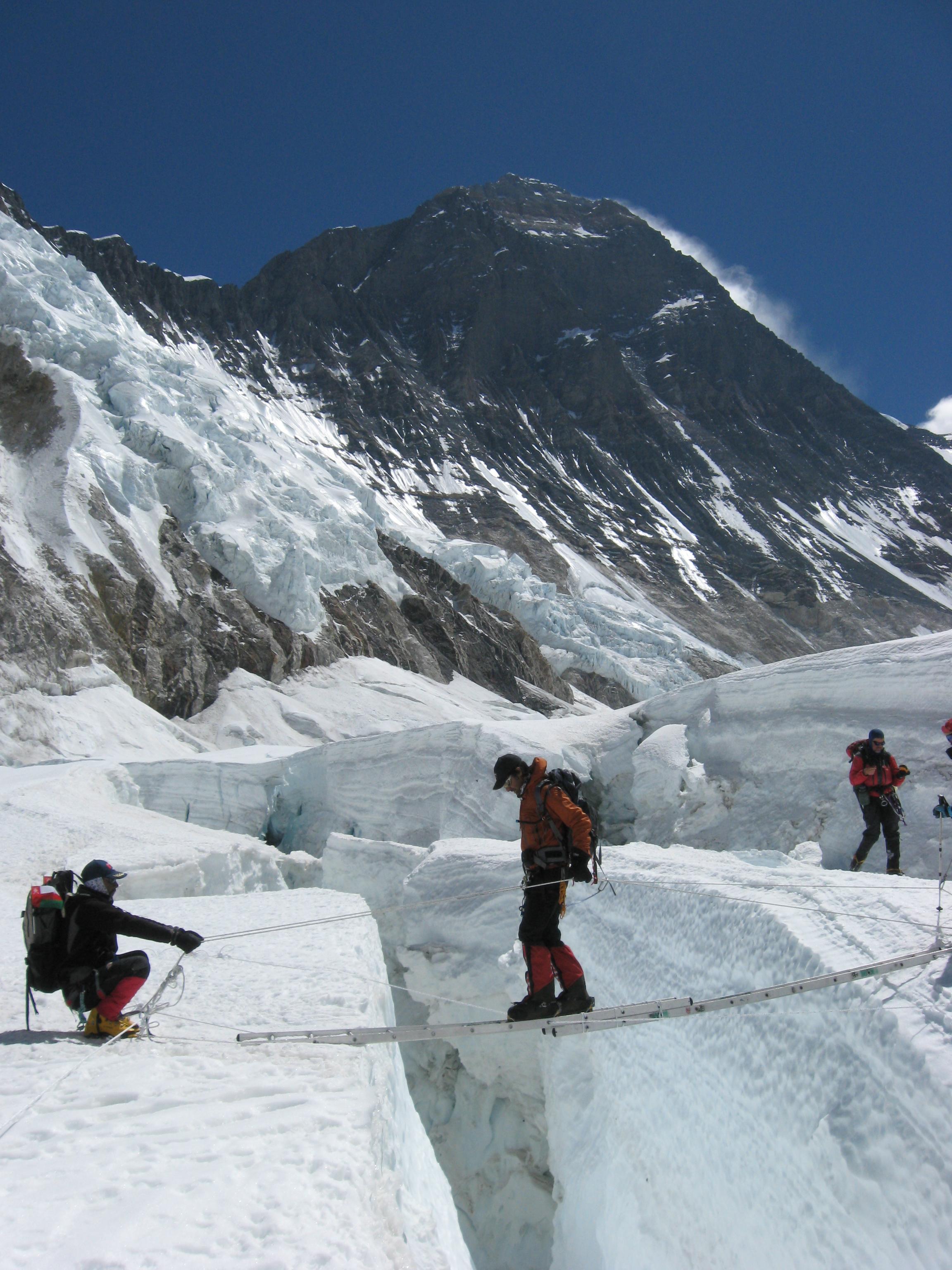 and see if she can get a grip on her claustrophobia. Though she has climbed six of the seven summits; she is learning how Everest is a whole new ball game. Everest is a mental game, crossing the icefall being the biggest challenge. The waiting game is also hard on climbers, spending multiple days living in a tent due time needed to acclimatize and sometimes extended weather delays. Other climbs you tend to be on the move more, climbing each day.
Tim has said to me numerous times that climbing Everest is boring for the avid climber. He says there are two crux's on Everest: One the icefall, and two the waiting game. This is one of the reasons we introduced our Everest Training Climb at the foot of Everest on Mount Pumori. You are in the eyes of Everest the entire time. You can visualize what you will be up against from high on Pumori. You will also see the icefall and the entire route to the summit from the north side in Tibet and south side in Nepal at the same time. The air is thin, the temperature is cold and the wind blows, all of which you will experience on Everest. Mental preparedness through mental training is a huge factor in successfully climbing Everest. When your body is struggling on summit day, it is you mind that will pull you through.
During Sylvia's walk-about she will have the opportunity to stand back and have a look at Everest from a distance. Sometimes you need to do this. The problem with Everest is that once you are at base camp you don't see Everest anymore. All you see is that darn icefall, haunting you, creaking and groaning 24/7.

Visualization is a powerful tool. Good luck with this Sylvia.
Photo: Teamsters at work on the glacier.
TIDBIT ON NAMCHE BAZAAR DENTAL CLINIC
We feel so lucky in that Peak Freaks continues to attract people in a position to help our friends in Nepal. This year trekker Irina Prelovec from Oakville, Ontario, a dentist and her husband Damir spent the last couple of weeks organizing a generous donation of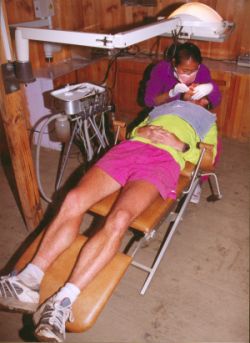 dental supplies that they will deliver to the clinic in Namche on their way to base camp.
In 1981 Dr Brian Hollander, who worked at the American Dental Clinic in Kathmandu, found that Sherpa children on the Everest trail had four times the degree of dental decay than children off the trekking trail. Possibly from trekkers handing out candy which we very much discourage. His dream of a modern dental clinic became a practical possibility when Namche Bazaar received electricity from the hydro plant at Thamo. The building was paid for by the Everest Marathon Fund and the American Himalayan Foundation, Brian installed modern equipment and the clinic opened in February 1991. Nawang Dhoka, a Sherpani from Namche, was trained as a dental therapist in Saskatchewan, Canada, and she graduated in June 1991. Two years later Mingma Nuru Sherpa from Khumjung completed the same course, financed by the Everest Marathon Fund.
BIG THANKS out to Irina and Damir.
Saskatoon is on our mind this year. Climber Rob Smith owns the Tim Horton's in Saskatoon, Nawang's Saskatoon connection and the St. Angela grade 4 and 5's students from Saskatoon will presenting a series of questions to the climbers that we will be posting here for everyone to read.
PHOTO: From Everest Marathon Fund
April 27: Team laying low: Our Sherpas are the clever ones. Tim reports many teams camps were trashed from the high winds at Camp 2. Our Sherpas acted quickly flattening everything and weighting it down and retreated first light. Except for the sherpas working up on C3, they continued. Nothing is erected up there but they continued to carry loads to stock everything up.
Next step for the Sherpas will be to start moving equipment up to the South Col. The fixing of ropes has been completed with both up and down ropes. In the next day or so talks with our sherpas and other team sherpas will begin to discuss fixing rope from the South Col to the summit.
Bernd did his packing today and will begin his journey home. Peak Freaks is waiting and watching a system that has potential to dump snow mountain in a few days. Jan went to Everest ER for advise on a nose bleed that has been bothering him. Tim said hasn't
been wearing a mask which helps keeping his nasal passage moist. The doctor confirmed that was exactly the problem and he should wear one when climbing and breathing heavily- the dry mountain air.
Riki checks in and sends us some photos from her time at the Hillary Khunde School. She was there during registration for the next year (see photos). Her paralegal typing skills were put to good practice. She typed a 100 paged - manual for Mahendra, the school master.
Riki said, " I could only type for ten minutes at a time and then I had to sit on my fingers for a full minute to promote circulation. I did learn that I can type with surprising accuracy with absolutely no feeling in my fingers!
That Friday afternoon Mahendra and I celebrated the completion of the manual with a treat at the Everest Bakery and then said goodbye.
I poked around Khunde on Saturday, including a walk up the ridge to visit the Hillary Memorials (one for his first wife, daughter, and the newest one for him).
Back in Kathmandu, I was picked up on the back of the Peak Freaks motorcycle and as Kiran and I bombed around the streets of Kathmandu, I learned about Rob's fall. I met up with him that afternoon and we hung out in Kathmandu before we both left Canada on Friday." Adjacent photo: I see the Peak Freak sticker on the bumper- good work Kiran!
| | | | |
| --- | --- | --- | --- |
| | | | |
| Registration day | Hillary's new memorial | Challenging trekkers to a game at altitude | |
April 26: Wind Storm kicked C2 Everyone is back in base camp. High winds hit Camp 2 and for fear of loosing gear and tents if our camp remained upright, the Sherpas unassembled the tents and loaded them with rocks while the climbers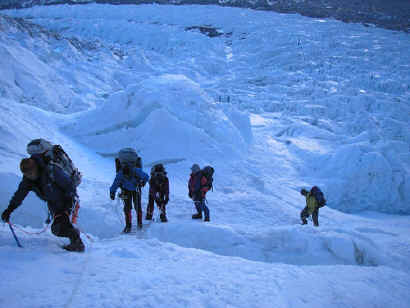 retreated to EBC. It looks like a storm is moving in with considerable precipitation on May 1 from what I see on my weather report. Tim sees a dark cloud moving in that direction now. What does this mean? It means that all is normal for this time of year. The fact it had been so dry and calm was not normal. Reality sets in. Just when the climbers think it's going to be a cake walk, nature reminds you who's is in charge.
Doctor Bernd Wittmann's climb is over. He had taken a fall a few days ago in the icefall and cracked a rib. Labouring with shallow breathing just doesn't work here. He is feeling the onset of a chest infection so it's time to go home. Good work Bernd!!!.. He has been a valuable player in team dynamics and will be missed by the team.
Sylvia was having a hard time at C2 with Cheyne-Stokes. I so relate- been there, done that.
April 26: I love sat phones!!! Why am I content to be married to a high altitude mountain guide? Because he is always so considerate of my feelings. Much like the husband that pulls out the cell phone on a freeway to say he will be home soon- 08:45hrs Nepal time, phone rings- "Hi hun, I just came through the icefall, I'm at the top of it now, it's freezing cold so I will call you again tonight from my tent to let you know how everyone else is doing. I love you... :) :) :)
April 25: Now what.......do you do at Camp 2? Sleep, eat, read, hike around, socialize, play cards, tell lies and spend a lot of time thinking about everyone at home and dream about how your summit bid will play out and other dreams not so pleasant. One of the unexpected side effects of high altitude living has been lucid, nightmarish, often apocalyptic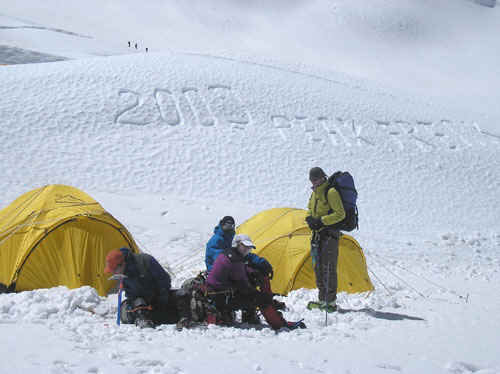 dreams. But hey, consider yourself lucky if you do sleep. Cheyne-Stokes is something almost all of the climbers will experience in their acclimatization process. Here is a link to the Everest ER site that gives a good explanation of what they are likely experiencing and why for some, it's so hard to sleep.
Todd is now at C1 the rest are at C2 except for Tim and they are all doing well. Tim had a little something in his chest he wanted to make sure was cleared up before going high. He is also pretty much acclimatized still from his recent guiding ventures to high places. He sure misses the gang though and is looking forward to catching up with them by late morning tomorrow at C2. He was already up there a few days ago so his speed should be swift.
Lhakpa Bhote and a couple other Sherpas managed to get some C3 tents in yesterday. Tomorrow one more ledge to be built for a tent, then this team of Sherpas will retreat for a rest while the next wave of Sherpas will head up and start putting in camp at the South Col.
In the next couple of days after everyone's health and acclimatization is checked. It will be time to move up to Camp 3. Once the climber is acclimatized to Camp 3, they are ready to summit. Not to say they are going for the summit so soon. There is still work to be done from the South Col up on the route to the summit and oxygen needs to be stocked in C3 and C4. Tim is happy how everyone and everything is moving alon
g. The weather has been cooperative.
Photo: Hey guys... thanks for the promo!
April 24: JANU HO!.... Nepalese for "Let's go"...That was the word around camp early this morning as everyone was rustling in their tents gathering up everything they will need for next 8 days up on the mountain. Aren't Ipods great? No more heavy novels, yeah!
My night was busy stuffing a duffel bag with care packages for the trekkers to take to base camp. Things like letters for climbers, pictures from home, jelly beans, a newspaper, The National Inquirer, a bottle of Banana Rum (shhhh...thanks Justin and Pierre), clean socks, gifts of children's clothing for our Sherpa family homes and more.
Anyone from home that wants to send me an email that I will print and send up the valley to the climbers to receive on May 11, please do so no later than 7:00pm Pacific Time. trek@peakfreaks.com It is always fun to receive snail mail.
CLIMBER LOCATION:
EBC- Tim and Todd, heading up to C2 in the morning.

C1- Craig and Sylvia- heading up to C2 in the morning.

C2- Bernd, Gerardo, Daniel, Jan and Patrick

C3- About 5 of our Sherpas, the rest are at C2 taking good care of the climbers. The Sherpas at C3 were busy chopping out ledges today to make flat spots for the team tents.
MOUNTAIN NEWS:
"The icefall is quieter now. The nights seem to be colder than they were when we first arrived. I have been talking to a couple of my mountain guide buddies. Between us we try to analyze behaviour to see if there are any patterns. We have noted that all the activity seems to be between 0400hrs and 0600hrs and then it is quiet for the rest of the day. Based on this we start our movements after that time." Tim
For the folks back home keep in mind the glacier is living and movement on this one, or any other one for that matter is perfectly normal. All you can do is listen and be in tune. It talks to you too!
Photos: To follow - as I know you are anxious for news this morning, check back soon for more! Becky
April 23: Movies and Steak dinner!... The teams personal shopper arrived today from Namche Bazaar with a basket full of fresh veggies, fruit and steaks. TIDBIT: The cooking of fresh meat, potatoes and rice at altitude is extremely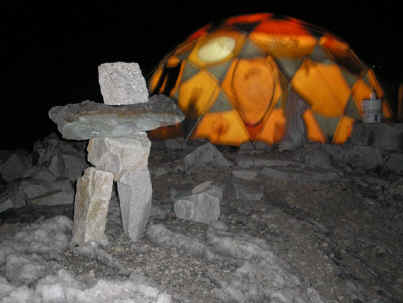 slow and high in fuel consumption. At 21,000 feet water boils at 185F compared to 212F at sea level. To get around this, the use of a pressure cooker is now an essential piece of equipment on any Himalayan expedition. I wouldn't want to be the Sherpa carrying it to Camp 2, ugh!
Tim said they watched a movie tonight, and slowly everyone was slipping out of the tent, one by one before it had finished. They're all wanting to get a good nights sleep for the climb to Camp 2 tomorrow. It's hard to sleep the higher they go. They will have a couple of rough nights until they acclimatize fully to the new altitude.
CAMP 3: One of our Sherpa's reached Camp 3 today and has successfully staked out spot.
Bernd and Daniel are now sleeping at Camp 1 and will join the others at Camp 2 tomorrow. Speaking of Bernd, remember, he is 68. A friend of his did some research and has shared it with us:
"It is reassuring to know that for Bernd, while the chance of summit success may only be 16%, his chance of dying on the mountain while trying is only 1.6% - actually lower than the younger guys! Does that mean that age really does bring wisdom??? It is also lower than the general average death rate in the USA for that age group, so in fact, attempting to climb Everest at 68 means that you actually have a better chance at living longer."
Over and out.... "goodnight from the EBC to all our loved ones and followers and thank-you for all of your encouragement and possitive energy you have been sending our way. Tim"
COMMENTS: From Everest 08' climber Nabil Lodey I will share.
Hi Becky,

I must say that it is quite exciting reading the blog updates from the "other end" this year and it has brought back so many fond memories. In fact, when you put up the picture of last year's base camp I was quite nostalgic to see my tent again. It was a wonderful time.
Hope all is well with you. And keep the blogs coming - I can see how people were hooked. I was amazed by the stone carrying to the Summit for the Mascot but I sort of suspected that Tim put stones in his bag anyway just to make things more challenging given the machine that he is !! - Nabs

April 22: EARTH DAY! Tim and the Sherpa's have built an Inukshuk at base camp. The Inukshuk was used by the Inuit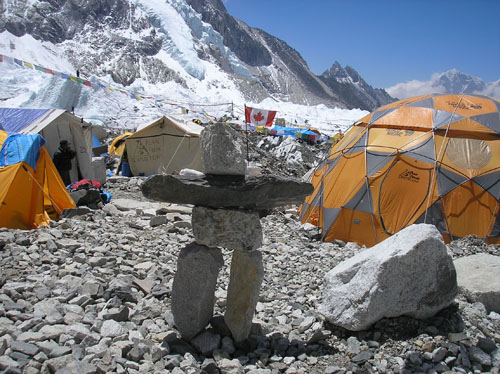 people to say- "WE WERE HERE" Tim plans to build another one at Camp 1, Camp 2, Camp 3 the South Col and is taking rocks to the summit to build one there. This is our way of celebrating both the 40th anniversary of Earth Day and the Vancouver 2010 Olympics. The Inukshuk is the official Olympic logo and also Peak Freaks Everest 2009 mascot.
Climbers have taken all sorts of matter and debris to the summit of Everest, some good and some totally bazaar. We feel this contribution to the top of Everest will be inline with our "green theme" local and natural and giving back.... :)
Climbing plans: Tomorrow Bernd and Daniel will climb to Camp 1. The next day the rest of the team will climb to Camp 2 and all of them will join together at Camp 2 the next day. They will up on the mountain for next 8 to 9-days.
The Sherpa's will be moving gear up to Camp 3 tomorrow and the team will make their way up to acclimatize there before retreating to base camp, or? Stay-tuned!
April 21: Ice-fall is getting violent! Tim reports a section on the ice-fall ripped out very early this morning in the popcorn section. It would have trapped climbers from going up and coming down for a bit till the Sherpa doctors managed to set a new section around it.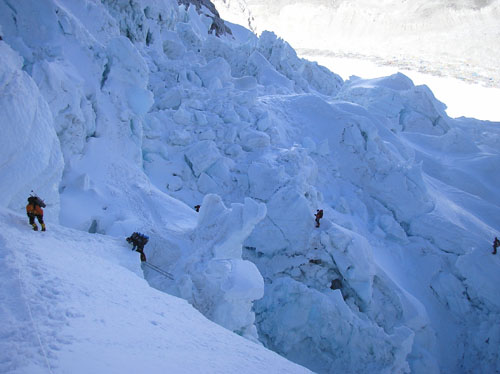 Tim says, "we are making it priority to limit our time in the ice-fall this year because of the activity being created by rapid warming. Once we're acclimatized to Camp 3, we won't come down again, instead we will stay high and go for the summit without retreating for a rest."
Now there are two BIG reasons climbers have to move swiftly this year. On summit bid day because of the long line-up, and now the ice-fall breaking-up. You don't want to linger in there.
All Peak Freak members are at EBC.
PHOTO: Team Peak Freaks in the ice-fall
April 20: ALL BACK IN EBC: Bernd is up in C1 right now and everyone else is back in EBC. They are all feeling terrific! In three days the team will be ready to go sleep at Camp 2, while the Sherpas continue hauling up to Camp 3. Everything seems to be moving along just fine.
MOUNTAIN CONDITIONS
Wow, is the word of the day reported by members to Tim upon their return to EBC today. The route through the ice-fall looked completely different from when they went through there two days ago. All the seracs are falling in on themselves because of considerable melt-down. The route problem up by the west shoulder has been pulled away from the wall and Tim is now happy about that.
CRAIG EVANOFF- Today I would like to introduce team member and assistant to Tim this year on Everest, Craig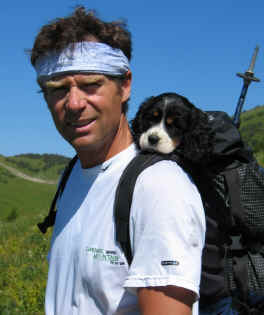 Evanoff , a long-time friend who hails from the interior of British Columbia town of Prince George. He and his wife Bonnie Hooge operate Dezaiko Lodge-North Rockies Ski Tours www.northrockies.bc.ca and offer professionally guided and catered skiing vacations.
Mountain sports are a dominant part of his family's life and he spent his youth as an alpine ski racer before turning to ski mountaineering and climbing in his early twenties. He and Bonnie have climbed and skied extensively in what they consider their 'home' range of the Rockies, as well as the Coast Range of BC, Alaska, New Zealand, Nepal and Patagonia.
We have known Craig and Bonnie for sometime now, having enjoyed several Himalayan expeditions together and from time to time we run into each other here at home while participating in avalanche and guiding seminars.
Nepal is one of their favourite places and they have made several trips there trekking and climbing. Imje Tse (Island Peak), Ama Dablam and an attempt on Pumori have all proved to be rewarding experiences and now Craig hopes to realize a boyhood dream to climb on Everest.
PHOTO: Craig and his #1 girl- Abby... who Bonnie says he misses more than her :)
There's more.... Craig's father George Evanoff who I knew from my travel office days, inspired me to get out of the office and into the outdoors, and this is when I met Tim. As you can imagine I am incredibly grateful having met George.
When Craig and Bonnie were on Mount Pumori with us in 1998 - George was killed by a grizzly. A book has just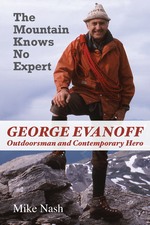 been published and is now available. I am very much looking forward to reading it. Check the link for more information.
"THE MOUNTAIN KNOWS NO EXPERT"
The Mountain Knows No Expert epitomizes George Evanoff's philosophy towards the outdoors, while presenting an intriguing contrast with the man himself. Widely regarded as an "expert," he was a knowledgeable, experienced, and practical outdoorsman, teacher, and mentor, yet ironically lost his life in the mountains in an encounter with a grizzly. Son of a Macedonian immigrant family, George was raised in Alberta, and went on to become a mountaineer, guide, avalanche specialist, and pioneer in ecotourism in British Columbia's North Rockies.
April 19: WHERE IS EVERYONE? Since Tim had a day off I took one too. Colds seem to be making their way
around the expeditions, nothing new, but it is for Tim. He has been blessed to be able to ward them off in the past. Not the case this time. He reports from his tent stuffed up and taking care of himself.

Here is everyone's current location at the time of this dispatch.
KTM
Rob Smith is back in Kathmandu. After being seen by the doctor there and getting his required paperwork for the evacuation/insurance process, he will be making his way home.
EBC
Tim Rippel resting in his tent nursing a cold after seeing Rob off.
Bernd Wittmann went up to Camp 1 yesterday and returned to his tent at EBC. He also has the cold so he is now resting. If feeling up to it, will move up to Camp 1 to spend the night tomorrow.
CAMP 1
Sylvia Moser, Gerardo Lopez, Daniel Keren, Todd Lavigne, Craig Evanoff, Patrick Bernier and Jan Pflugradt, spent the night at C1 yesterday. Today they went to Camp 2, hung out for acclimatization and retreated to Camp 1 for the night. Tomorrow they will all come down to EBC, rest two days, then go up to Camp 2 and spend the night. The sherpas will go ahead while they are resting, and start carrying oxygen supplies up the mountain over the next few days.
MOUNTAIN WEATHER
Tim says, "it seems to be really calm for this time of year. In a normal season around this time you would hear howling winds off Everest from base camp, that doesn't seem to be the case right now"
So I checked into our weather source today. I am seeing winds steadily around 50km/h on the summit and increasing a bit around April 21 and 22 and then it drops off again. This is good news! Hope it holds for everyone. Especially for the Russians so they get up and get down, and anyone else that is in position to do so. This will create quite a bit of excitement for everyone. Ye we can! Yes we can! :)
PHOTO: Lonely in base camp
April 18: Sorry, I took the day off....All is good, Rob is in Kathmandu. I will report April 19 in the next little bit. Becky
April 17: Rob Smith's climb is over: His knee is damaged enough that he won't be able to continue the climb. The team pitched in today making him a crutch and wrapping his knee so he is able to hobble around camp. Tim has organized a horse for him for tomorrow. Rob will ride to Pheriche, an altitude of 14,200 feet/4240 meters, where a helicopter has been called out to make the evacuation to Kathmandu. Helicopters can safely make it up to this altitude. Rob's constant enthusiasm about just about everything will be missed. Tonight the team was enjoying some good laughs, but tomorrow will be a sombre day when Rob leaves the team.
Today Tim and some of the boys, not sure who the boys are? he usually uses the word in reference to the Sherpas,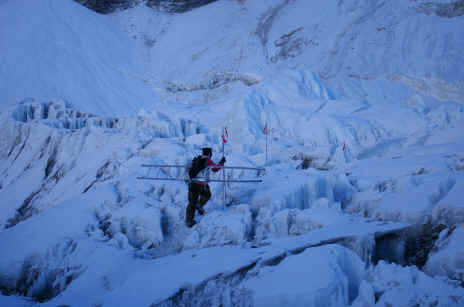 went over to toss some boulders around to make the heli rescue pad.
Tomorrow everyone except Tim, and Rob, will be going up to Camp 1 and stay overnight. Tim is going to wait till Rob is packed up and safely on his way. The next day Tim plans to leave early, go straight up to Camp 2 to organize things there and come back to Camp 1 picking up with the rest of the team and come back down to BC.
Mountain Conditions: Tim said a serac fell off the West shoulder today causing some concern. Patrick had his camera out with the big lens watching it. We had some Sherpas up there, so Tim discussed the situation by radio with them and it was determined that the route in that section needs to be pulled away from that part of the mountain should more decide to come down. The ice-fall doctors are now working on the change.
Photo: Ice-fall doctor at work. Name given the amazing team of Sherpas who provide safe passage for the climbers. Everest size kutos out to these guys!
April 16: BIG MEETING- ALL IS A GO! The big ho-down happened today as planned. Tim said there were about 30 people there. I am not sure if that number was all leaders, or if it was combined with filmmakers. In any case it was busy because Discovery Channel was also present.
The meeting was successful in organizing shared ropes and more. Russell Brice is putting up a good supply from the South Col to the summit, Eric Simonson is pushing his Sherpas ahead starting tomorrow with rope up the Lhotse face and our team and others are contributing rope and Sherpa power to fix the route.
Other topics of importance they discussed were safety issues. One in particular was that the team leaders need to stress to their members how important it is "if you are slow" to move over and let faster climbers pass. This is a biggie and very important!!!
Peak Freaks and Alpine Ascents have volunteered to jointly make a heli-rescue pad. Tim has experience with this being a Heli Ski Guide for 17 years- BUT- this is very different. Here there are no overhead clearances to be concerned with, you don't have to ski into a remote location with a chainshaw in hand to cut trees, but rather very large boulders to move. If it is a garden size rock at home, it will have the weight of a gigantic boulder at altitude.
The Russians!!! Tim was impressed. The expedition leader, whose name Tim couldn't get the spelling right and being a Russian one, I won't even try. Tim thought he was about 50 but Bernd thought he was 70. He is Russia's 7-summiteer, very strong and a mountain guide. I will research him later to get his details. The Russian team's coach trained Anatoli Boukreev- what does that tell ya? The are .approaching the climb with much aggression this year. They want up and out of there quickly and it will likely happen for them. If they can climb sideways or on their knees in 120mph winds, which is very possible. Tim has reported doing this before and says that's the way it used to be, hunker down, get on your knees if you have to. Today is much different for reasons.
Everyone is stoked now and ready to move but we do have some bad news. Today when the team went up to Camp 1, team member Rob Smith got hurt. An anchor popped out on him. When the next anchor caught him as it should, the jolt torked his leg and damaged his knee. Our team Doctor, Bernd Wittmann said it doesn't look good but they will make a call tomorrow on the fate of his climb.
HUMP WEEK! This week from April 16 to April 23 marks, Half way to the summit time! in a normal year!
What's normal? A normal summit would take place during the transition of weather patterns from winter to summer. The jet stream with 100mph + is currently over Everest. During the transition the jet stream will get pushed north and off the summit of Everest when the warm monsoon weather starts to come in. We watch The Bay of Bengal, as this is the direction that the changes will come from. The monsoon blows from South West, but moves mainly in a North Westerly direction. This transition time frame to climbers is called the "window of opportunity" for a summit bid. This typically presents low to moderate wind and little or no precipitation up high. Right now the winds are holding around 100mph to 120mph at 8200m.
Following are some Everest Summit stats that would indicate we have reached Hump Week. Based on the fact that the climbing permits are valid April 1 to May 31 each year. The climb typically takes 60 days in total, including the time needed to complete acclimatization climbs to prepare the climber for survival at altitude. Camps also have to be stocked with tents, fuel, oxygen and food before a summit bid can take place. It all takes time and patience.
| | | | | |
| --- | --- | --- | --- | --- |
| 1998 | May 18 | May 27 | May 20 | 25 summits |
| 1999 | May 5 | May 26 | May 29 | 23 summits |
| 2000 | May 15 | May 16 | May 28 | 23 summits |
| 2001 | May 19 | May 23 | May 26 | 88 summits |
| 2002 | May 16 | May 30 | | 77 summits |
April 15: Day of Celebration and Puja!.. Sounds like a blast! Celebrating the return of Shiri and Mingmar from their successful ascent on Island Peak yesterday, and our Puja. While our cooks, under the instruction of Master Chef- Ang Karsung Sherpa, prepared yet another awesome meal from our Organic Kitchen. But not before a shaving party to prepare for the special event. Tim describes four of them in a circle, tunes playing, having a joyous shaving party while Craig filmed them. I just shake my head, and say no more about that on this blog :)
TOMORROW TO CAMP 1- Gerardo dubbed the "Mexican jumping bean", because he can't stand still, is quite happy about this. They will have an early morning start, spend sometime up there and return in the afternoon.
EXPEDITION LEADER MEETING- TOMORROW! Tim made a visit to a couple of teams to start the discussion of shared ropes, sherpa power and radio frequencies. It has been determined that 1600hrs tomorrow the expedition leaders will meet to lay down a plan.
On another note, I have managed to flush out some biodegradable and green companies through our publicity on our "Green Theme" policies. I am learning of some new implementations we can apply next year- exciting!
As Tim was talking to me on the sat phone from his tent, he paused for a moment to listen to a big avalanche peeling off of Pumori. That time of year! It's starting to warm up.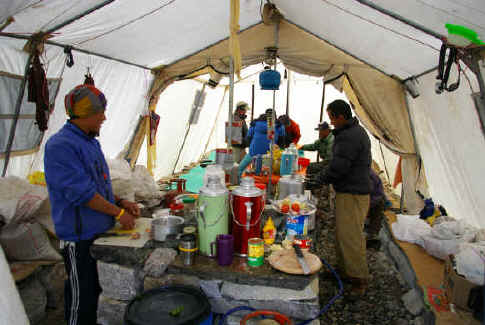 April 14: Icefall is completed and Camp 2 is established: Well that wasn't so bad. All seems to be moving along like clockwork. The late arrival in Lukla due weather seemed to work out just fine. Arriving just in time for the ice-fall to be completed, it's great! Our Puja will take place tomorrow. A good excuse to drink some beer and throw sumpa. This is a fun time with the Sherpas. Though very spiritual, also very playful, the good nature of Buddhism is nice to be around.
Some of our Sherpas managed a Puja earlier allowing them clearance with Sagamartha to push ahead and stake out our spot at Camp 2. Tomorrow ropes will be going up to start fixing the route before the gear heads up to Camp 1 and then Camp 2.
We have a SUMMIT... Shiri Heffer, new wife of Everest member Daniel Keren, has just checked in to confirm her successful summit on Island Peak 6189m, with Mingmar Sherpa today. She says, "Mingmar is the best", Congratulations Shiri and Mingmar! They are currently in Dingboche and will be back in EBC tomorrow.
April 13: Goodbye's and training! "After the first wave of trekkers left this morning we got straight to business. We did our Gammow bag training, rehearsed oxygen use, reviewed knots and rescue scenarios and then tomorrow we will get out on the glacier and put these skills to practice.
Now that I have more time to look around and assess base camp, it really doesn't look like there are that many people here. It actually feels like less than last year considering the closure of Tibet for the entire season. I had feared the worst but it looks pretty good. It helps that one of the largest expeditions has their camp setup away from this area. We are looking forward to tomorrow, getting the crampons on and doing some climbing. Over and out...Tim"
Tim sounded quite chipper being back in his mountain environment. The ropes and ladders are just about complete through the ice-fall which this year will be offering climbers two lines up and down through the glacier due to the size of a couple of expeditions. If they were to go in one wave, and if the window of opportunity is small, this will be good thing. This will be the first time this section will have been setup this way for the masses. Good to hear!
COMPUTER LABORATORY- KHUMJUNG HIGH SCHOOL PROJECT 2009'
I would like to take this opportunity to introduce Riki Lawson, a Paralegal from Vancouver, British Columbia. When Riki joined the trek she asked if there was something she could do to help the Sherpa people. I love this kind of introduction from a trekker. We never run out of ideas on how one could help. Turns out her skills and the time she has to share, would be a perfect fit for teaching the students at the Hillary High School in Khumjung computer classes.
A couple years ago Korea kindly donated some computers to the school. Unfortunately they have been sitting there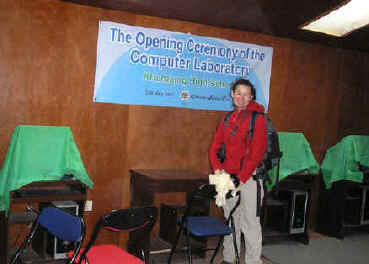 under dust covers ever since. We learned from our Sherpa friends that there isn't anyone there who can provide instruction on how to use them.
Riki to the rescue!!! Riki is well traveled, New Zealand, Australia, Tanzania and Rwanda. Fuelled by chocolate and her ambitions to volunteer around the world, jumped at the opportunity to help.
Riki will arrive tomorrow on her return from Everest Base Camp. She will be stay at Ang Nima and Kamaritha's house in Kunde, only a hop skip and a jump "at high altitude" from the Hillary High School. A BIG SHOUT OUT OF THANKS TO RIKI!!!!.... We also have someone lined up for next spring who will put in a good long stint teaching.
PHOTO: Riki at the school - she has promised to offer this blog some updates of their progress. Stay tuned!
April 12: Happy Easter! In base camp! Everyone has arrived and are happy campers. We so enjoy this moment, the first time our team see their new home for the next 7 weeks.
Tim says, "We have the same location we usually have which is close to the ice-fall. I prefer it here because of the quick access to the route, going up and going down saves our climbers energy and access to the training terrain is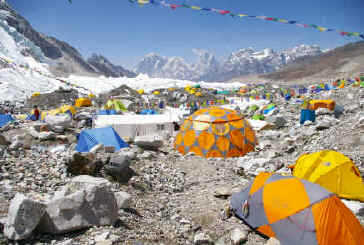 right out the door and the bonus being - we get to be social with the daily passing of other teams. The location has changed so much so that it looks like bulldozer went through here. I was told both summer and winter were very warm, it certainly shows here. The TENTS!!!!…there are so many tents here, I can't believe it!
Donald from Canada came over to introduce himself. He knows Lucille who summited Aconcagua last month with Peak Freaks. Hi Lucille and Ted from Donald and me :)
Denis, Karine and Patrick made it here after a successful climb up Kala Pattar. Daniel was here when we got here and we met Shiri on the way out as she is on her way to Island Peak and will come back to say good-bye.
The team was happy to check-in to the their tents and shuffle the contents of their expedition bags. Assembling solar panels and Ipods, lofting out their bags on the comfortable foam mattresses we provide, while Ang Karsung cooked up Easter dinner, chicken!!!...."
All is good, everyone is tucked in the for night, over and out! Tim
PHOTO: Last season, spring 2008- can't wait to compare with a new one.
April 11: Sleeping in Loboche also spelled Lobuche. Tim checks in to say, "everyone is doing well. It is crazy busy up in this part of the Khumbu right now." It tends to get congested here as Everest Base Camp trekkers, Kala Pattar trekkers, dead head yak teams and more, all merge in Lobuche at the same time of day, both coming and going. The lodges in this area are seasonal lodges and not full- time inhabited villages so there isn't that much accommodation up here. Tim also says, "there are a lot of people right now with no place to stay". Fortunate for us we have our trusty system that makes sure we have beds for our gang, even when weather gets in the way of original plans. Magical Sherpa land....:)
Also in Lobuche right now is a team with Nepal's EMI-Environmental Management Initiative, who are measuring Brown Air, a term used for air pollution.
Tomorrow Patrick, Karine and Denis will split from the group to summit Kala Pattar together before making their way EBC the next day. The rest of the team will go straight to Everest base camp tomorrow. Our Sherpas will be very happy to see the team. Lhakpa Gelgan has been up there since February. He goes up with a couple workers to reserve our spot and start working the rocks on the moraine to make a flat spot for our tents. Keep in mind the glacier is living, the lay of the land (rather rock/ice) will not be as we left it last spring.
It will be interesting to hear Tim's impressions on the size of EBC this year. Stay tuned!
April 10: Sleeping in Dingboche: Everyone did well today and are acclimatizing on schedule.They had their first summit. They climbed a peak above Dingboche, I am not sure how high it is. Loboche will be tomorrow with one or two nights there, and then it's base camp! Tim for one will be happy to be back in his tent. Did you know that Tim lives six months a year in a tent?
"HAPPY EASTER WEEKEND " to everyone back home from Lama Geshi's house in Pangboche..

Looks like Rob found the trance...:) This morning the team was blessed by our good friend Lama Geshi who opted to jump in for the group shot. You can read all about Lama Geshi and the ritual he performs here: Lama Geshi and Puja's. The Sherpas won't climb without Lama Geshi's blessing. Tim is given a little cloth pouch he wears around his neck from this moment on, till he his safe back home again. The pouch is filled with juniper and adds extra protection. We believe that Lama Geshi gives this to him because he has such a large responsibility on the mountain. Most are given a sanji (red string) to wear around their neck. The string is first given the protection knot tied by lama Gheshi and blessed with chant and breath, and then tied on your neck. Tim is quite spiritual about this blessing. No matter where he goes climbing, South America, Canada or heli-skiing, he pulls a sachet out of the drawer and wears it till he is safe at home again. When joining with a Peak Freak climbing support trek, where you go in with the climbers, you are privileged to be part of the this ritual. Like next autumn on our Everest Training Pumori climb and EBC trek.
April 9: Team in Dingboche- Tim checks in: All are feeling great and IT IS SNOWING TONIGHT!!!. The Sherpa people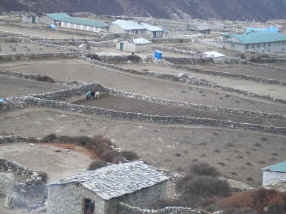 are very happy about this. The fields are incredibly dry. The Sherpa families are telling Tim that it was a very odd winter. It was very warm and no precipitation. It is colder now than has been all winter. Dinboche is at 16,175 feet or 4720m, they are getting up there now. This is a location where they will spend two nights, allowing their bodies to adjust, just as they did at Namche Bazaar. Tomorrow they will "go high" and "sleep low" , a day trip up to Chukung and back should help make the change in their chemistry.
The fields in Dingboche are very important to the Sherpa people of Namche, Kunde and Khumjung. Much of the land in Namche has now been consumed by the construction of newer and bigger lodges, they don't have the space for gardens. The families that worked in the climbing business in the Khumbu prospered as they were able to acquire land in the Kantega base camp area, Chukung Ri near Island Peak Base Camp and Dingboche, which is warm enough and flat enough to grow crops of grass, barley and potatoes. It is not possible to grow past here because of the altitude and cooler temperatures. Dingboche is literally the last straw.
The fields are surrounded by stone walls. The walls protect the crops from the howling winds that blow through this section of the Khumbu. In the summer someone in the family will take a turn, or more common today they will employ someone to guard the crops day and night. This is to prevent people from taking their yaks to feed off of someone else's crop of grass when their backs were turned.
In Sherpa land you can't own yaks if don't own land to feed them. It is a careful balance that we as tourists have to be careful not to tip the balance. The saying "the rich get richer and poor get poorer" is quite evident here. This is why we like to share who carries loads to make sure it all doesn't go to the yak owners.
Some folks from the western world once started a movement to save the porters backs. We had mixed feelings about this. Yes, make sure they have a fair wage and aren't asked to carry too much, but PLEASE, let them carry! When children play in our world, they play house, or office, or driving a police car, truck etc. In the Himalayas, they play porter. Little two year olds with trumps (jute strap) that is used to suspend their woven grass basket to their head, and pretend they are carrying a load. It is so cute
One of the reasons tourists get out into the Himalayas more than any other mountain range, has a lot to do with how easy it is to get around while there. You don't have to carry all your necessities with you to survive. Here in Canada, ha... wouldn't that be grand if we had porters here in Canada? and we as tourists would pay them a fair wage to do so.
Thank goodness for Everest!!!.... The benefits are a real blessing to the people of Nepal and Tim and I are proud to be part of it.
PHOTO: Sherpa women tilling the soil in Dingboche- (who waved them to go away while taking photos). They are very superstitious about taking a photo of the crop. You may be bring bad luck by doing so. There are only two main lodges here and they are seasonal. No one lives up here in the winter or summer, just the person on crop watch and they would stay in the rock hut seen in the foreground.
April 8: Chanting with the monks- Today the team passed through Tyangboche or Tengboche, the one thing you will quickly learn when going to Nepal, is that there are several spellings for everything. You will always however see "boche" at the end of each village name no matter how it has been spelled. "boche" means village. There, that is the TIDBIT for today.
The climbers didn't get to chant with the monks, but our support trekkers will. The climbers have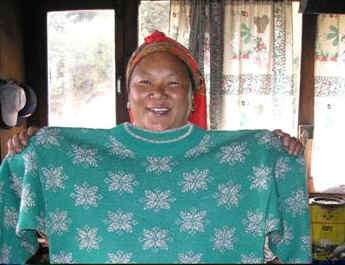 Pangboche on their agenda today, home of Lama Geshi. When our support trekkers make their way up here in early May, we always schedule their trip so they overnight at Tyangboche. There is now a Buddhist interpretive centre they will check out upon arrival and then before dinner they will be at a magical place upon a noel, where one should be lucky enough to get a sunset shot with Everest in front of you, and behind you a very pretty shot of the valley they just came up and Kawndge in the background. Our trekkers will sleep here and wake up to a couple more magical moments, the sunrise over the Himalayan giants and the sound of chants coming from the monastery. You are allowed to go in and be part of the early morning ritual, very cool!
Back to the climbing team. They are now sleeping in Pangboche in the arms of Mount Ama Dablam. Tomorrow morning they will make their visit with Lama Geshi.
In 1996, we were the first Canadian team to attempt Ama Dablam, we also experienced the first wedding of a western couple. Our good friends Tim and Carrie Thurston were married by Lama Geshi after the climb. It was most interesting how they had to be in the right place at the right time, as instructed by Lama Geshi, who performed the ritual. If the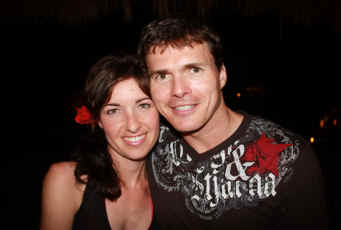 stars and the moon weren't perfect, their blessing would not be good. Guess he was right on because Tim and Carrie are VERY happily married today with two boys. The eldest thought to be conceived that night after the blessing. I just had a flash back moment I will share. It was priceless when the Sherpas met Carrie. Upon introducing herself they would giggle. She would giggle back, but a very confused giggle, wondering why? We found out it was because of her name, that was the job they do "carry", and that struck them as being quite hilarious as she is very petite.
Team member Patrick Bernier and his wife Karine who has joined him on the adventure once again,are making their second visit to Lama Geshi. Apparently they were blessed by Lama Geshi after they climbed Island Peak for their wedding which took place when they returned to Kathmandu. Now they are back for another blessing, but this time it is for a safe and successful climb to the summit of Mount Everest and back- not to forget the "back" part.
PHOTOS:
Lakpani in Pangboche (Namaste Guest House) receives a new sweater from me. Thanks Tim!
Patrick and Karine
Tyangboche Monastery
April 7: A day of learning: Today the team did the tradition acclimatization visit day up to the twin Sherpa villages of Kunde and Khumjung, home of many of the climbing Sherpas. They visited the Hillary School and introduced Riki to the schoolmaster. This is where she will be spending sometime teaching the children computer skills, There will be more on this later.
The big news today was meeting Dr. Kami Sherpa at the Kunde Hosptial. This is something team member Dr. Bernd
Wittmann had been dreaming about for sometime. Bernd is an Obstetrician from Summerland, BC, just over this hills from our place here in Nelson, BC. Bernd has practiced around the globe sharing his expertise with other worlds. His latest out of country work was in Oman. Child birthing had been a major obstacle in the minds of Sherpa women. The attending western doctors from New Zealand and with financial aid for the SEHF (Sir Edmund Hillary Fund) from Canada, made it possible to introduce midwifery to the Khumbu. I am certain the two had much to say to each other.
Bernd was here 20 years ago, the concept of a hospital had already been born, but was very rustic to say the least. We at Peak Freaks recall the old way ourselves, having been working in the valley for 18 years now. We feel lucky to be in a position to help make connections for medical expertise and supplies for the hospital. Once we tried to bring an x-ray machine, we have organized vaccines, and delivered the MERCK pharmaceutical handbook, which is still there today!
Last year our Peak Freak trek leader Vanessa Higgot sent up a bag of Polysporin tubes and another time a dentist donated a very large box of toothbrushes and toothpaste. This was accepted with big smiles because it represented a gift to the people directly, so they all came and wanted one. Just how we hoped it would work. This way the doctors could see the people, for most it was the first time and it enabled them to open a medical record on them. I recall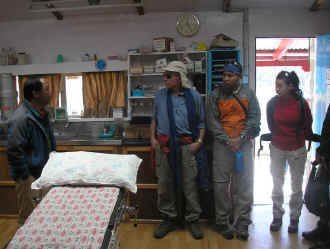 talking to New Zealand doctors Rachel and Jim Lynch who were the attending doctors for a two year stint, telling our trek group that it was so difficult to create files because they all have the same name. They all end in Sherpa and are named for the day of the week they are born. Lhakpa- Thursday, Dawa- Tuesday and so on. The toothbrush and paste gift, was also a way to show the Sherpas the facility and explain how it works- what it looks like inside etc. They were so fearful of the hospital. In their eyes when people went their, they died, why would they go there?
TIDBIT: Sherpa is a tribal name and not a porter. "Porter" is the title to the work they do: read more here: SHERPA PEOPLE
Dr. Kami Sherpa's story is inspiring. Born in the village of Thame, just around the bend from Namche towards Tibet in 1959; Kami was the youngest of four children. His father died before he was born, leaving his mother alone to raise him and his three sisters.
As a 14-year-old boy, he walked six hours back and forth to school in Khumjung each day. His hard work paid off with a Hillary scholarship to high school in Salleri. After finishing high school, he worked as a teacher and a part-time village health worker in the community where he was born.
It was while working as a health worker that he began to dream of becoming a doctor, like the men and women he met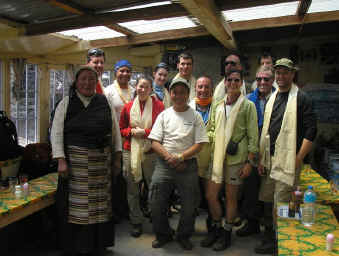 in the Sir Edmund Hillary Foundation (SEHF) hospital in Kunde, which had been established in 1966. In 1978, Kami was offered a job at the Kunde Hospital, and for the next 19 years he worked as a paramedic. He also proved himself a capable administrator by managing the hospital's finances and overseeing the SEHF's re-forestation program.
But in his heart, Kami longed to be a doctor. Doctors at the Kunde Hospital taught him a great deal over the years, but he knew he could never learn it all on the job. Seeing how hard Kami worked, the SEHF offered to pay for his medical studies at the Fiji School of Medicine. He enrolled in the medical school in 1997, leaving his wife and family behind in the mountains of their homeland.
Today Dr. Kami Sherpa is the head doctor at the Kunde Hospital and is also in charge of teaching and setting the standards at the other medical facilities in the Khumbu.
Tomorrow our team is off to Pangboche to visit Lama Geshi in his home and have him bless our members for the climb.
Other news is that support trekker Denis LaCroix, climber Patrick Bernier's father-inlaw is a year older today. Ang Phurba, Tsedam Sherpa's wife, co-owners of the Zamling lodge, baked him a cake today to celebrate his high altitude birthday.
PHOTOS:
Team arriving at the Syangboche airstrip location above Namche Bazaar, making their way to the Hillary School.
Dr. Kami Sherpa invites Peak Freaks in for visit and show them the hospital in Kunde.
Afternoon lunch at Ang Nima's house in Kunde, with his wife Kamiritha. Ang Nima has been working with us since 1991. He has been to our home in Canada and is our company man, expedition sardar. He is old school sherpa and we love him to pieces.
April 6: Honeymooners check in and they are concerned about the condition of Island Peak: An email just came in at 22:00hrs PDT- from Dingboche from Daniel Keren and his new bride Shiri Heffer both from Israel. They opted to go ahead of the team by a few days and meet everyone at base camp. They have heard the team is now a couple of days behind schedule but want to let everyone back home know they are well, the weather is fantastic up where they are and they have been having the time of their lives. Shiri is climbing Island Peak after seeing Daniel off on his summit climb on Everest. She informs us that no one has managed to climb Island Peak so far this spring because word has it that the crevasse which is near the summit is gapping wide-open. Normally there would be a snow bridge (crossing made possible by compact snow filling the gap) on this route. Just another sign of the rapid warming!
April 6: In Namche Bazaar:
GLOBAL WARMING IS "SERIOUSLY" EVIDENT ON EVEREST and the CHITWAN JUNGLE IS IN TROUBLE.
Some Sherpas who live in Kunde have reached base camp and are in shock as a dry Everest stands boldly in front of them. The article that Tim recently wrote for Hemisphere- the United Airlines inflight magazine couldn't be more fitting for what is being uncovered this year. What is the future of climbing big mountains? I think the desire will always be there but the way it will be approached, will have to change to keep it safe. New routes for sure, and possibly more winter ascents. Either way the Khumbu glacier desperately needs more snow to hold the ice together for safe passage during the Everest season. At the time of Tim's call at 21:00hrs Nepal time today, a major storm was dumping a good quantity of rain on Namche Bazaar accompanied with bolts of lightening and thunder was reverberating off the surrounding mountains. This percipitation should blanket the ice-fall with a nice layer of snow. But will it be enough to keep things cool up there? Tim seems optimistic that there will be more to come as the spring monsoon moisture makes its way into the Himalayan range.
Water shortages in Nepal and the power situtation, is changing the way power is being managed. India has agreed to cut power from a community across the border from Nepal and send the power to Kathmandu instead. Not a very Robin Hood friendly way of doing things, but money talks.
Things are changing rapidly and though Peak Freaks has a reputation as an upbeat, light hearted adventure company- it's hard to smile at times. The Chitwan Jungle in the low lands of Nepal south of Kathmandu; is a nature reserve and very popular tourist attraction. It is currently sweltering from the intense spring heat and it isn't going to get any cooler. Trees are missing from the Chitwan jungle at an alarming rate and has everyone scratching their heads how this happening? One day they were there- the next they're not.
They have just recently found out how it is happening. Wood cutters, (the name used for loggers in Nepal) are posing as villagers who often go into the park to cut grass to renew their thatched roofs, and to gather grass for their livestock; are wrapping the grass around freshly cut wood and carrying it out of the park. It's not only the forest that is disappearing; the animals are missing too, or rather parts of them. Rhino's are being shot and left to rot with their horn missing and feet cut off. .
THE TREK TO EVEREST BASE CAMP,
takes 8-days from Lukla if you are acclimatizing on schedule. There are rules to follow that will most likely make acclimatizing effortless. The two basics are: (1) go high sleep low, (2) stay hydrated. Other important steps would be to try and keep your heart rate down to ward off getting a headache, wear a hat. Good cardio development before you go trekking is helpful. The "go high sleep low" system works like this: If your trek rises 300m, you must stay over one night to allow your body or rather (haemoglobin) adjust; if you rise 600m in one day, you must stay overnight at that altitude for 2- nights, you should never rise 900m in one day unless you are a Sherpa and live at 3000m. Our Sherpas will be scooting it to base camp in 1.5 days from Namche. Whoa!!!
We have a section on AMS (Acute Mountain Sickness) for diagnosis and treatment. Altitude does kill and should be taken seriously. Today more trekkers are rescued than climbers and more trekkers die from AMS than climbers. So if you are telling the folks back home not to worry because you are only going trekking and not climbing; don't let them read this blog! On the other hand we have been operating treks in this region for 18 years now and are proud to say that we haven't had one altitude related trekker rescue. You just have to be smart about it and listen to your body. Our sherpa guides are very familiar with the effects on westerners, and will be watching you closely.
CLIMBERS "NEW" SCHEDULE TO BASE CAMP- EVEREST REGION TREK MAP
Day 1: (Apr.5) Fly to Lukla, trek to Monjo.

Day 2: (Apr.6) Trek to Namche Bazaar

Day 3: (Apr. 7) Acclimatization hike to Kunde and Khumjung (go high, sleep low day 6), retreat to Namche to sleep again.

Day 4: (Apr. 8) Trek to Pangboche

Day 5: (Apr. 9) Trek to Dingboche,next to Pheriche on the map.

Day 6: (Apr. 10) Acclimatization in Dingboche and area. This is where everyone starts to feel the effects of altitude.

Day 7: (Apr. 11) Trek to Loboche

Day 8: (Apr. 12) Trek to Gorak Shep if feeling ok, otherwise stay another night here. It would be good to go high and sleep low here. To climb Kala Pattar and retreat to Gorak Shep works well.

Day 9: (Apr. 13) Everyone will likely be at base camp this day, Tim and Sherpas probably much earlier.
Group Photos taken today on the trail between Monjo to Namche: Bernd was on this trail 20 years ago and Sylvia 5 years ago. They are taken back by new developments in this region.
| | | |
| --- | --- | --- |
| | | |
| Team happy to be in the valley. | Porter cooking up his first meal of the day | Porter boys enjoying a break and some music. |
TIDBIT- NEPALESE PORTER DIET: Porters and Nepalese in general eat only twice a day. Their first meal is around 10:00am. For the porters since they start carrying their loads at first light to escape the day- time heat, they will settle down along the trail and cook up their first meal. So not only do they carry the load, they will also carry their cooking pots, stove and rice. Their meal will consist of rice and dal (lentils, prepared to soupy consistency to stretch it). This meal is called Dal Bhat (lentils and rice). For a jiffy fix they like Ra Ra noodles- an Indian brand of Ichiban. Their next meal will be the last thing they will enjoy before going to bed. Usually around 8:00pm and it will be the same preferred menu- Dal Bhat. If they are lucky enough they will have vegetables thrown in, if the season provides for it. It will usually be Swiss chard or dandelion leaves- very nutritious. They prefer red lentils and they are very high in calories, provide some protein and are a source of iron. The rice provides their carbohydrate for energy and the benefits from a healthy version of greens keeps these boys strong and healthy.
April 5: Do'in the Mambo all the way to Monjo!... The team had lift off this morning and are on their way...yahoo!!! They are collecting their bags at the time of this call 2159hrs in BC, Canada. Breakfast is being served in Lukla while the bags are being loaded up on the Zok's and they will hit the trail shortly. The walk to Monjo is will take them about 4-hours, camera's will be clicking and the excitement builds.
April 4: Nothing new, still in Kathmandu!
PEAK FREAKS IS IN THE AIR!
It may not be Lukla, but we are flying around the world right now!

Riki Lawson from Vancouver, B.C. says, "Are we there yet?" Here is a blog from Riki offering a more detailed explanation of the visit to Swayambhunath.
Hi Becky! How are you doing? As you know, as are still hanging out in Kathmandu. It sounds like we have a pretty good plan set for tomorrow to get us out of here.

Tim asked me to send off a couple of pictures of us waiting and "doing stuff" over here, so I have attached one.

Also, Sylvia and I wondered if we should take this opportunity to give you another account our trip to the Monkey Temple the other day, a telling detail seems to be missing. As we all proceeded up the stairs, Rob and Gerardo took off faster than Sylvia and I did. She and I stopped at one point because I wanted her to take a picture of me with the stairs in the background. She was holding a little bag of bananas, so I offered to hold them while she took my picture. Just as we were making the hand-off, a monkey came out of no where and swooped between us and nabbed the bag right at its vulnerable point between us. He also scratched Sylvia's leg in the process and she let out a scream! As we watched that monkey take off and break into his loot, another monkey who watched the whole thing seemed to get upset with us for some reason. That monkey then made a move toward Sylvia and she took off up the stairs. Then he turned and came at me (arms out in front of him ready to swipe/scratch) and chased me down a few stairs, and I'm pretty sure I let out a scream, too. Here's the missing detail: once Sylvia and I got up to the top, we found our Knights in Shining Armour hanging out at the top. It seems they heard our screams, but continued along their merry way to the top. I'm fairly certain that once we arrived one of them asked what took us so long!!!

Despite all the waiting, we have definitely managed to get in some good laughs here and there. Yesterday Rob, Gerardo, Sylvia, Jan, and I jumped into a teeny tiny Suzuki taxi and enjoyed a calamitous clown car ride to a fairly uninspiring site outside Kathmandu. I have attached a photo of our poor little chariot. One must remember that the driver also had to get in after us!

With any luck, we will be flying to somewhere tomorrow!

- Riki
OK.... here we go! (April 4)
Ground Hog Day !!! For those who may remember the film with Bill Murray... We are back at the hotel and are now getting grumpy, but we will pretend we are happy for the camera.
Tim said everyone is doing well as there are always things to do in Kathmandu. Some of the members headed out of the city today to get above the smog because even though it is socked in at Lukla it is sunny in Kathmandu adding to the creation of more fumes. Some of the gang tripped off to see "Resting Vishnu" a location above the city to escape, but report it wasn't too enjoyable; the water fountains and falls were all dried up. Sad.
TopOut Ted showed up today to fill in some extra time we didn't think the team would have to do a demonstration on the TopOut mask. We use only these masks today. They are the best and we only do the best we can do; all our climbers are equipped with this new technology created by Ted Atkins from the UK. You can check out the OLD verses the NEW on our oxygen discussion page.
Some of the members are now starting to get sore throats, but they will go away quickly once they get into the clean mountain air. Other than that Tim said they had a great time at dinner last night. The team is bonding really well. They are having a lot fun, good laughs and many jokes flying around.
Oh well, it is what it is...
The number one question I get asked is: "what does it take to climb Everest?" My number one answer is:" Patience" with a capital "P"
Have a great weekend if you are away from the puter. I am never that far away so I will be posting all weekend till we get the team up ,up ,and away.
P.S. Yes, I have given Tim what for, for not sending us some photos of the team members to share. He said it is really difficult because of the 16-hour a day black-outs - due power shortages. I told him that was no excuse. You can climb Everest but you can't cyber me some photos??? :) come on! Tom at Human Edge Tech you gotta talk to him!
April 2: Stuck in Kathmandu! Tim checks in: Fog at Lukla didn't clear so the team remains in Kathmandu. They were well taken of though. Our buddy Kiran waited at the airport all morning with the truck loaded with the teams gear while they all waited in the comfort of the hotel garden for a call to say "it's a go". But by early afternoon it was apparent that it was not going to happen. All flights were cancelled to Lukla today.
Tim has also noted that Kathmandu appears to be quiet this year compared to last. The Ministry of Tourism commented that they are down 30%. I would think this may be referring to general tourism which includes sightseeing and trekking and not necessarily climbing. There are a couple of teams that normally climb via the North Side that switched over this year due to the closing of Tibet for the month of March and didn't want to mess around; should the Chinese change their minds and keep it closed.
Rob, Gerardo, Sylvia and Rikki took a trip up the Swayambhunath Stupa today. It is one of the important places for the study of Buddhism; it has a history of up to 2500 years. The Stupa has the eyes of the Buddha painted on the four sides; it represented the invisible power of the Buddha. In between the eyes, there is a sign that look like a question mark (?) at the position of the nose; it is actually the number 1 in Nepalese language. It represents the unity of the universe.
The Stupa is known as the Monkey Temple by tourists because wild monkey's have taken up permanent residence here. They are nasty little critters and you have be careful not to look them in the eye; they will challenge you. Sylvia learned how important it is to wear pants here if you are going to eat bananas. Apparently one scampered up her leg with it's sharp nails which could have ripped open her skin had she been wearing shorts. An infection from these guys pre-climb, is not an option. Thankfully the only harm caused was the loss of her bundle of bananas. They do provide good entertainment though. On a hot day you will find them jumping from the trees into the Bagmati river, babies and all. On a cool morning before the tourists arrive including those offering to the temple arrive, you will see them hurl down the long railing that leads to the top of the stupa. Good fun to watch them getting air off the landings.
Other fun things to do include going for a ride around town in a rickshaw. I hope we can encourage the continued use of these. It would be awesome if all the traffic in Thamel was restricted to rickshaw's!!! It was much like that in the early 90's due to fact that there weren't vehicles like there are today causing the air quality problems and congestion. We have a favourite rickshaw driver, his name KC, our nickname for him is 33, given from the license plate number on his bike. He still today "18 years later" works his bike. He is looking a little older, but is still in great shape- no doubt! These things are heavy and so are many westerners that use them.
Photos
April 1: April fools we are! Tim checks in: "0500hrs - Rise and shine, 0600hrs shuffle duffels to the van waiting
outside the hotel. 0700hrs- clearing airport security- 0800hrs - in the departure lounge - 0900hrs pacing the floor waiting to be called to board our flight to Lukla. hmmm.... waiting....hmmm... I am approached by the Yeti Airways rep inside who tells me flight is going to be delayed. There is fog at Lukla at the moment so we need to wait for it to clear. GOOD.... for those that may recall the tragic accident last autumn at Lukla due fog, this is all good. 1030hrs. Normal stuff, this happens all the time. 1100hrs I am approached again by Yeti rep and told the fog has cleared so we will get you out in about an hour when the first flight returns from Lukla. Waiting..waiting... tapping toes...Something is wrong. The first flight people are being brought back to the terminal. Hmmm...this doesn't look good. What's up?...the plane had a problem with the engine and had to turn back. We are told we need to wait for another plane. 1200hrs we are told they have another plane up and running. They usher us out to the plane but we are asked to wait on the bus because they are waiting for the fuel truck. Twenty minutes go by and finally the truck arrives and fills the plane. We all jump on, fasten our seat belts- Hmmm... what is the pilot doing? He is just sitting there! What's up? Ok everyone off- WHAT???- High winds at the notch, we can't do it. We will give it another go tomorrow" ....Sigh
For those at home there is notch (a mountain pass) that we must fly through just before descending down into the tight perch above the river where the Lukla airport is situated. It is a high pass and there is a notch that the planes going to Lukla must sneak through to avoid the down winds coming from the high Himalayan mountains above. Even on a calm day you get kicked around up there when the pilot makes this transition in the flight path. If the winds are high, forget it, and that is exactly what happened to them today.
Everyone is now nestled back in their beds at the hotel and we will give it a another go tomorrow. This is all normal stuff in mountain travel- the hurry up and wait scenario.
PHOTOS:
Arriving Lukla Airstrip

Lukla's very short drop off runway

Crash at Lukla airport October 2008.
TIDBIT
How safe is Lukla airport you ask? Pretty darn good considering the location of the airport and the number of flights since it was built in the 1960's under instruction from Sir Edmund Hillary. It's constantly being challenged by weight restrictions due to the impact of tourism on the region, no roads and ll combined with mountain weather. I came across an interesting site where you can see for yourself. AVIATION SAFETY DATABASE
Lukla's runway can only be approached from one direction due to it being snuggled up to a rather large mountain, is on a precarious 190 angle and has a 2000 foot drop at the end. So access is restricted to either Helicopter or STOL aircraft, which is leads to the use of the DHC-6 Twin Otter being the ideal plane.
As Canadians we are proud to say that YETI Airlines Twin Otters used here are Canadians planes from Ken Borek Air, orginially out of Smithers, B.C. Canada. What is cool about this trivia tidbit- is that I likely flew on these same planes between Prince George and Smithers B.C. when I work as an agent up there, and now today I fly in possibly the same seat (my favourite one in the back), today from Kathmandu to Lukla and back.
Becky