Our Lodge Treks Offer the Best of Both Worlds - Great Routes and Comfortable Accommodation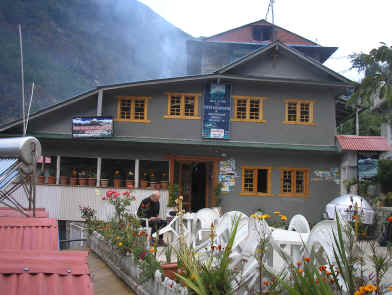 The development of locally managed lodges along the popular trekking trails in the Annapurna, Everest and Langtang/Helambu areas have resulted in an increasing number of trekkers making use of these facilities. In recent years with the help of Government as well non-Government agencies many of these lodge owners have gone through training programs aimed at raising the quality of services as well as instilling environmental awareness. For example in the Annapurna Sanctuary and adjacent areas it is now regulation for all lodge owners to use alternative fuel (fuel other than fire wood - kerosene, gas, electric or even solar) for cooking and heating, dispose of garbage properly and adopt other eco-friendly measures. Most lodges have all the basic requirements for trekkers to stay overnight - a dormitory, several private rooms, an attached restaurant, toilet and a shower room. The quality of food offered might vary from lodge to lodge but most serve simple and hygienic meals.
Peak Freak Expeditions Inc. has found it very attractive for trekkers to use these lodges on the routes instead of operating camping style treks. One of the main reason being that along these popular routes almost every house offers bed and meals and many camping trekkers find it incongruous to camp near a lodge and not be able to experience the warmth and hospitality of the friendly Sherpa hosts. The other important reason being that this helps the local economies directly by using the facilities along the trail.
To make sure that our guests do not get disappointed we stay in a comfortable and interesting lodge in each place. With larger groups we reserve all the beds in a lodge thus making sure that we have the place to ourselves. Quite often our lodge trekkers are overwhelmed- by the homey atmosphere and the grace of our hosts and many have made great friends with our friends for many years.
If you have an urge to trek in some of the most beautiful places in Nepal, interact and make friends with the local people without having to sleep in a cold and lonely tent, Lodge Trekking is just the thing for you.
Nepalese Food-Sherpa Food a Food Fiesta
Nepal serves cuisine from around the world!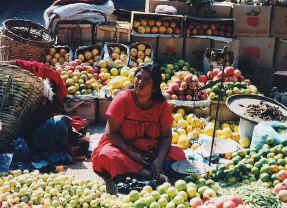 As facilities for travelers in Nepal are ever improving so too is the variety and quality of food being offered. Fifteen years ago, visitors to Nepal had a choice of rice and lentils (dal bhat) or lentils and rice. Today, it is not uncommon to find items as diverse as Norwegian Salmon, Cajun chicken and imported sashimi on the menus of Kathmanduís finer hotels and restaurants. Authentic Italian pizza is available, cooked in a wood pizza oven by a genuine Neapolitan. Ice creams, Austrian sausages, French baguettes, and Spatzle are all part of the ever expanding Kathmandu kitchen.
Even outside of the capital one can find good food. The lakeside resort town of Pokhara is filled with restaurants serving Continental and Asian food Even Mexican dishes are known to make it onto the menus. Along the popular trekking trails as well are plenty of teashops and lodges with surprisingly diverse menus.
In the mountains, it is generally better to stick to dishes prepared with traditional ingredients. This is not necessarily bad, as tin the Everest region potatoes are the staple, while around the Annapurnas, rice is more common.
South Asian fare is certainly a worthwhile cuisine to explore. Traditional Nepalese, Newar and Indian restaurants are for good reason among Kathmanduís most popular spots. Tandoor specialties and succulent rice dishes from India, steaming hot momo dumplings from Tibet, and a vast assortment of dals and curries from Nepal offer exciting flavors to initiate the neophyte into the sophisticated world of South Asian spices.
Delicious as they are, some people may find them difficult to digests, Knowing oneís intestinal limits can save a lot of internal grief as some bodies simply are not accustomed to the richness of South Asian sauces or the heat of local chili peppers.