May 25, 22:00hrs (NPT) Last crux of Everest + logging of a different kind.
Lukla- limited weather windows are here now with onset of the monsoon. Kaji Sherpa tells me just a couple flights got out this morning and then this window closed for the day and now it's raining. Sean, Patrick, Kevin and myself will wait it out for our reservation "first flight" tomorrow morning, give it the day to try and get in. If that fails we are on to Plan B. A new option not used yet, no it's not a helicopter! I'll let you in on it if we have to resort to it.
I loved the walk today from Namche to Lukla, I get to stop in and visit all our Sherpa friends along the way and get caught up on local gossip, development and such. When walking today the trail was super quiet with tourist as was Namche, however there are quite a few in Lukla now positioning themselves to get out to Kathmandu, but otherwise it was quiet, except for the train of porters working carrying trees up and down the trail. Big big trees, it takes 8 porters to a tree.
Two season ago a huge wind storm came through here knocking down some very large trees in the park. Though this is Sherpa land the ministry does have say what happens with the trees because it's also a park. It took a while to decide but they've come up with a plan entitling the Sherpas to the timber but it has to be shared among them. So each tree is labeled with the owners name and are now being transported to their rightful owners. With the dam project and the timber salvage there will be a lot of employment for porters and Sherpas in the off season this year in the Khumbu Valley. Progress being a good thing in these two scenarios.
Fingers crossed for good weather tomorrow but if not, it's not. Life in the mountains!
Over and out... Tim
May 24, 22:00hrs (NPT) LIGHTS GO OUT IN NAMCHE...plus... SUMMIT PHOTOS
Myself, Sean, Patrick and Kevin are still in Namche Bazaar tonight enjoying the ambience here. Interesting how quiet it is here, it's the end of the trekking season and typically the valley would be filled with hundreds of climbers this time of year all filtering through on their way home. It seems like many climbers put the "helicopter out" in their budget these days. We wonder if it will hurt the local economy of the lodge owners and porters in the future?.
I had a good talk with Tsedam tonight, owner and good friend of our favorite lodge in Namche. He tells me that the power is being shut off in Namche for 6 months or more on May 30th. The water project that was developed here in the mid nineties needs a new damn and system. The current one is allowing too much silt in it choking it off. It's going to be a huge project and if it's not completed by the beginning of autumn trekking and climbing season here will resort back to the old one during that time. Tsedam is busy stocking a water supply to carry his business over for the limited summer trek season as this is his full-time home and he also runs a home for homeless children up here.. All the other lodges are boarding up and heading out elsewhere.
I also met with Simone today, he got the contract to work his helicopter during the project so he's pretty happy to be getting some bucks to help pay for his expensive machine.
We've seen so many changes here and all over Nepal the past 23 years. It's interesting to have had this opportunity in a country where there are no roads allowing the appeal of this beautiful land be preserved for tourist to see and experience. There aren't many places on the planet where a culture has been so nicely preserved in our life-time to watch it change ten fold.
The people and the scenery are still the most rewarding experience that people take home from here. No matter what peaks you climb or aspire to, it's the intense sense of team that you get in Nepal. Everyone is in it together from the beginning to the end of each expedition, from the moment you step out of the airplane, to reaching your personal goal, or not, it's the journey and the people that you meet along the way that's infectious and stays with a person forever. It's not by any means just the tourist that take away great memories, the Sherpa people also carry their new friends and relations with them for a life-time and we should not forget that when returning to hectic lives abroad. They gave you their all and wait for the next season do it all over again for someone else. Pretty special.
Lukla tomorrow.. Over and out... Tim
Summit photos now on my Facebook... New rules.... no face no summit credit by the Ministry of Tourism Nepal. Take those goggles & mask off!!!
May 22, 21:00hrs (NPT) Nice ending
....with our Sherpa crew and special guest and wine master, James Cluer who arrived just in time to meet Sean, Patrick and Kevin before they hit the trail a day early. Kevin climbs down from Camp 2 and heads off down the valley below right away, good on him, go get some air.
So this leaves James and I and our crew. What a perfect ending. We moved into our Sherpas dinning tent and got into that case of wine. James managed to successfully do his high altitude wine tasting at the foot of the glacier and will do some more again tomorrow. He takes this very serious. It's not a lark like so many things are here today, this was the real deal as altitude does effect wine.
Meanwhile at the Sherpa party I made them aware of just how expensive this wine is. The bottles were worth between $500 and $700US. Now if that didn't get some big eyes and laughs from them. They'd take a sip, laugh and say "200 rupees" take another sip and say it again and again. Good party...knocked everyone out pretty good tonight. LOL
It was great fun for James to be part of our Sherpa party, the stories, the laughs of the going on's here each season. It's all just one big comic relief at the end when you start to look back at some of the well.... I must say, "entertaining" reason's people climb Everest. Met a Canadian- Nepalese a few days back, he came to introduce himself as a Canadian. He had no arms and summited Everest, apparently from Calgary, good for him I guess. This is the part had me shaking my head, he was taken off the mountain at C2 by long-line and I managed to get the whole thing on GoPro of him flying through air all the way to base camp hanging from the line. I can't imagine what a trip that was and how it felt. Makes me wonder if this is going to be a new thing. Climb up, fly down. Oh man... Never say never.
Speaking of flying- Murad, Lee and Marty did not make it to Kathmandu by helicopter. Instead they had to do a weather stop in a field between Lukla and Kathmandu and are there for the night. Hopefully the weather will improve to pop them out tomorrow morning.
That's it.... for base camp as of tomorrow morning but the adventure still continues to get everyone out of the Khumbu. This can be a huge and epic challenge this time of year.

Becky and I want to give a big thank you out to all the families of climbers at home for trusting us with your loved ones. We always say if we ever lose a client in the mountains we won't do this anymore, 23 years later, we're still here.
Over and out.. TIm
May 21, 23:10hrs (NPT) EBC Celebrations minus Kevin & Tashi
Late check-in today as the Chinese satellite was kicking the Thuraya Satellite off this evening. Everyone is down minus Kevin and Tashi who are at Camp 2. The glacier is super hot in the heat of the day and it's not necessary since we have Camp 2 and Kami Sherpa there waiting to accommodate them. They're going to come down first light when it's cooler.
The ice-fall doesn't have any obvious hazards near the route but it is certainly getting quite slushy during the day and the heat is unbearable.
Tomorrow morning at around 09:00hrs Lee, Murad and Marty are flying
out to Kathmandu by helicopter (weather pending of course). The rest of us will have one more night waiting for Kevin, then we'll be out of here at 08:00hrs May 23rd for the great walk back to Lukla, and then (fingers crossed) pending weather we would like to be in Kathmandu on May 26th if all works out.
Our Sherpa crew will make one last trip up the ice-fall tomorrow to bring down camp supplies from there and then they go home to their families and celebrations will get underway there. We will stop in and see many of them along the way and catch up on their lives and all things new while away.
There were quite a few summits this morning but complaints of how cold it was, it's even colder here at base camp tonight. It will be nice to back to the land of living after 2 months on this glacier. Personally I'm looking forward to playing with grandkids on the sailboat before it's back to the Himalayas in the autumn for more mountain adventures.
Everyone else has similar wishes on their list of things they learned to appreciate more back home. Funny how that happens after being here on a major expedition in such a hostile environment for such a long duration. We miss everyone we meet after a climb and we miss everyone at home while on a climb.
Thank you everyone for your social internet interactions on the tools we are given today. It's really great to get so many people involved on so many platforms.
Over and out.. Tim
Photo: Sean Mooney on the summit. First to summit-first to get a photo out holding his www.righttoplay.com soccer ball.
Top-Tim and Marty.
May 21, 09:00hrs (NPT) Lhose update
Kevin Farebrother has turned back due to route conditions that he was not comfortable with. Tashi agrees. They are now just above Camp 3, planning to make it to Camp 2 where they will decide to stay a night or climb down to EBC.
Childem Sherpa one of our two Camp 2 cooks just arrived back at EBC after 2 full months living up there. He's sooooo happy to be at EBC where it's warmer. Kami Sherpa is still up there and will wait for Kevin's decisions before packing up to come down. Now you know why we love these guys so much. What would be do without them?
Tim says the Sherpas just pulled into camp with all our empty oxygen cylinders so he ended the call to help them pack them up.
All the teams human waste and other garbage is weighed, we pay to have it taken down the valley sorted and burned. After it's all accounted for we get our hefty garbage deposit back. Our food supplies are fresh and local so scraps are saved and given to the yaks. Nice and clean when we get through.
Over ... Becky
May 20, 21:30hrs (NPT) Camp 2 update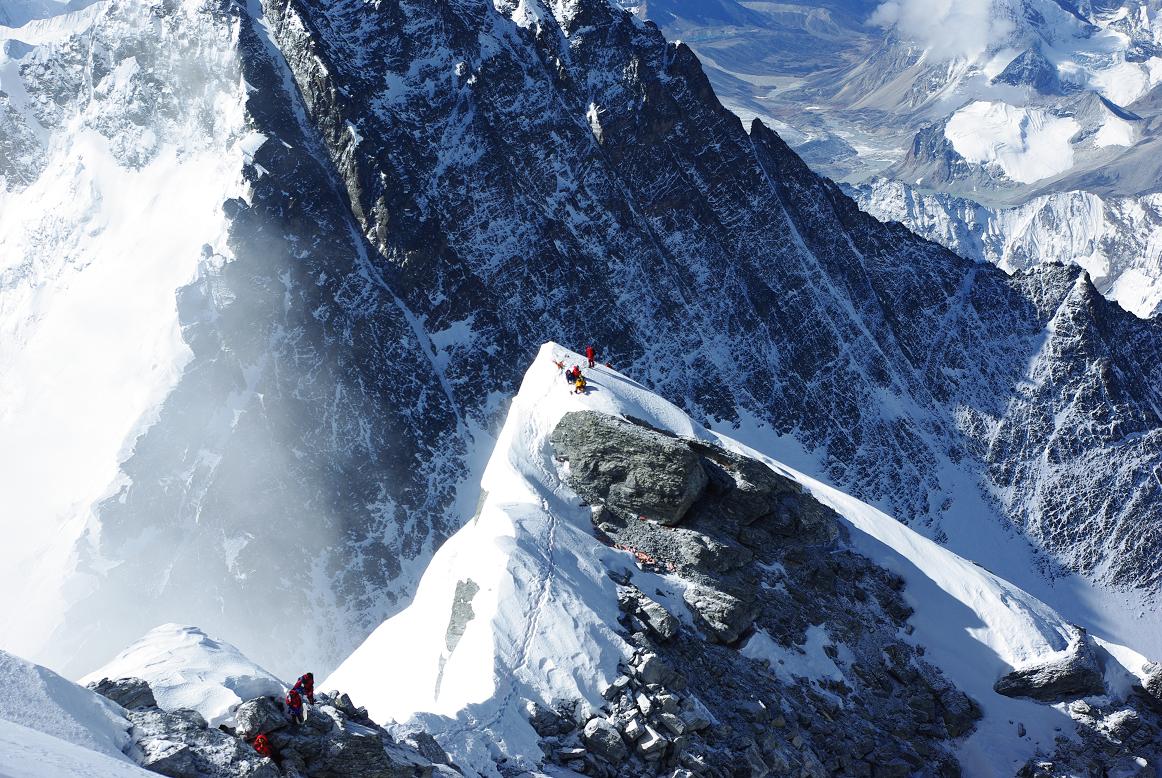 Sorry for the late reply, since Tim's check- in I've been frantically answering to families and media requests.
THEY ARE SAFE at Camp 2..Tim says the team is hysterical at this point with their achievement. They are all feeling wonderful, tired and had a smooth down climb from the South Col.
Sean is at base camp already and Kevin is now sleeping at Camp 4 on Lhotse. Everything going to plan.
Marty, Lee, Murad, Patrick will be at base camp just in time for lunch tomorrow. Base camp is 80% packed up and everyone will begin their trek back to Lukla on the 23rd.
How cool is that?
Over... Becky
Photo: Team Peak Freaks on the summit in 2008- taken by Dominque Gilbert from Quebec.

May 19,21:00hrs NPT - SUMMIT UPDATE.... KEVIN & LHOTSE NEXT......
Team arrived back at the South Col at 16:00hrs, they are resting, tired but in good shape. Sean arrived at the Col at 12:00n so he headed down and is already at Camp 2.
Tomorrow at 08:00hrs (May 20) the team is planning on climbing all the way down to Camp 2, they should be there around 14:00hrs, stay the night and (May21) morning early, they will be back at base camp, debrief, wrap and wine tasting.
Kevin Farebrother will depart from the South Col tomorrow to Camp 4 on Lhotse, summit bid the next day (May 21), climb down to Camp 2 and be at base camp on the 22nd. Kevin will carry SPOT with him.
Peak Freaks will be pulling out of EBC on May 23rd. Thank you everyone for all of your support this far, we still have some mountain left.
What's next? Everest Training- Triple Crown 2013 is now full and bookings for Everest 2014 are next. Island Peak is also a good option for someone to take a crack at trying a little bit of climbing and trek.
Right after Everest Marty Schmidt is off to Broad Peak (12th highest in the world), if all goes well and it feels right, he will head over for the Abruzzie Ridge on K2, along with good friend from Australia, Chris Warner.
SUMMIT LIST
Sean Mooney- Canada/Ireland 05:39hrs

Pho Temba Sherpa- Nepal 05:30hrs

Marty Schmidt-New Zealand 09:10hrs

Kevin Farebrother- Australia 09:10hrs (2 x Summit) with oxygen in the end, amazing effort with smart choice!!!

Patrick McKibben- Canada/Ireland - possibly the youngest Irish to summit at 24 years old.

Palden Namge Sherpa- Phortse 09:10hrs (8 x summits)

Sange Phuru Sherpa- Khotang 09:10hrs (2 x summits)

Lee Den Hond- South Africa "Third" South African woman to summit

Chhiring Namgal Sherpa- Khumjung 09:10hrs - (3 x summits)

Dr. Murad Lala - Mumbia, India - 09:10hrs

Mingmar Shepa Salka - Okhal Dunga - 09:10hrs - (6 x summits)

Chhong Karma Sherpa- Tingla - 09:10hrs- (4 x summits)

Fur Tempba Sherpa- Phortse - 09:10hrs - (2 x summits)

Tashi Tundu Sherpa- Khumjung - 09:10hrs - (9 x summits)
Mountain Conditions: Busy but fantastic weather. Tim says it's breezy at base camp but calm on the summit with beautiful warm sunshine. Cameras are clicking away and then the home stretch begins shortly.
It could take anywhere from 4 to 5 hours to reach the South Col depending on how busy the route is. Marty says the team is all super super strong.
They have the option to stop and sleep at C4 or C3 if they want to. Peak Freaks keeps these camps stocked with oxygen and food till everyone is off the mountain.
We have a rescue team of Sherpas sitting at Camp 3 keeping Camp 4 open for our team and to be available in the event of a rescue. After our team climbs down from Camp 4 to 3 our Sherpas move up and tear down Camp 4, following our members all the way down the mountain till everyone reaches base camp.
It's been a nice and easy climb this year with good climbers. We are very proud of everyone, their eagerness to learn, stay motivated and be a solid team and....... Marty Schmidt ROCKS!!!
Marty will call in again at the balcony to let us know how everyone is doing.
Over...
Tim, Becky & Marty and our entire Sherpa community and crew.
Photo: Marty Schmidt
Kevin Farebrother and Tashi Sherpa are tracking to the summit live now: http://peakfreaks.com/spot.htm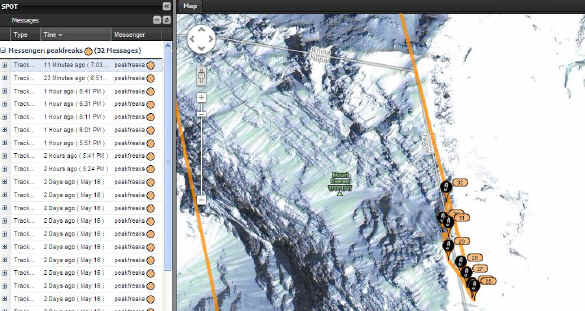 07:30hrs NPT: Marty, Lee and Murad are currently climbing at the Hillary Step, there is about a 15 minute line-up, no big deal, everyone is working through it just fine.
There are a lot of people about to top out right now. The weather is beautiful, cloudy on the north side, bluebird on the south and next to no wind.
Lee, Murad, Marty should be on the summit in about 1 hour and Patrick and Kevin in about 2 hours. They are just below the south summit.
Looking good!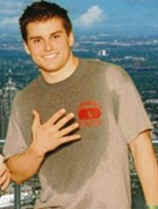 05:39hrs Sean Mooney and Pho Temba Sherpa were the first to summit. The others are following close behind. Happy !!!!! Remember to help his charity he supports if you can: http://righttoplay.com Congratulations Sean and Pho Temba- you guys were fast considering you left the south col an hour after the others.
May 19, 05:30hrs NPT No news is good news
I have no news for anyone at the moment. They are in an area right now where signals get blocked so that's good news. Spot also takes some time out here.
Peak Freaks Spot/Kevin and Tashi was turned on before leaving the South Col tonight in Nepal but it unfortunately will take a bit to register with the satellite once again. We may only get it on their way down, not sure.
Oh, and thanks to my good blog follow buddy Web Stanton for finding the correct link for James Cluer and brining it to my attention. See below
Other news...
I didn't want to look on the Internet to read about the fire that destroyed my utmost favorite place in all of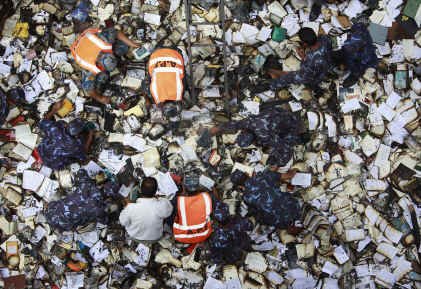 Thamel, (Kathmandu's tourist hub) called "Pilgrims Book Store", but I did.
It happened on Thursday.It appears they've thrown all the books out the window in an attempt to salvage what they can. I'm so very sad. There was an amazing collection of old pictorial books upstairs that I'd spend hours going through. This store has been here for as long as I remember, my first visit was in 1991.
Thankfully the fire department was able to suppress the fire and not let it spread beyond the two buildings involved. Thamel has tightly woven and congested streets with hundreds of people on the streets and in the buildings this time of year.
Becky
May 19, 01:50hrs NPT Team has reached the balcony 8500m
Marty, Murad and Lee at the balcony 8500m, Kevin, Sean and Patrick are one hour behind them due their opted later start. If all works to plan they should meet on the summit together which is a great joy for such a tight team.
Next check in will be in about 3 hours from the South Summit. Everything is going really well, no problems on the route whatsoever, everyone is moving at a good pace.
Tim
Surprise for the team when they return
Tim checks in with me "hey Becky, a case of wine arrived at camp today- do you know anything about it?"
I ask him to not say anything to the team but you are expecting a special visit from one of only 300 Wine Masters of the world- James Cluer. James will be doing a tasting of wine at base camp to see how altitude effects the tasting of wines, as he consults on buying to Qatar, the best airline in the world.
James is now in the valley and expected to be in camp the same night the team arrives back in EBC. He has timed his arrival perfectly. www.finevintageltd.com
Tim in his youth used to pick grapes at a vineyard at his hometown in the Okanagan Valley in Canada to be able to afford gas for his dirt bike and buy climbing equipment, they'll for sure enjoy some good conversations on the topic of grapes.
Becky
May 18, 20:00hrs (NPT) FINAL SUMMIT PUSH IS ON
The team reported having a very good rest during their C4 stay, are in good shape and on their
way to the summit. Murad and Lee pulled out of camp with their personal Sherpas at 19:00hrs NPT, Sean, Patrick and Kevin pulled out at around 20:00hrs NPT. Marty will call when they reach the balcony at around 02:00hrs.
SPOT is on for both waves, Lee and Kevin are both being tracked.
Yesterday's summit went well, no big lines, no incidents, two ropes in place one up and one down have been placed at the Hillary Step as planned to help with passing climbers that can often create congestion.
Low to no wind at all on the mountain as predicted. Blue skies today with fog at base camp.
The team is doing really well and we'll report back here again throughout this journey to top and back.
Over and out... Tim
May 18, 09:00hrs (NPT) SUMMITS... cheers at base camp with successful summits from other teams this morning. This is good news that they managed to get on with their pushes making way for the next wave, our wave. Should be good going, weather is doing exactly what we had predicted it would.
I'll check back here again when the team makes their move. They are planning at leaving around 19:00 or 19:30hrs (NPT).
Over and out... Tim
May 17: Here's a birds eye view of the glacier... it shows the enormity. An extremely expensive 16 minute flight. Yow!
May 17, 21:00hrs (NPT) South Col (7986m -26,201ft)
That's where the team is resting peacefully tonight and did fantastic today, I'm proud of them. It was breezy earlier in the evening as we knew it would be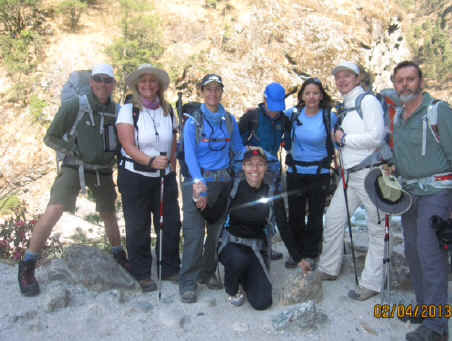 and now it's calm. Tomorrow will probably be the longest day of their lives, though the summit push physically will be the longest day for them the mental part of climbing Everest begins here. They slumber and twiddle with anything that's twiddleable while waiting for the passing of the next set of pages of http://warpworld.ca
The book is now broken into 6 pieces and is being passed from tent to tent.
Meet climber Lee Den Hond:
Lee's climb is being followed by thousands in South Africa (her home) thanks to the support of the television company Carte Blanche "Making a Difference" Everest campaign. For Lee her climb has two purposes: to summit the highest mountain in the world, becoming the third South African woman to do so, and to raise awareness for the mountains that so many children must climb daily South Africa, in looking after their siblings as the guardians of child-headed households.
Most of us have seen the outcry for help on our TV's at home and sometimes become immune to these ads for help. Lee is hoping to bring awareness from a higher level. These child-headed households are entirely dependent on social grants, charities and the kindness of communities. While no-one can replace the love and guidance of a parent or caregiver, these households (over 150,000 of them) desperately need food, clothes, money, shelter and education.
To learn more on how you can help and make a difference we encourage you to go to this page, have a read and we invite you to help if you can. http://everest2013.org.za
Photo: Tim, Lee, her support network and Carte Blanche production crew in the Khumbu.
Everyone is taking this time out to reflect, lay low and save our energy for the nights to come.
Over and out... Tim
Carte Blanche production team was also responsible for the creation of our "Base Camp Harlem Shake" that was apparently received well in South Africa.
May 16, 21:00hrs (NT) Camp 3 - High Altitude Dreams begin here
It's for real now to our climbers. As they lay in their tents at Camp 3 tonight trying to maximize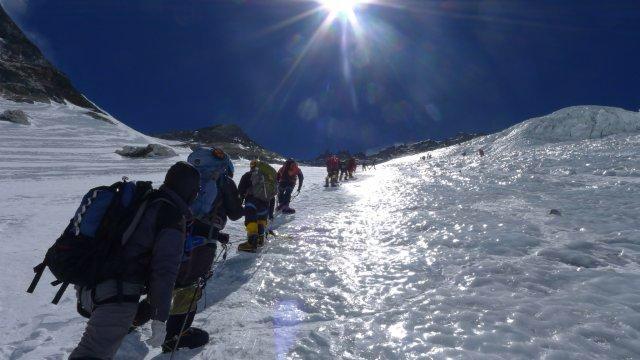 on sleep they will start to drift in and out of confused dream patterns caused by the thin air.
Their minds will meander home thinking of the years or months they've invested in this climb, the consideration of their families, sponsors and followers.
Please know that they all hold you close at heart and they are incredibly proud and happy that it's all unfolding now and that they've made it to the final stage of this expedition. Our team is quite excited because they are doing so well, no real doubts in their abilities, they're strong and just want to get the job done now.
There were teams who had positioned themselves at the col for a summit push this morning in the high winds who decided to lay low for another night. If they have the resources available to them and don't get too ran down they will try again tomorrow, but no summits are reported this morning.
Our window is looking fantastic as we predicted. Warming temperatures for this time of year combined with low winds, we couldn't ask for a better scenario considering it's open for quite a spell.
The next day they will slumber in their tents, hydrate, eat and be ready to go by 21:00hrs (NPT) the night of the 18th. That's the plan and so far we are sticking to it.
Kevin who is now sleeping at C2 will move to C3 tomorrow, sleep and then the next day move to C4, rest and jump into the summit push with rest of the team.
The team gives a big shout out to all the EBC trekkers they've met this spring, we are getting your words of support and it really helps.
Over and out... Tim
Photo: Marty Schmidt- team pushing to Camp 3
May 15, 22:00hrs (NPT).. Perhaps the youngest Irish climber to attempt Everest- Patrick McKibben? though he's
living in Canada he is from Northern Ireland and has a Irish passport, having said that he has potential to become the youngest Irish to summit Everest and climbing with another Irish climber- Sean Mooney- same team, hadn't known each other before now and have become the best of friends throughout this journey.
The best part of this business is the people we've met through mountains, whether they climb, trek or even just join us on social media, it's one big happy planet for people of the hills.
May 15, 21:00hrs (NPT) Saying good-by to a Russian Mountaineering legend
NOT PART OF OUR PEAK FREAKS TEAM:
Our prayers go out to Alexi Bolotov's family today, Alexi died at the base of a potential new route. He had apparently taken a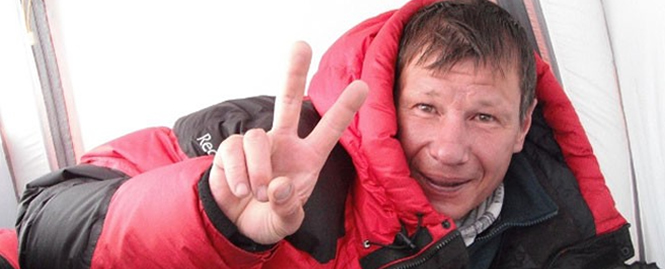 helicopter over to an area as a reconnaissance. When the pilot went back to get him he was found dead on the glacier. He wasn't actually climbing so they don't know if it was rock fall or what happened. Other reports said something about a severed rope but facts are all unclear at this time.
Both Denis and Alexi had been visiting Peak Freaks camp, known to both Tim and Marty quiet well. Marty had enjoyed several climbs with Alexi over the years so it's a sad sad day for many climbers and friends of Alexi Bolotov. Tim reiterates that he died doing what he loves. Rest in peace Alexi.
For more information on the Alexi and Denis's plans this year ExploresWeb some good information from them. http://www.explorersweb.com/everest_k2/news.php?id=21381 Photo: Alexi Bolotov
PEAK FREAKS- We are still on plan, we've got information that there are quite a few heading up to the summit tonight May (15) and another wave at Camp 3 positioning themselves to do a summit push the next night (May 16). We are in a very good position with the lightest of winds coming for our days of choice (May 18) summit (May 19).
We've been watching this cyclonic ball doing it's thing in the Bay of Bengal. With the right mix when it moves up agaisnt India it bounces north and east away from the Himalayas, this sends high winds and then the calm before the real storm happens on Everest, (the window of opportunity) and then the monsoon. We can see it coming now pretty clear so all in all it's a very normal season, a little earlier like the Sherpas said.
Our team moves to Camp 3 tomorrow and all report feeling very strong.
Note- to all the Everest Training-Triple Crown/Autumn trek group members from last year. Murad is getting all your cheers and is overwhelmed with your support.
Lee Den Hond's SPOT Tracker is up now so you can follow her. Click the SPOT link above.
Kevin Farebrother... the Wolverine plan. Kevin as many of you may know will be attempting Everest without oxygen, this being his second time on Everest after his successful summit in record time in 2011 he may be able to pull it off. He said on his way down in 2011 he immediately thought to himself that he'd like to try it without oxygen. It seemed like a something he could do easy enough.
His approach to do Lhotse first changed as he wanted to time his Everest summit with his teammates and now good friends so he'll be doing Lhotse after Everest. The first plan to do Lhotse first couldn't have happened due high winds at the time he would have had to start.
Because our team is spending 2 nights at the South Col, this would be too much for Kevin, he would lose too much energy hanging out there for two nights without oxygen so he's spending 1 extra night at Camp 2 and will catch up to the team on the night of the 18th, starting his push from Camp 3, the traditional approach but without o's.
After Everest it's in his plan to attempt Lhotse without oxygen but on both climbs he will have oxygen available to him if it becomes a life-threatening situation. Our star Sherpa climber and Sardar Tashi Tunde Sherpa will be with him as he has not yet climbed Lhotse himself and would like to give it a go. They are both stoked... Double summit, no oxygen for Kevin but Tashi will using oxygen for safety and the fact he'll be carrying backup for Kevin as well.
Photo: Kevin Farebrother
Over.... Becky

May 14, 21:00hrs (NPT) PEAK FREAKS SUMMIT PUSH IS ON!
Our members are now sleeping at the Camp 2, the team made it up in good speed yesterday arriving just in time for lunch. The weather window is nicely spaced this year but a few cut it a bit short if they were looking at this window. To catch up they've been flying in to base camp today, I counted 21 helicopters bringing climbers back up to camp. Gee whiz, things sure have changed how this mountain is climbed.
Marty says Camp 2 is pretty quiet, later in the day a few more were starting to arrive.
Here's our plan:
May 14: Camp 2

May 15: Camp 2

May 16: Camp 3 - sleep on oxygen

May 17: South Col- Camp 4 - sleep on oxygen- rest one full day sipping oxygen. We've been going with the approach the past couple of years and we feel our climbers really have an advantage in strength and endurance with this opportunity that we provide. Not every operator does this.

May 18: night, usually around 9pm, earlier if there appears to be a lot climbers in the same wave.

May 19: sunrise on the summit... We've put rocks in Patrick McKibben's pants to slow him down. I've warned him to slow it down or he'll be on top at 02:00hrs in the dark. If successful Patrick may be the youngest Canadian male to summit Everest. I'll have to check this of course with Elizabeth Hawley. The youngest female and record for youngest Canadian still today is Laura Mallory. The youngest Canadian male to date was Deryl Kelly at age 25.
Patrick has more than physical strength going for him. Very sadly his brother and climbing partner passed away on Mt. Hector in Alberta, Canada when Patrick was doing his first rotation to Camp 2. Patrick was very close to his brother and feels his spirit is with him throughout this journey to the top of the world.
So this is it, we have a very nice window for favorable winds and not to cold. Just the way we like it.
Over and out... Tim
May 12, 21:00hrs (NPT) Oxygen drill... today the team went through a second round of oxygen drills, thing
s like being careful when adjusting your partners flow rate, cumbersome gloves and foggy thinking can put your partner at risk if you aren't precise with the settings.
Another important thing is how to clear the ice that builds up on the mask. We've had people go through this drill over and over yet when they are starting to feel the effects of low oxygen level intake they will forget what is going on and to check it. A good indicator is cold extremities. Our Sherpa guides and Marty have a lot of experience in observing behaviors that show adjustments are needed.
We use the 4ltr Poisk oxygen from Russia with Top Out masks, this systems has worked very well for us over the years. It takes 3 bottles of oxygen from the South Col (Camp 4) to the summit and back to the Col. Plus we have oxygen for them to sleep on at Camp 3 and enough to sleep two nights if needed at the South Col plus back-up for emergencies.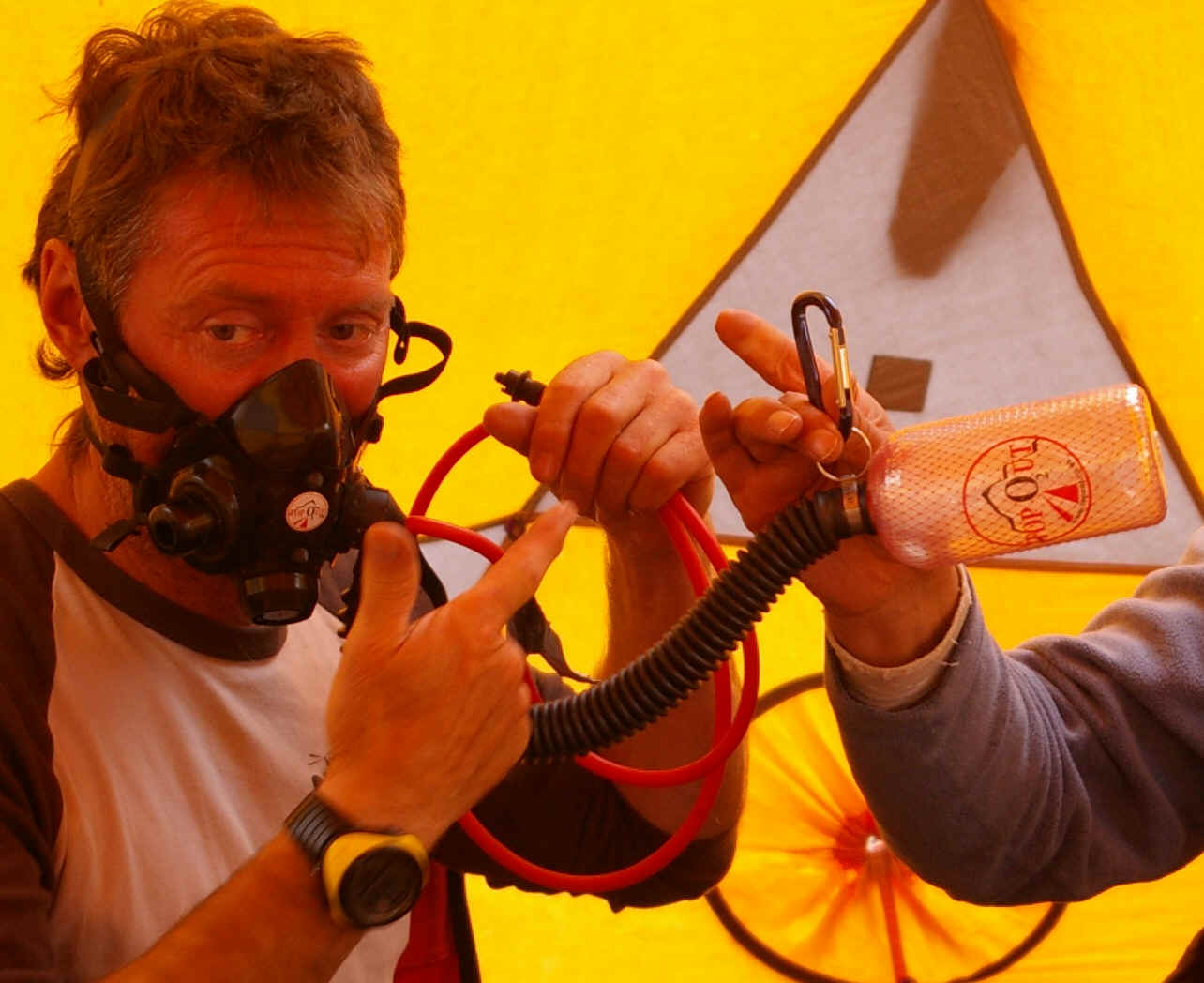 Masks - Old top (Finjo Sherpa on the summit) New (Tm at EBC)
Teams are starting to find their spot in the big picture for a summit bid. A Minister from the tourism office came around today trying to get an idea of who is going when. Everyone seems to spacing out pretty good but we had this conversation last year season as well as we do every year. You will never really know till you go.
Happy Mothers Day to all our moms at home.. We love you, miss you, hope your day is warmer than ours.
Stay tuned.... Tim
May 11, 21:00hrs (HPT) Just a quickie.... to let everyone know that the team is back from a great day to Pumori Camp 1. Tim said he ran the team through the rigors today proving they are more than ready- they are pumped!!!
Now it's strategy time- weather and crowd management are all that's on the table for consideration before the big push.
Stay tuned... Becky
May 10, 21:00hrs (NPT) Rope fixed and Sherpas summit! .. Hooray! Good work team!
11:49hrs- Phurba Tashi (20 times) now, Nawang Thenjing, Nima Tenjing, Gelgen Dorjee.

12:14hrs - Lhakpa Nurua, David Tait (UK)

13:00ish... Tashi Thsering, Rita Dorjee, Nigma Tsheri and Sonam Phinjo.
It's time to climb!
There are several teams looking at the promising weather report and will be making their summit pushes in the next few days. Kevin and I have been talking and Kevin is looking at climbing Lhotse first then Everest without oxygen, this will allow him to acclimatize even higher to 8516m before taking on Everest at 8848 with hopefully less people around.
The problem with going without oxygen supplements is the climbers extremities get cold due to less oxygen flowing through the blood that provides good circulation. Hanging around too long in lines is not a good thing so this is a brilliant approach. There are several teams preparing for a summit bid now so this will buy some him some time.
Peak Freaks are off for a high altitude walk to Pumori Camp 1 tomorrow and will get a look at the Everest scene while up there and begin to calculate all the variables before announcing our summit push. We've got a tentative plan but we want to make it count the most. The monsoon is coming, we can now see it now so this time our Sherpas nailed it.
Trekkers arrived!
Big congratulations out to Jasper Merserau, Lynn Anderson, Shannon Elton, Bret Elton and Tanner Elton. Lynn and had a complete emotional breakdown, my shoulder is wet and our Sherpa team with their big hearts came running over thinking something was wrong. This was her dream and yes it was hard and they all did it together with our amazing Ang Nima and his tender ways.
Our team is hot!... I'm super pleased with how everyone is doing. We have a VERY strong team. We lost 3 of 8 earlier in the climb, it happens with unforeseen things and we were sad to see them go. From what I hear compared some of the other teams we've held the drop ratio together very well. Today we have 6 solid climbers and new life long friends. Team building at it's best pre-summit is what Peak Freaks is all about.
Marty Schmidt (leading) Kiwi/American

Kevin Farebrother (non-guided) Australian

Patrick McKibben (youngest- turned 24 in March- and apparently faster than Marty!!! ) Irish living in Canada

Dr. Murad Lala (participant from our Triple Crown last autumn) Indian

Sean Mooney (thought he was going to be the youngest) Irish, Canadian living in the UK

Lee Den Hond- an amazing woman from South Africa with a huge following back home and for an excellent cause that we will be featuring in the days to come.
NEW PHOTO UPLOAD ON FACEBOOK... check it out!
Stay tuned! Over and out.... Tim
May 9, 21:00hrs (NPT) Happy Campers... all the way around. I've got my friends back and they're telling
me how happy they are to be back. They enjoyed being down where things were green and living but it got old quick. They said they missed the food and comforts here.
Speaking of food, Desh Kumar is now our head cook, Ang Karsung has been sending him to chef school in Kathmandu the past couple of years. He even went to a school for baking. He's getting -really- good. Desh started out as an assistant trekking guide and over the years of working with us he's now a full blown chef, not a cook, a chef of high standing and could work anywhere in the world if he has the desire to.
We still get our Peak Freak traditional sushi treats now and then but we also get an abundance of fresh baking, things like loaves of bread, buns, cakes, pies, muffins, pigs in the blanket, croissants and home made preserves. Not made with the heavy potato flour they used to use but some new light variety.
Tonight's dinner was an assortment of appetizers, soup starter and salad followed by beef (yummy water buffalo) stroganoff, mixed coconut vegetables, fresh baked rolls and delicious fresh pineapple from the low lands. Our vegan and vegetarian climbers get some fancy looking dishes like stuffed peppers, falafel kabobs, lentil burgers, humus and other creations I don't know what you'd call them but they sure look beautiful and apparently taste good.
Marty tried to send out some pictures but there's some difficulties in the Himalayan cyberspace right now. He'll try again in a couple days and apologizes to everyone following.
ROUTE: The rope to the summit is so close but yet so far if the wind keeps up. I'm not sure as it's screaming
over head right now up there, it may get postponed once again as we suggested it might a few days ago. Have to keep trying, we have a lot of people here now ready to climb and good spacing is mandatory.
Over and out... Tim
Photos: I've grabbed some shots from Sean Mooney's and Kevin Farebrother's social sites that show some pretty good mug shots of some of the cast of character this year.
1. Lee and Sean 2. Tim and Sean 3. Kevin's ventilated tent 4. The one of Murad- our team doctor and climber was too fuzzy to use so I've added one from the Triple Crown/Everest Boot camp he was on with us this past autumn. 5. Marty and Sean. 6. Patrick & Sean 7. Tashi the trend setter (left)- Sean likes it (right).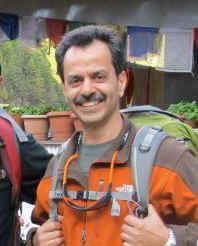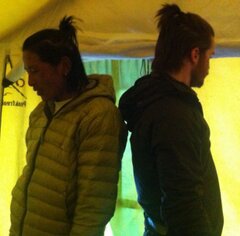 To thank Sean for the his dedication to uploading photos a reminder to help him out with surpassing his goals to raise funds for "The Right to Play" campaign.
May 8, 2013: 21:00hrs (NPT) Whipping with Rope... Strange header I know but that's what came to
mind when I sat down to begin today's blog.
The rope part is news that the Sherpas are going for it again tomorrow to fix the upper route towards the summit. They intend to get up to the balcony, retreat and then finish the next day (10th of May) then get the heck out of there. If the reports are correct the big hit of wind is expected to begin the eve of the 10th. Or will it?
There are a lot of ups and downs and hit and misses in the reports this season. The only thing that seems normal at the moment is the Sherpas saying "it's going to be an early monsoon", Tim chuckled on the sat phone as they say this every year - but never say never.
The whipping part comes from some research I've doing as a result of recent conversation with a meteorologists regarding the patterns of the jet-stream and how it's changing. It's not 100% supported by thoughts that it's related to global warming due carbon emissions, but that's what the majority believe.
It's thought that the jet-stream is weakening and not holding a continuous smooth path but instead it dips and whips in a different pattern causing all kinds of weather phenomena's like drought, floods, extreme tornados and so on.
By looking at the reports these past few days I see similarities of these irregularities from my experience in watching weather for our teams. This is really interesting stuff.
The normal part of all this is that we expected the mountain would be dry and it is, snow did come which was perfect and it leaves just as quick as it came, we climbed to our high Camp 3 rotation on schedule and predicted we would be held back by wind - which we are. The next part of a "normal season" will be the break between the two seasons (winter and monsoon, or summer) that typically happen causing the "window of opportunity" for Everest summits, a calming transition moving the jet-stream away from the Himalayas. I can tell you I see it coming and all in all it's looking good.
Peak Freaks Pumped up Kicks: Our team is having a blast in the low lands. They took advantage of their time off to the fullest. They decided to kick it all the way down to Namche Bazaar. If you recall this is Day 2 on the trek coming in to base camp so they are really doing this trip all over again. They are a very energetic and healthy bunch and the very best of friends now. Meanwhile back at camp Tim is LONELY!!!!... he's not the happiest camper when he doesn't have peeps around him. The team is back in Pheriche as of tonight and have reported that they are planning on making their way back to base camp tomorrow.
Our second trek group is in Dingboche tonight and will be in Lobuje tomorrow, then base camp the day after. They are said to be doing really well. It's perfect timing, they'll be at camp when the team is there and they can all share stories of this amazing adventure.
Our climbing Sardar Tashi Tunde Sherpa has been carrying the SPOT Tracker, if you've looked in recently he tracked up to the South Col with it.
Photo: Lonely in base camp...
Over...... Becky
May 7, 2013: 21:00hrs NPT.. High winds set back rope fixing....Good effort put forth by the fixing team but it's a no go.
High winds were encountered up high on the mountain today putting a stop to ropes being fixed to the summit. It looks like by the weather reports it may be put off now till later next week due to extreme wind forecasts on the horizon. Just like we said in an earlier report; We get through the rotations, high winds come and we wait.... a typical Everest season.
Over and out.. Tim
May 6, 2013: 09:00hrs NPT.. Summit ropes going up right now... both peaks, Everest and Lhotse.. Cheer these boys on!
May 5, 2013: 21:00hrs (NPT) Camp 4- proud Sherpa team.
Peak Freaks Sherpa climbers are now resting at Camp 2 after a full day of hauling loads. All of our equipment like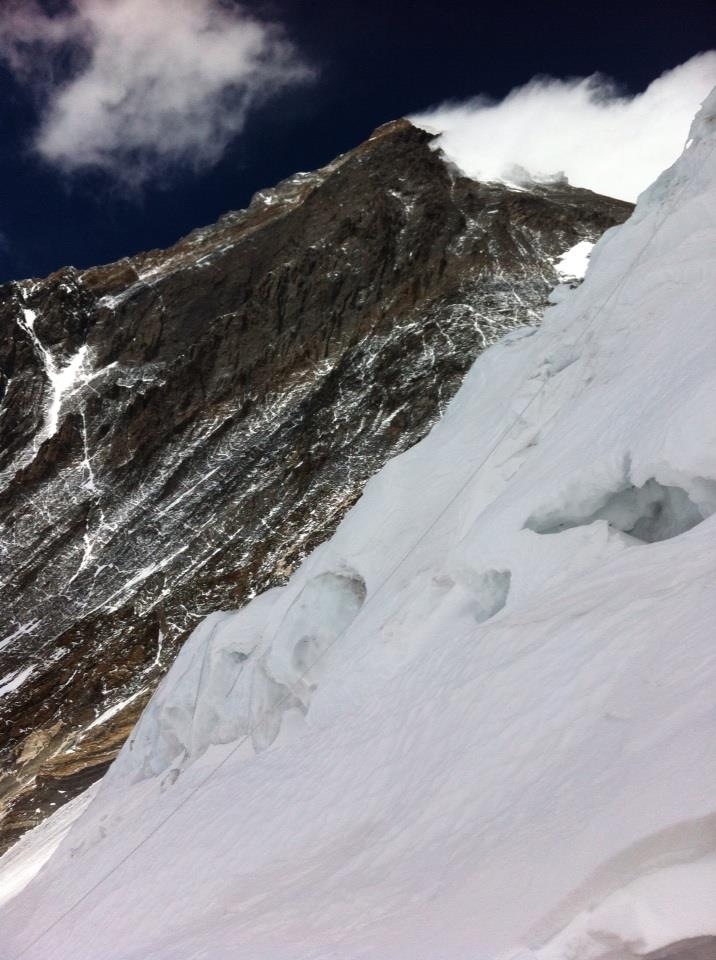 tents, fuel, food and oxygen is in place at Camp 3 and part of it at Camp 4.
Tomorrow the last of the loads to C4 including camp equipment and oxygen placement will be complete at Camp 4 for Peak Freaks. This is the last camp where the summit pushes are staged from.
After this completion our Sherpa climbers will retreat for their big rest. Because our staff are all from Khumbu they can run home and catch up with their families. Check on the gardens and yaks, get caught up on house chores and visit with their families they've not seen for six weeks. This is an exciting time for them, this marks the half way point of the season.
The second part will be to do it all over again. Not all our staff have the privilege to summit Everest and not all of them have the desire to either. We have three levels that our staff aspire to. We have some that are happy to be carriers and rope fixers who will carry everything up and then carry it down again behind the summit team post summit. We have some that are summit Sherpas for our 1:1 Sherpa Guide/Climber ratio and we also have Personal Sherpas that work closely with our climbers throughout the entire climb, a climber is never alone on the mountain when with Peak Freaks. On summit day the guide ratio is boosted up to 2:1 Sherpa guide/Climber and all categories have further guidance with our Western Guide- Marty Schmidt.
Joshua Jarrin, earned the elite position as a private Western guide this season. Unfortunately his client had to return to the US for treatment of an old injury. Joshua left with him so you won't see him up there in the summit push. He'll back again next season.
Tashi Tunde Sherpa is our climbing sardar who is all over the mountain. He's up and down and all around throughout this expedition keeping things glued together up there. He's an exceptional mentor and friend to our team of Sherpa staff.
We also offer a non-guided expeditions for climbers with a very strong bio such as Kevin Farebrother who has proven to be successful and strong at altitude. This means he will have with him a climbing Sherpa in the event of an emergency. Though Kevin is attempting to climb without oxygen will have oxygen as a backup.
Check out his recent photo "view from C3 looking at the summit of Everest he took on his solo night up there".
As mentioned previously our climbing team is in the low lands of Pheriche taking in the rich air while I stay here keeping in touch with our Sherpa family hard at work on the mountain.
Over and out.... Tim
April 27 to May 4: News posted here: http://beckyrippel.blogspot.com
April 26, 2013' 21:00hrs (NPT) ROPE POLITICS... Tim and Karsang were making bets today, Tim saying the rope fixing wouldn't get completed to C3 and Karsang saying it would. Karsung owes Tim 50 rupees. The Sherpas fixing the rope ran into a serac wall that needed to be negotiated, ran out of time and returned to Camp 2. It will be completed tomorrow.
There's quite a bit of politics and planning that go behind the scenes for the fixing of rope up the route from Camp 2 to the summit. Well before the climbing season begins key operators exchange a few emails to figure out, size and kind of rope and who can get the best price and delivery of it. One operator takes this on. Then one operator gets it to base camp.
The second step is figuring out who will do the work to get it up and fixed on the mountain when it gets to base camp. This is sorted out at the leaders meetings. It's usually the key operators that will kick in with Sherpa power but they also try to get some of the private teams to help out.
The entire process is a team effort, everyone pitching in in some way. It's figured out how many Sherpas are needed between each camp to get the rope fixed. In this mix they'll need Sherpas to carry rope and oxygen for the fixing Sherpas that will be fixing the rope to the route to the summit. The most haggling is "who gets to fix the final summit rope". This of course gives the highest media coverage, this operator and Sherpas will get their names in lights as heroes of the day as they top out. It should not be forgotten about all the other Sherpa climbers and operators who pitched in to make the way for everyone to reach the summit.
CLIMBERS:
Lee and Murad are sleeping peacefully at Camp 1 tonight and tomorrow will move up to Camp 2 and be joined there by the rest of the team. Tim says it's a beautiful day again on Everest, sunny and warm. This kind of weather sure helps in lifting spirits.
AS A MATTER OF MAP
Part of being married to a guide like Tim is being required to live with terrain maps as your decorative wall and
ceiling paper throughout the house. It's not uncommon to find pins in our bed that fall from the ceiling, red ones for marking goals reached and green for those still on the bucket list. I've been getting spiked by quite a few green ones lately. I think I'm being told something.
When a guide sits down to paper and pencil to sketch out a map, you know something is on the burner. From my perspective this translates into a business plan, laying out all the stuff that needs done like logistics.
So if you're wondering where I'm going with this, my thoughts today are being prompted by a news cast this last week in Canada when it was announced that Google Street View was mapping the inside of the Parliament Building in Ottawa to offer virtual tours. This turned my focus to check out the Google Street View shot that was recently taken at Everest Base Camp. A quick google search takes me to the shoot of the EBC moraine area that you can rotate around - that's it?... I felt let down.
Now if we could only incorporate Tim's map that he did last year for his action plan when the Lhotse face fell apart and things got a little rocky around camp.
To help glue everything together, the map was very helpful to coordinate much needed team communications, especially in light of the large number of teams who showed up, some didn't have radios, or didn't join operators meetings to get important information like radio frequencies for emergencies and so on, if they even had them at all. This map turned out to be a very useful tool never mind the social rewards he enjoyed while getting around and meeting everyone in the making of it.
Now just watch, "Google maps the streets of Everest Base Camp".. coming soon. I understand that Tim's map idea has been widely accepted by other leaders to continue with this in the future.
Have a good weekend..... Becky Rippel
Photo: 2012 Everest Base Camp team locations Map: Prepared by Tim Rippel
April 25, 2013: 21:00hrs (NPT) Camp 3 fixing ...starts tomorrow and expected to be completed around
Climbing to C3: Tomorrow Murad and Lee will head up to Camp 1, the next day the other members at base camp will meet them on the route heading up to Camp 2 where they'll spend one or two nights depending on wind and fixing completion to C3.
Base Camp: The team is in high spirits today, right now we are the eve of the full moon tomorrow. It's incredibly beautiful, the mountains with all the new snow and torched up by moon, words can't describe it. Just wow!!
To add the fun today solo trekker Craig Falkenhagen from California who we've been following his progress up to base camp arrived in great shape today with Ngima Sherpa, Ang Nima's son. It's always fun to have someone new to talk to and get tales of the outside world that they bring with them. We are all sure enjoying each others enthusiasm for how things are working out and how much fun we are all having.
I'd have to say my personal highlight today beside meeting Craig was the horseshoe tournament:
RMI - Marker Tucker joined with Justin Merle from IMG vs Peak Freaks - Tim Rippel/Marty Schmidt...... and.......... wait for it........... WE WON!!!!!!
Back to the tent to get in on movie night with the team.
Over and out...Tim
Our all time favorite night photo taken by Peak Freak Everest summiteer Dominque Gilbert from Quebec in 2008 during the full moon at base camp.
April 24, 2013: 21:00hrs (NPT) HAR - Saying good-bye to Christof.. "no"... that's not a har har, we certainly aren't
laughing. HAR is the short for High Altitude Retinal Hemorrhage, another one of those difficult effects of climbing at these elevations. Studies are starting to show that a good portion of mountaineers have this, some will know and some never will.
When team mate Christof Deblauwe from Belgium returned to EBC he complained of seeing flashes and some yellow color on his return from Camp 2 yesterday. Tim took him over to EverestER immediately to have him checked out and it was determined he may have developed HARH. A re-check this morning the doctors confirm HARH and explained that he's in a situation that would only get worse and potentially cost him loss of vision if he were to continue climbing higher. Altitude sickness and effects is something that should not be taken lightly up here, being able to communicate your symptoms with your guides and team mates is very important as Christof did.
Christof was evacuated this afternoon to a lower elevation and with weather on his side made it all the way back to Kathmandu today. His climb is over, he will be missed as part of our dynamic team in 2013.
There's a good article about HARHs on the Base CampMD site: http://www.basecampmd.com/expguide/snowblind.shtml I've personally experienced a bit of this myself on Denali.

Nice weather today, lots of resting, laundry detail... Tim frustrated with Ncell the 3G network here, wondering why it seemed to work fine last year and what's up with this season? I told him it's because somebody is probably watching NetFlix over closer to the tower....... I don't know, just a funny thought :)... cheered him up.
Over Becky
April 23, 2013: 21:00hrs (NPT) HAPPY CLIMBERS BACK AT EBC.. The team enjoyed a beautiful day today for a down climb return to base camp after their successful two night acclimatization rotation at Camp 2. We were complimented today by another expedition on our good weather reading the past few years, credit due Becky for that. :)
CAMP 3 SCHEDULE and SUMMIT: It looks like the route will be fixed up the Lhotse Face on or around April 29. This lines up perfectly with the position we are now in. Our team will rest here at base camp for three or four days then head back up and get on the route to gain acclimatization at (24500 ft / 7467m). Whether or not they will sleep here or not will be determined later on. We'll need to look at the big picture and where things sit when that time comes.
After CAMP 3 is fixed the Sherpa climbers will move up to fix the route with rope to Camp 4 and then the summit. If all goes well the summit rope should be fixed starting anytime after May 1st to 6th. This is the typical time it's been fixed the past few years so we are on schedule and then if it's a typical season we will get hit with weather that will ground everyone for a bit.
Good talking with the team tonight, good laughs. Proud of their movement up there. Everyone is doing well, we just need to keep Murad warm. Murad was with me on our Everest Training Climb - Triple Crown this past autumn. That's another reason why this is such a good tool for those who aspire to climb Everest to have, he had a good sleeping bag, but where he comes from he's not used to cold. Since we learned this in October I had his bag taken to Sonam and Norgay at Everest Hardwear to put extra feathers in it, he's still cold!!...... he won't be sleeping alone up on the mountain on this expedition, definitely needs a tent buddy.
Over and out... Tim
April 23, 2013: 10:00hrs (NPT) HOME IN TIME FOR LUNCH... Tim just checked in and the team is about 1.5 hrs from base camp. It's a gorgeous day and they are making good time between Camp 2 and base camp. The route is easy going as there are a lot of climbers now deciding to move up the mountain for their rotations packing the trail in. Ang Karsang says "soups on - come on and get it".
Over.. Becky
April 22, 2013: 21:00hrs (NPT) CAMP 2- All is good.. our team got out to look at the Lhotse Face close up. Lots of snow
built up on the lower mountain but not much at all on the Lhotse Face. We've been watching how things were going to develop up there and make a decision on the fixing of the route to Camp 3. It's pretty much decided now to not even bother with the route that has been used up until last season, instead the the old original route that was established years ago will be fixed as we did last year. The wind keeps blowing the new snow off the Lhotse Face so this will be the safest option once again in an attempt to avoid potential rock fall hazards.
There was quite a bit of snow building today on the lower mountain, between Camp 2 and base camp. Several teams turned around and it's not snowing now and is predicted to give us a good window for travel back down tomorrow before the next storm. The snow was knee deep in some sections but with the other teams turning back they've nicely punched in the trail for us so it's looking good.
Everyone is having a fabulous time up there. Over and out.... Tim
April 21, 2013: 21:00hrs (NPT) Camp 2- checked in. Team made it to Camp 2 in good time and have settled down
for the night after a good dinner. Tomorrow they will hike up to the Lhotse Face and have a close look, oxygenate and keep the legs moving. They'll sleep there again tomorrow night and then come back to base camp to rest till the route gets fixed with rope up the Lhoste Face. Once the route gets fixed the Sherpas will start hauling loads up to C3, tents, fuel, food, stoves, oxygen and more rope for fixing the rest of the mountain to the summit.
After Camp 3 is established and stocked the last camp, Camp 4, often referred to as the South Col because of its position will be assembled. This is the most critical camp. This is a life saving camp near the death zone after a summit push, if you can make back to hear in bad shape chances are you will survive. You don't have this option of dropping down quickly to a safe heaven quickly when climbing on the North Side but then you don't have the ice-fall to deal with either. Both sides have their crux.
Base Camp: Meanwhile back at base camp all the leaders attended a memorial service for the resent deaths of Sherpas that have worked here for a very long time and who have made great sacrifices in making climbing Everest possible for everyone. It was a very touching event put on by the SPCC, the environmental control services for parks. The leaders all left with envelopes for collecting donations for the passing of two senior ice-fall doctors who have been major contributors, Mingma Sherpa (49) the most recent who fell in a crevasse while working here on April 8th, and Ang Nima Sherpa (59) the oldest of the team who passed away in his home in Pangboche in January. It was a nicely orchestrated function.
Over and out... Tim
Photo: Camp 2
April 21, 2013: 08:00hrs (NPT) Camp 2 here we come! Change in plans, the snow quit around 22:00hrs last night and the team woke to sunny skies so they're going for it. They should be in Camp 2 in about 4 hours.
Tim also reports that he's happy with what's being blanketed on the Lhotse Face and how it's bonding with the warmer temperatures that they're starting to enjoy. This is the perfect fix for what was a rocky route. A bit of wind took off more than we had hoped for but at least its some.
Over, Becky
April 20, 2013: White Out.... Team holding up at Camp 1 due to white out conditions making it too difficult to climb up to Camp 2 so the decision was made to hold tight for today and see what would come in the form of snow. It snowed most of the day off and on and has built up enough to cause concern to climb higher to Camp 2 at this time.
The weather reports are showing that the precipitation is going to hang around a while longer so the safe thing to do would be to return to base camp and wait it out and then let things settle before going any higher.
The good thing is they have tagged Camp 2 so our team is certainly in a good position to move when things improve. All part of climbing in big mountains, weather rules!
Over and out.. Becky
April 19, 2013: Good work team! Good day!... Everyone made it to Camp 2, spent the day and are now sleeping
back at Camp 1. Tomorrow they will go up and stay one or two nights and get used to life there.
Camp 2 is our advanced base camp at an elevation of (19,900ft / 6492m). Here we have all the same facilities we have at base camp except for a shower, We have a dinning tent, sleeping tents and a toilet tent where human waste is collected in buckets and carried off the mountain and disposed of down the valley where it is able to break down, dry and be burned and in some is used in the fields.
Our human waste is collected in biodegradable individual bags from C2 on up, we highly discourage human waste anywhere on the mountain and have been promoting this responsibility to other teams for years. They eventually got on board and tried all kinds of procedures to try and find something better but the biodegradable kitchen bags are the trick. No chemicals, no plastic to burn and proven to start to break down in less than 10 days. They can be bought at Walmart, a bag of 40 for $3.99. Pretty simple...
Our Camp 2 kitchen crew will stay up here at this elevation throughout the expedition from here on out. They will keep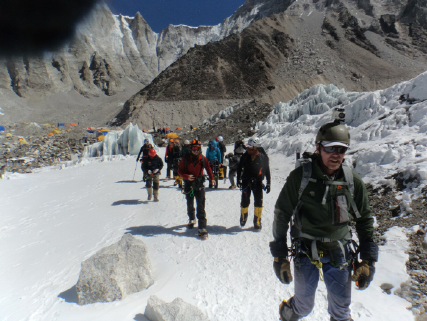 the home fires burning making sure there is hot water and hot meals available for the team as they come and go. Some members will be climbing up high, while some passing through coming down at different times. This allows our members to have some flexibility in their movement on the mountain. Knowing there's back up oxygen, food and that there's someone home really helps up here.
What's next? The team will move up to Camp 2 tomorrow and the plan is to sleep there for maybe two nights. Then they'll return to base camp and be ready for Camp 3.
CAMP ELEVATIONS
EBC- (17700ft / 5395m)

Camp 1 (19900ft / 6065m)

Camp 2 (21300ft / 6492m)

Camp 3 (24500 ft / 7467m)

Camp 4 (26000 ft / 7924m)

Summit (29028 ft / 8847m)
COMMUNICATIONS: The climbers are out of reach for satellite conversation back home or 3G for the next few days. We have radio communications between them and base camp during these times. Just a heads up to family at home that this is why you won't be hearing from anyone for a few days. No news is good news is the way it works here.
Over and out... Becky
Photos: Route map of Everest South - Team 2013 heading to Camp 1: More photos uploaded on Tim Rippel's Facebook today.
April 18, 2013: CAMP 1 - everyone made it in good form, a couple minor headaches which is to be expected.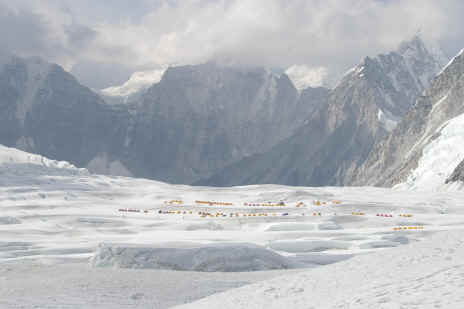 We have up there with Marty and Joshua and our Sherpa guides: streak of lightening Patrick later joined by Tony, Murad, Lee, Christof. Earlier was Sean right behind Kevin who went up like a wolverine chasing a rodent- hence the nickname.
It's always good to see good speed when climbing in the ice-fall. The next rotation the slower ones will pick up speed, their time can sometimes be doubled once they are acclimatized fully and have more experience crossing the ladders and working the route and for some overcoming fear.
Leaders meet happened again today now that all leaders are here. Today it was decided among the teams how many Sherpa climbers are tossed in the mix as a joint effort to carry the required rope up the mountain and fix the route to the summit. It works best that the teams with the largest amount of climbers and Sherpas kick in more support, this was accomplished. It all went well and it was nice to see our Nepalese leaders taking the lead in organizing this ritual this year.
What's next? The team will move up to Camp 2 for a day trip, have lunch, hang out there resting, taking photos and then return to Camp 1 to sleep for the night before returning the next day to sleep at Camp 2.
Looking good..... over and out Tim
File photo of Camp 1 area adjacent. Expect a photo upload in the next day or two.
PS: If this blog goes idle remember to check : PEAK FREAKS EVERST 2013 BLOG with BLOGGER
April 17, 2013: Abort! Trip to Camp 1 was aborted this morning. Sometime shortly after 4:00hrs our members were adjusting their packs on their backs and noticed headlamps turning back from other climbers moving up the ice-fall. Tashi made contact with Sherpas ahead and learned that the ice-fall had broken up in a section and needed to be re-routed and ladders reassembled.
Our team decided to turn back not knowing how long this process would take and if it would create a slow moving line so they opted to give it a go again tomorrow.
Tim said it was a good practice for everyone to see how long it takes them to get ready for a 3:00 wakeup call, eat, load up and get climbing within an hour.
While the climbers rested more and entertained themselves Tim ran the Sherpas through more rope rescue scenarios. They really enjoy this kind of thing, love to learn. The day before he had ran them all through their First Aid training. You can never practice any of these two skills too much.
The ice-fall ladders were adjusted and re-routed in about 2.5 hours.
Becky
April 15, 2013: We are climbing.... rope fixing preparations
Peak Freaks are up at 3:00am tomorrow morning, grab some breakfast and head out to begin climbing at 04:00hrs. Everyone is super excited to be getting the acclimatization rotations underway before the big push.
Here's the plan:
Tomorrow Camp 1, they can stay over night here now because they slept on top of Kala Pattar the night before. If they had not done this they would have only been able to handle a day trip to Camp 1 and would have to return to base camp to allow their bodies the time needed to adjust to the higher altitude. We approach the climb this way to lessen the time spent in the ice-fall, only one trip through it up to again acclimatization to Camp 2.
April 16: Climb to Camp 1 - sleep

April 17: Day trip to Camp 2 - return to Camp 1 sleep

April 18: Climb to Camp 2- sleep 2 nights here

April 19: Return to base camp and wait for the rope to be fixed to Camp 3 and then that rotation will take place. The last one before the summit push.
ROPE- An essential piece of equipment for climbing mountains. Today the Sherpas worked on preparing the rope for fixing the route up the Lhotse face and to the summit. The 10mm rope comes on spools, we take it off the spools and cut it in sections for carrying up the mountain by the Sherpa teams. They are cut into 200m and 100m lengths and put into bags.
The bags are then numbered and will be checked out before it goes up the mountain and checked back in to make sure all bags are accounted so we know it has all been used properly and nothing has been missed.
The Sherpas will carry the 200m bags at the lower elevations and save the 100m bags for higher up where the air is thin. These bags get heavy the higher they go with the thin air.
Time to sleep, early start tomorrow. We'll report back here when the team is all settled at Camp 1.

Over and out... Tim
April 14, 2013 -
TEAM UPDATE:
The last of the trekkers were forced to take a helicopter out to Kathmandu today due to high wind. This is the first time we've had a trek group stranded here. Climbers at the end of the season with the onset of the monsoon is common but I don't think we've had trekkers before, first for everything I guess. Most are on their way home.
The climbers were sleeping at 5545m last night This is an important step we like to use for visualization, a wicked tool we believe in to prepare the Everest climber mentally. On top Kala Pattar they can see the route and see yourself on it. Once you reach base camp you lose all views of Everest, you are so close and tight up in the glacier and that's all you see: the scary part - the gaping ice-fall - the constant crashing of the avalanches- the groaning of the glacier under your tent. It's good to get back and up high where you can have a good look and see what you're hearing to clearly understand what you need to do to stay safe and realize that the summit isn't really that far away and that good speed of ascent is critical in certain sections.
Here they can gain some altitude, do an exercise in how everything works up there after you've tired and have
been climbing all day, settling in for a night, how the stove works, how water boils at altitude, how food is working for you and more than anything, get inspired to begin this climb.
It's great having a climber like Kevin Farebrother, a firefighter from Perth is on the team again. Kevin (aka- Wolverine) offers mentorship to this years team. He's one strong climber who has proven himself up here with us previously in 2011 with a speed ascent from the South Col to the summit, it wasn't a race and he wasn't even timing himself, that's just how fast he moves at altitude. He was on top so fast that it was still dark and alone and was able to sit up there and take it all in and watch the sunrise. If my house ever caught on fire this is the kind of guy I'd want busting me out with an axe.
He's back again this year to attempt the summit without the use of oxygen and plan to climb Lhotse on his way directly afterwards. We have great faith in his ability to pull it off, if all the stars line up for him and of course good weather and health.
Photo adjacent: Kevin Farebrother on the summit of Everest in 2011.
Everyone had a good night out and now back at base camp in their personal tents.
THE PLAN: We had a skiff of snow today, nothing much but expecting a few more centimeters tomorrow backing off on Wednesday night according to weather reports. I'm liking this report for the team heading up day after tomorrow up to Camp 1, it's certainly not a lot of snow to be concerned about in the ice-fall and in fact it will a blessing making it not so hot as it would be with sun beating down on us.
MOUNTAIN CONDITIONS: Tashi Sherpa, our team sardar has been up and down the mountain several times to Camp 2. He reports that the ice-fall is so far in good condition, no extended double ladders and nothing significant looming overhead and so far no towering chunks have developed that can collapse, so that's all good news. However it can change as things start to warm up, that's all typical stuff we watch while climbing here.
The Lhotse Face, hmm.. it looks like we may have to consider the traverse away from the section prone to rock fall again this season. We really don't see the snow here that we were hoping for. There was a good dump just days before the climbing season kicked off here that sounded promising when we heard about it in Kathmandu, but it appears to be gone now. It's actually quite dry looking up there again. We could use some more for sure to glue things together better.
Over and out...Tim
April 13, 2013: Trekkers delayed by high wind... Lukla airport, six of ten managed to fly by helicopter to Kathmandu today. Hopefully tomorrow is not a repeat and the other four get out without issue. Safety first!
Climbers had a rest day today and were watching a moving this evening when Tim checked in. Over and out... Becky
We got on the ladders today in the ice-fall and put our skills to work and for some like Sean they linked to 3G and got on Twitter. Tomorrow we rest and then we will be heading out for an acclimatization night out.
Have a good weekend, Tim and Becky
April 11, 2013 "The Good, the bad and ugly on helicopters" Dang.... woken up by a fly by helicopter over
The good is the ability to quickly evacuate someone by helicopter to Kathmandu compared to the way it used to be done. There is more education on mountain sickness today but there is also the option of helicopters which may be taken for granted, it's only an option if the weather permits and that should be taken into serious consideration when playing in the mountains. If weather fails you'll have to be prepared to do it the old way. The quiet way.
Before helicopters a climber or trekker with injury or AMS would be walked out, and in the night if it was life-threatening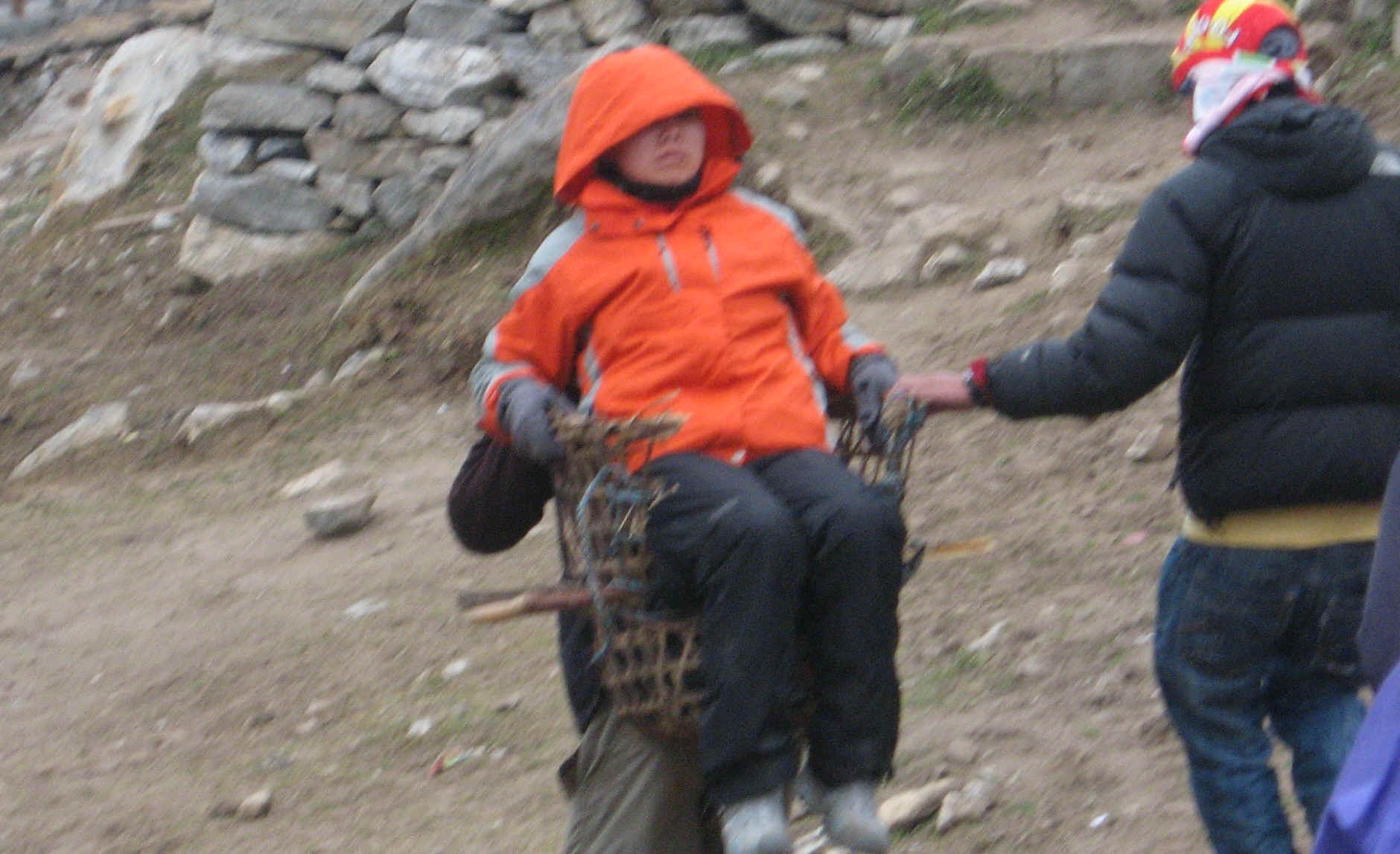 by a porter. The patient would be stuffed into a basket and carried on the porters back suspended by a trump line (woven sash) around his forehead. It would take a couple porters switching off and on for the entire journey till you could be taken out further by a very large- tank like - M-17 Russian Military Helicopter, these could be accessed in Lukla. Later an airstrip was built in Syangboche, above Namche Bazaar. Airstrips up here at these altitudes need to have a drop off to allow the crafts blades to catch wind on descent because of the thin air. That was a bit of a screamer as a passenger.
1964: Tenzing-Hilary Airport opened in Lukla for fixed wings. It was a dirt airstrip up until 2004 when it was paved. Only small fixed wing and helicopters can land here.
1997: A helicopter crashed at EBC, however, no one was killed. The pilot was Colonel Madan, who had piloted the world's highest helicopter rescue a year earlier. In 1996 he had flown above the icefall to rescue American Beck Weathers, famed by the book "Into Thin Air". Madan said of the 1997 crash that he had just lost complete control of the helicopter and this would have to do with the thin air.
2003: A team of 9 climbers were looking for a quick way out after their Everest climb and hailed a Russian Helicopter to camp. It got just a short distance from camp and fell, killing two of the nine passengers.
2005: Another crash! MI-17...No one hurt, video link below: There was a brief quiet time here after these incidents up until the new high tech helicopter AS350 B3 owned by Fishtail Air made it's high altitude test flight to the summit of Everest. This was when everything changed here. The Russian helicopters weren't working out here so the new technology was impressive, or so we thought.
2010: Fishtail Helicopter crashes on a rescue mission on Ama Dablam (near Everest) the pilot and technician were returning to collect the last climber when they crashed killing both of them.
YouTube Link: Everest Base Camp Crash I like how the pilot just walks off the craft like it was all planned and the soothing music. Lucky for him. These helicopters became the way to transport groups to Lukla for a few years. We used them often ourselves. We could move all our climbers, trekkers and gear in one haul. Those were the days.
| | | |
| --- | --- | --- |
| Loading up in Kathmandu - 1996 | Group with gear piled in the middle - 1996 | The new high altitude AS350 B3 |
| | | |
As for the team, everyone is doing well. It's a quiet time right now for the blog with news as they are just putting in time adjusting to the altitude here and getting out doing skills reviews during the day and getting to know each other. Nothing exciting to report in that regard for everyone following.
Over and out... Tim
April 10, 2013' "All in a days work... our Sherpa team carried loads to Camp 1 and Camp 2 today. Everything is moving along to plan, by the time the camps are complete and ready for occupancy the climbers will also be ready to move pending weather. We don't want to put them up there in a storm, it's snowing right now at base camp lightly but we are expecting a good dump this coming weekend.
Everyone did well with equipment briefing today and tomorrow we have more work to do on the ladders, ropes, jumars and so forth. Not much to say so I'll turn this over to Becky now. Over and out .. Tim"
Looking HAPE in the FACE.. "High Altitude Pulmonary Edema" The adjacent photo is of a good friend of ours, John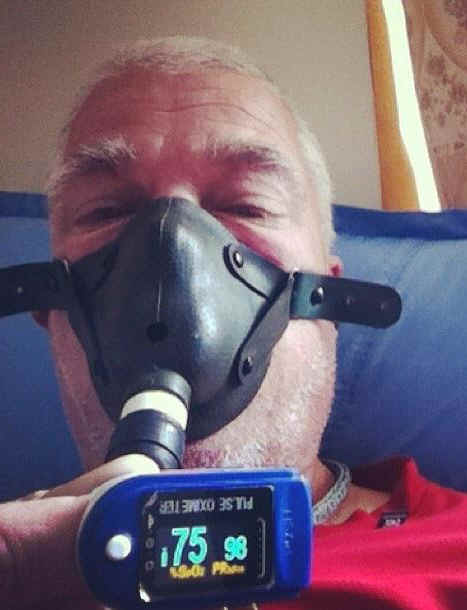 Dyck from British Columbia. His wife Trish, my friend of over 30 years made contact with me last night via Skype. The two of them were headed up to base camp. John is a highly regarded climber back home, he was headed to climb Lobuche after base camp. They were not on a Peak Freak trip, they were doing this independently with the help of Ngima, our Ang Nima's son, their guide.
I'm telling this story to show just how quickly someone can get into trouble up here. So far there have been two deaths of trekkers not known to us, John could have very well been a third. He reached Namche Bazaar and fell ill and was running a fever, nothing new here with GI bugs, colds and so on being passed around - so you just go to bed and hope for improvements come morning.
Morning came and things quickly spiraled into a desperate situation of survival. This is when Trish Skyped me. I know this stuff, I've had HACE myself and I've seen HAPE. HACE effects the brain and HAPE the lungs. HAPE is by far the worst one to get in a remote location. You need oxygen, dex and to get down and out quickly. All of which we were able to organize within one hour of when she told me he was making a funny sound, like a cracking in chest, like a cold.
"Oh hell, we have a problem". Ngima summoned the doctor in Namche, Tsedam grabbed the oxygen and the helicopter was fired up in Kathmandu within minutes. John's oxygen saturation dipped to 46%. He was losing consciousness and as Tim later puts it, "it sounds like he was definitely checking out".
Had the weather not been good or the helicopter not been available, its quite possible we could have lost a good friend.
I Just wanted to share that with everyone. John is super fit and an avid climber and for some reason his body said, "not today John". This can happen to anyone, accomplished climbers and high end athletes alike. Fitness doesn't clear the way for people coming here. You still have to be on your toes and listen to your body, if you can. John didn't have a chance to listen to his, that was left for other people at this stage to do it for him. John had good resources to help and support him and we can't stress enough how important it is to make sure when you visit here that you know who you are associated with and that can you trust their actions should things go wrong.
More.... HAPE (High Altitude Pulmonary Edema) HACE (High Altitude Cerbral Edema).
Phew.... Becky
April 9, 2013' Down to business now... The trek team departed camp today after a fantastic early morning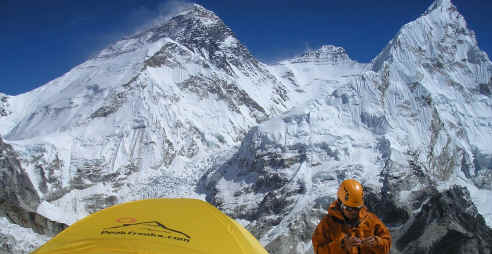 puja and shortly thereafter getting up close in the ice-fall. Tears, fears and complete joy were all part of the emotions circulating the group. After a late lunch they packed up and headed down to the closest village to base camp called Gorak Shep. Tomorrow very early they will make their own summit bid on top of Kala Pattar. They think they were impressed at this point, wait till they get up there.
The climbing team got down to business after camp cleared out, showers first order of business. It's all been one big social for the past nine days, now it's time to start talking climbing and getting into each others heads to begin playing this mountain with so many variables.
Tomorrow we rest and begin our strategy and safety talks, the next day we'll get out on the ice and start assessing skills to make sure we are all on the same page. This serves as a good opportunity for the personal Sherpas and the western guides to see how well honed these climbers are and if any adjustments are needed. Some are known to us, repeat climbers or participants of our previous training climbs, while some we've not seen in action till now. As certified guides there are ways to run climbers through the rigors and see how well they respond so we can trust them up there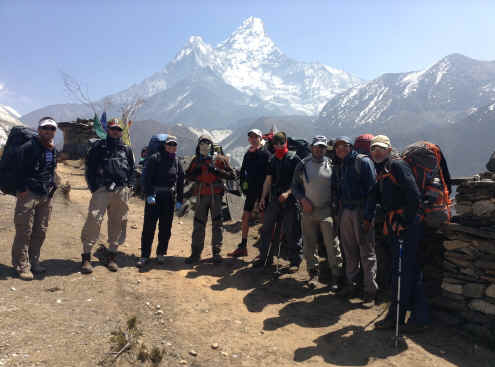 when the going gets tough. Sometimes decisions have to be made quickly to avoid situations that should be prevented. Rule number one of leading people up here in this hostile environment is "prevention".
Busy? looks much the same as last year, it's hard to tell. Not sure how many folks are here as trekkers and who are climbers. We'll have a better idea in a few weeks when things settle out. Maybe some are doing Island Peak or Lobuche or even Nuptse. Those climbing Lhotse will be on the same route as us till the South Col or Camp 3 so you can count them in the busy factor. I will say there are some extremely large expeditions here. Just as long as they carry their poop off the mountain we're ok with that.
Over and out.... Good luck trekkers.... Tim
Photo: Everest, Lhotse, Nuptse & Everest 2013 climbers with Ama Dablam in the background.
April 8, 2013' - Tim checks in: "We have arrived.. Everest Base Camp.. 5360m..." So good to be home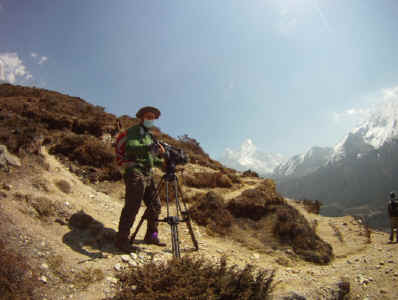 at base camp. Karsang and the crew cooked up a fantastic roasted chicken dinner, sushi for starters, veggies and an awesome cake, followed by some good laughs and tired team. Everyone is off to bed now.
Tomorrow I'll take the trekkers out to touch the ice-fall so they can say "they could go no further" and get that photo. Then early afternoon Ang Nima will take them down to Gorak Shep. They are going to climb Kala Pattar to get the most sought after photo of Everest with the Khumbu glacier, Lhotse and Nuptse from the summit of Kala Pattar at 5545m. .
We have our old location back that we had a few years ago here at EBC. It's tucked up into a cave feature very close to the ice-fall, no wind and quiet. I was super tickled to see what the Sherpas did for me. I have my own island. They built my personal tent camp in the middle of a lake with a stone walk way to the middle of it. They placed rocks to put my tent up high on it for great views, I love these guys! They are the best team one could ever have, I feel so honored to have them in my life all these years, truly my family away from family.
Tashi went up to Camp 2 today to organize our camp location. Tomorrow the climbers will start organizing their equipment while the Sherpas will begin carrying loads to build Camp 1. This is a temporary camp used in the early stages of the climb for a layover place if needed. We'll need to take the dinning tent, toilet tent, sleeping tents, kitchen equipment and food supplies. The next work load will be carrying supplies and equipment to Camp 2.
Before any work begins on the mountain we'll have a Puja ceremony, this ceremony is believed to make contact with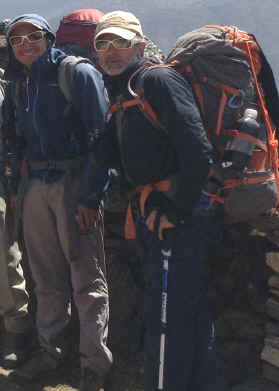 divine Sagamartha (Mount Everest) and ask her for clear the passage for everyone, the Sherpa climbers will not climb before they are blessed, this will take place tomorrow morning so the trekkers can be part of it too. This is the most important blessing for our team; Western climbers, Sherpa climbers, foodand equipment. Climbing boots and axes and crampons will be piled around the Stupa, it's a moving experience for anyone who has had the opportunity to be part of one, the burning of juniper and the chant from Lama Mingma, the tossing of rice and drinking of chang (or beer) all adding to this magical-spiritual event. Of course there is also a monetary part to help support the local monasteries.
Climber Lee den Hond is here with a TV crew, Kate Barry and Jonathan Crawford of "Carte Blanche", we are happy that the timing has worked out for them to capture this part of the expedition to share with everyone back in South Africa.
Good news on the communications front. 3G seems to working well from EBC. Over and out..... Tim
Photos: Camerman- Jonathan Crawford at work.... Mountain Guides- Joshua and Marty sporting their styl'in white glasses and their fat guide packs.
April 7, 2013' - Shortest dispatch ever... "In Lobuche, cold, food was a nice treat with Karsang's cooking, can't wait to get to base camp and get into my tent so it will be warmer to communicate from inside my sleeping bag, everyone is good.... over and out!... Tim "
The deal here is in order to get a good signal on the satellite phone, Tim needs to be outside the building where it's pretty chilly this year.
The food part is the teams great appreciation for our camp crew coming down from Base Camp to Lobuche today. Bringing with them our kitchen equipment, pots, pans, eating utensils, food supplies and so on. We do this because Lobuche is not a regular habitat for the Sherpa people, it's a seasonal village for the climbing and trekking season facilitating everyone with meals and lodging while here.
Lobuche is at critical altitude where one could get AMS- Altitude Mountain Sickness if they do not layover here for at least one night before going any higher. It's not a home based lodge, it's instead staffed by contract workers who do the best they can in providing meals with limited water resources. It lacks a sense of pride like you'd find in a lodge that is someone's home like the ones we use throughout the valley. It also gets overcrowded as all trekkers/climbers must layover here for a night, or for some two nights, before heading high up to Everest base camp. The risky part in staying here is that illness tends to circulated around through the kitchens in Lobuche. Because of this we have our kitchen brought down and our staff do the cooking to keep our team quarantined in an effort to keep them healthy for the days ahead. An intestinal infection at this stage is not something a climber who invested so much money, and time, and training into wants to have to deal with.
At the end of the day their bellies are full with good food and they are more than excited to get to base camp tomorrow and check into the comforts we provide for them there.
The one good thing about reaching Lobuche for me (also spelled Lobuje) at an altitude of 4931m is I get reminded of my favorite Youtube of all time of this area. The team has been here the last couple of season's at full moon, not this time but equally just as beautiful and I could not resist showing this again. Enjoy! Make sure your screen is clean, that is not dust you see in the sky.... Becky P.S. The SPOT link "above" is working now. Glitch fixed..
April 5, 2013'- Cold and clear at 4412m - Dingboche.. It's chilling cold this year. Some of the trekkers were having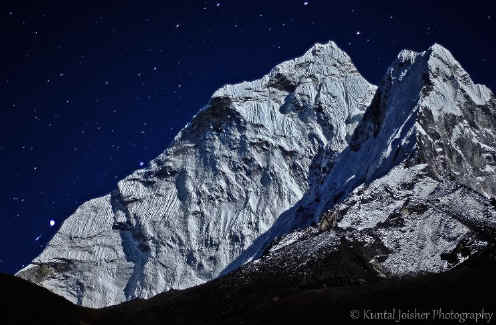 trouble staying warm in Deboche last night, wait till tonight here in Dingboche, 678m higher. We are happy we've got the clear skies though, makes it all worth while.
Everyone is doing awesome!.. Tomorrow we will be hiking above Dingboche to boost our haemoglobin to kick in and allow out bodies to adjust to the new heights we will move to the day after. We will sleep two nights here to help make that happen before moving up to Lobuche for one night, then that's it, we will be at Everest Base Camp on April 8th as planned.
I uploaded a bunch of photos but same as last autumn there seems to be some issues with the Internet here in Dingboche. Not much say other than everyone gives a big shout out to all the followers of this blog. Over and out till tomorrow... Tim
Great shot from Kuntal Joisher taken from Dingboche while on our Pumori Expedition in 2011. This is what we see tonight.
April 4, 2013: OVER 50 YEARS OF HIGH ALTITUDE MOUNTAINEERING EXPERIENCE with Marty Schmidt, Tim Rippel and Joshua Jarrin- photo left to right.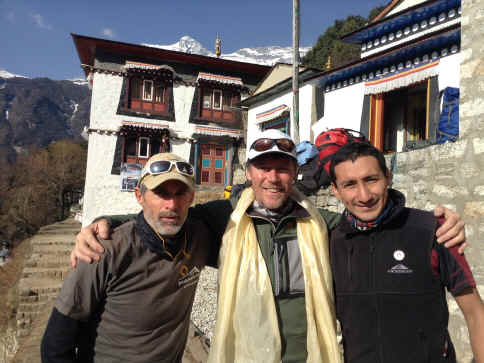 This is Joshua's 2nd season on Everest and he's already gained elite private guide status. Marty is off to climb K2 immediately after Everest. These guys love what they do and are better than good at it. Tim's next altitude adventure will be training aspiring Everest and other climbers on three 6000m peaks in Nepal during our Everest Boot Camp - "Triple Crown" expedition.
Day 4 on the trail: Brrr... Climbers are in Pangboche (3901m), the team is somewhat protected here from the extreme winds up high. Only the climbers are sleeping here tonight so they will be ready to rise and shine early for their puja with Lama Geshi who resides here, this is a spiritual highlight of this journey. They will be blessed with prayers, chants and given the "protection and blessing cord", Lama Geshi will tie a knot in the cord, then prays over it and blows the power of this mantra into it. Then he places it around the climbers neck as a blessing to keep them safe throughout this journey. Tim has a drawer full of them at home as he never takes it off till 2 weeks after he returns. He gets pretty attached. Lama Geshi tells Tim that because he is a leader and has great responsibility and he needs added protection. He's given a little hand made silk stash pouch stuffed with juniper, a prayer note, and other spiritual herbs of the region. It is then strung onto the red cord and hung from his neck.
The trekkers are spending the night at Deboche (3734m) by the river. Lower elevation and ambient in the rhododendron forest by the river. Tomorrow morning they will hike back up the trail for a morning chant with the monks at the Tengboche (3867m) monastery. The next blessing will be the big one at base camp with all the equipment, food and Sherpas that must be blessed before they begin to start working on the mountain.
Destination tomorrow for both trekkers and climbers is Dingboche (4412m), at this elevation everyone will really start to feel the effects of the thin air. They will also start to feel the wind and chill here. It's certainly colder than it has been the past couple of years this time of year. Winter came in like lion which has been good for healing the glaciers with lots of snow and cold temperatures.
TIDBIT: What's "boche" ? In Nepal it defines a village.
Over and out... Becky